Onkyo TX-NR5010 9.4 Channel Receiver Preview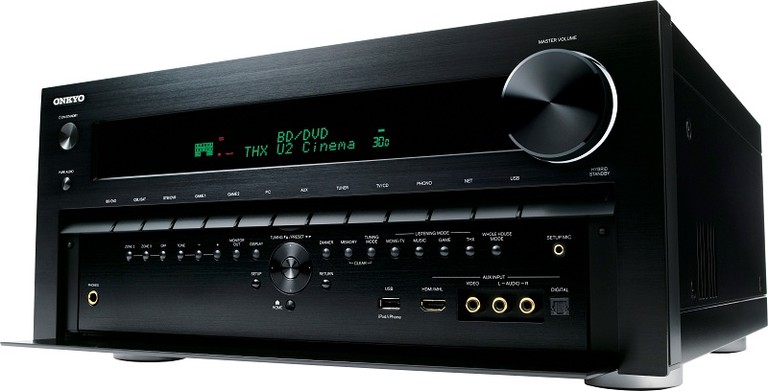 Onkyo TX-NR5010 9.4 Channel Receiver
Summary
THX® Ultra2 Plus™ certification to recreate the cinematic experience with dynamic Reference Level sound to larger home theaters up to 85 cubic meters in size and a viewing distance of approximately 3.5 meters
11.4-channel pre-outs with DTS Neo:X™ 11-channel upmixing support
First consumer electronics partner to incorporate Cisco Linksys' SimpleTap technology
Audyssey MultEQ® XT32 room equalization with multi-channel upmixing from DTS Neo:X™, Audyssey DSX®, and Dolby® Pro Logic® IIz
An additional HDMI® output to enable 1080p playback in a second zone
InstaPrevue™ picture-in-picture video input preview and selection technology
Front-panel Mobile High-Definition Link™ HDMI port for phone/camcorder
Extra HDMI inputs to support 3D Video plus Dolby® TrueHD and DTS-HD Master Audio™ (8+1 inputs)
Bluetooth 3.0 and aptX® wireless audio streaming via optional adapter
Cisco SimpleTap Integration

Executive Overview
Flagship receivers are one of the things that we love to look at as soon as they come out. In them we find the absolute pinnacle of features available. When you add that it is an Onkyo flagship, a company known for shoving features into their receivers at price points we never thought possible, assume that we are extra interested. Because we are. Rather than delay any longer, let's get right to it.
The Onkyo TX-NR5010 is the new flagship of the Onkyo receiver line. At $3000, it certainly has a price tag to match. But the real question is what you get for your money. As you might expect, the TX-NR5010 has THX Ultra2+ Certification. This means that it is rated for the largest home theaters (up to 85 cubic meters with a viewing distance of 3.5 meters). That's a huge home theater. While specifics of the power handling have not been released, the previous model sported 145 watts per channel. Expect no less from this newer model. The chassis has separate anti-resonant aluminum top and side panels and a massive toroidal transformer supported by two discrete transformers for audio and video processing.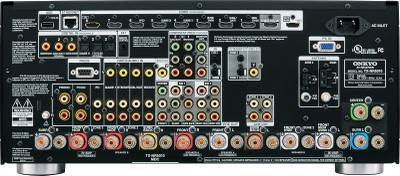 Partly because of the layout of the gold-plated speaker terminals (11 pairs), the back of the TX-NR5010 is decidedly uncluttered. The receiver has nine internal amps which can be routed and re-routed into whatever configuration you want. It has pre-outs for 11.4 channels (stereo subwoofer channels with two outputs a piece). These pre-outs can be used in conjunction with the internal amps for a true 11 channel experience via DTS Neo:X. This gives you the normal five channels (mains, center, surrounds) plus surround backs, front height, and front wide speakers. If you don't find that immersive...well you will. If you don't have need for all these amps/channels, you can route them to power either of the other audio zones or to bi-amp your mains. HDMI or composite video can be sent to Zone 2 as well.
While there are no s-video inputs, there are a host of composite video, two component video, and nine (one front mounted) HDMI inputs. The Onkyo has dual HDMI outputs which can either be used simultaneously or which can be routed to Zone 2 (can output 1080p to the second zone). There is a front mounted USB port that is Made for iPhone/iPod as well as a rear USB port for adding more permanent media storage. There are three each coaxial/optical digital audio inputs as well as two antenna inputs - one for the main zone and a second for Zone 2. There are even twelve volt triggers for Zone 2 and 3 as well as RS-232 control and a PC input.
For room calibration, Onkyo has included Audyssey's top of the line MultEQ XT32. This allows calibration of all channels including the dual subwoofers with multi-channel upmixing from DTS Neo:X, Audyssey DSX, and Dolby Pro Logic IIz. Other top-tier features include InstaPrevue - a picture-in-picture preview for your HDMI inputs, front panel Mobil High-Definition Link HDMI port for phones or camcorders, and Cisco Linksys' SimpleTap technology. We weren't sure what that was so we looked it up:
With SimpleTap, connecting devices to the home network is magically simple. When installing new devices such as Smart TVs, printers or tablets, anyone can now use the Cisco Connect Cloud mobile app on their smartphone to get their compatible device connected in a matter of seconds. Connecting is as easy as pressing the virtual Wi-Fi Protected Setup button in the mobile app and, in the near future, as easy as scanning a Near Field Communications (NFC) tag that may be bundled with or integrated in various consumer electronic (CE) products.
That didn't clear it up for us but perhaps it will as more information about this receiver and feature comes to light (SimpleTap is brand new for Cisco as well). Of course, the Onkyo TX-NR5010 is networked and can be controlled via Onkyo's remote app. It is also DLNA Certified for local streaming and pre-configured for many of the main streaming services such as Spotify. 
But the main job of a receiver is to power speakers and rout signals. Onkyo has included a number of top quality components including a sophisticated digital-to-analog conversion stage, with PLL jitter-cleaning, VLSC noise-mitigation, and top-quality TI Burr-Brown DAC modules. Signals are then amplified through discrete Three-Stage Inverted Darlington Circuitry, with a triple transistor array that cuts distortion and boosts current flow to the speakers. A new Differential DAC Mode and Digital Crossover Processing Network are also included to optimize performance when bi-wiring and bi-amping the front channels.
On the video side, Onkyo has included its Dual Core Video Engine which pairs the HQV Vida VHD1900 module with Marvell's Qdeo technology for upscaling to 4K. ISF video calibration inclusion allow each video input to be optimized by the power user or custom installer. The GUI is overlayed on the HDMI output for seamless interaction with your receiver (if you are not using the Android/iOS app for control).
There are some fairly glaring issues we find with the new Onkyo TX-NR5010. First, there are no analogue inputs for integrating legacy gear. The previous Onkyo model had them. Two component video inputs also seems low to us for a flagship model. The TX-NR5009 had three. While not all the stats have been released on the TX-NR5010, the only real advancements we see are the inclusion of the DTS Neo:X 11 channel support and HDMI output to Zone 2. Sure there are a few other things, but nothing all that impressive or that we can't get on other receivers for a lot less. We were also surprised that Apple's AirPlay support was not mentioned. It may come out later, but we aren't holding out much hope.
Conclusion
The big selling point of the Onkyo flagship TX-NR5010 is 11.4 channel DTS Neo:X support. While it can only power nine of those channels, if you are shelling out $3000 for a receiver, we're guessing you have a few external amps lying around somewhere. With tons of other top of the line features like ISF calibration, HDMI output for Zone 2, 4k upscaling, InstaPreview, and much more, the TX-NR5010 has the guts to be the heart of your home theater. But if you aren't planning on using all 11 channels, you might be able to get most of these features (plus a few more that aren't included) for less elsewhere.
For more information, please visit www.us.onkyo.com.

Confused about what AV Gear to buy or how to set it up? Join our Exclusive Audioholics E-Book Membership Program!
Recent Forum Posts:
No Compelling Reason

I bought the Onkyo TX-NR5008 9.2 channel receiver over 2 years ago and it was a troublesome install. The instructions were not as clearly detailed as it could have been and the internet connectivity was and is problematic. Even then the price was "HIGH" comparatively but the build of the receiver impressed me as solid state. I've seen two iterations of the receiver since and find no compelling reason to buy especially with the phantom power for the additional channels.
mrmichaelbeck posts on July 16, 2012 11:32
I would post a link, but apparently I need 5 posts. There was a kerfuffle last week about Cisco changing how their routers worked so that users would have to connect to their cloud service in order to manage their routers. People were angry for a couple of reasons.

1. There was stealth updating going on, meaning that the user was no longer in control of the firmware that was being installed onto their routers.

2. Cisco would now be keeping an eye on what kind of traffic was passing through the router. So if it deemed the content to be inappropriate, it would shut off access to you from your router.

Because of this, I will be staying well away from this AVR.
surveyor posts on July 15, 2012 16:05
Nice Reciever

I have a 9.2 channel Integra DHC-80.2 with an Outlaw Model 770 amp. I have yet to use more than 7 channels. I do have additional amps and speakers.
But the big Onkyo appears to be awesome!
Post Reply