Denon New '13 IN-Command Series Receivers Preview
Summary
AVR-3313CI IN-Command

Seven discrete 125-watt channels of equal power for dynamic sound

3D pass-through technology for watching the latest 3D movies

Advanced circuitry to convert all video signals to 4K

Networking functions to play Internet radio or digital music files

Wireless streaming of your iTunes music with Apple's AirPlay technology

Audyssey MultEQ XT creates an optimal acoustic profile for your home theater

Three-source, three-zone capability

Multi Zone HDMI audio/video distribution

Seven HDMI inputs and three HDMI outputs to connect a variety of devices

Intuitive user interface with Setup Assistant and Denon Remote App

Three-year warranty
AVR-2313CI IN-Command

Seven discrete 105-watt channels of equal power for dynamic sound

3D pass-through technology for watching the latest 3D movies

Advanced circuitry to convert all video signals to 4K

Networking functions to play Internet radio or digital music files

Wireless streaming of your iTunes music with Apple's AirPlay technology

Audyssey MultEQ XT creates an optimal acoustic profile for your home theater

Play separate audio in two areas at once with multi-room capability

Six HDMI inputs and two HDMI outputs to connect a variety of devices

Intuitive user interface with Setup Assistant and Denon Remote App

Three-year warranty
AVR-2113CI IN-Command

Seven discrete 95-watt channels of equal power for dynamic sound

3D pass-through technology for watching the latest 3D movies

Advanced circuitry to convert all video signals to 4K

Networking functions to play Internet radio or digital music files

Wireless streaming of your iTunes music with Apple's AirPlay technology

Audyssey MultEQ XT creates an optimal acoustic profile for your home theater

Play separate audio in two areas at once with multi-room capability

Six HDMI inputs and one HDMI output to connect a variety of devices

Intuitive user interface with Setup Assistant and Denon Remote App

Three-year warranty
Executive Overview
Denon's new IN-Command Series of home theater receivers have caught a lot of attention for their feature set. When Denon revealed that they had three new IN-Command receivers ready to ship, we couldn't wait to take a closer look at them. These receivers are all aimed directly at the enthusiast with a bit of cash to spend. Starting at $650 and topping out at $1200, the new IN-Command offerings are certainly not an impulse buy. But that doesn't mean they won't provide great value for your dollar. We will take a look at the least expensive first and work our way up to the most (adding features along the way).
The AVR-2113CI is the least expensive in the new IN-Command line and will retail for $649.99. Like all the new IN-Command receivers, the AVR-2113CI has Apple AirPlay out of the box along with a new app for control using your iPhone, iPod Touch, or iPad. It has a host of streaming capabilities including Sirius SM, vTuner (for Internet radio), and Pandora. The front panel USB port allows a direct connection to iOS devices as well as other USB drives. It is DLNA 1.5 certified for streaming local content.
The AVR-2113CI is a 7.1 receiver sporting 95 watts per channel. It weighs in at just under 21 pounds. There are six (one on the front) HDMI 1.4a connections (supports Audio Return Channel and 3D), one component video input, and three composite inputs (one on the front) and one output. There is a single input of each digital audio type (coaxial and optical) and a handful of analogue audio inputs. There are seven speaker-level connections with the surround back channels assignable to Zone 2 (RCA outputs also available). RS-232 support is on board (for you custom installers) and there is a single subwoofer output.
Inside, you'll find 24-bit/192-kHz DACs, as well as Audyssey Dynamic Volume, Audyssey Dynamic EQ and Audyssey MultEQ XT. Dolby ProLogic IIz is onboard but, without assignable pre-outs, we're guessing the height channels will have to be powered by the surround back channels. With a complete lack of component video outputs, you'd be correct to assume that the Denon AVR-2113 upcoverts all analogue video to HDMI. It also will scale that video to 1080p. For those with 4k displays (both of you), the AVR-2113 will pass through 4k as well as scale it for you. A GUI is overlayed over the HDMI signal even with 4k scaling enabled.
The AVR-2313 adds $250 to the price of the AVR-2113 bringing the MSRP to $899.99. The AVR-2313 is a 105 watt per channel (seven channels) receiver with dual subwoofer outputs. It clocks in at 24 pounds. It builds on the base of the AVR-2113 but adds a a lot of additional connections.
Other than the wattage and the additional subwoofer output, the AVR-2313 has two HDMI outputs (instead of one), dual component video inputs and an output, and four composite video inputs and two outputs. There are still only seven sets of speaker connections but, again, the surround back speakers can be routed to Zone 2 if you wish (RCA outputs also available). There are now two digital audio inputs of each type (optical and coaxial). The AVR-2313 adds a 12-volt trigger for further supporting custom installers.
Adding a component video output means a much easier time connecting to older displays, but it seems that video conversion only works to HDMI and not composite to component. There is the inclusion of the new Audyssey DSX surround mode but it is unclear exactly how this works. With only seven speaker terminal pairs and no clearly marked assignable pre-outs, it would seem that you would have the option of either surround back speakers or one of the height/width channels of Audyssey DSX. 
The Denon AVR-3313CI is, again, a 7.2 channel receiver but this time sporting 125 watts per channel. It weighs in at 26.5 pounds and will set you back $300 more than the AVR-2313 (MSRP for the AVR-3313CI is $1199.99). While the AVR-2313CI adds mostly number and type of connections over the smaller AVR-2113CI, the AVR-3313CI adds not only connections, but a whole host of functionality.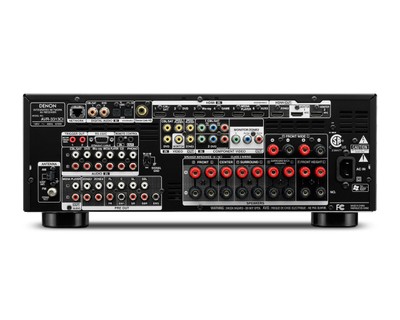 To start with, the back of the AVR-3313 is much busier than either of the previous models by an order of magnitude. The AVR-3313CI adds an additional Zone of audio (up to three), each able to receive independent sources. It adds an HDMI input (up to seven) and an HDMI output (up to three - two parallel and one discrete). This allows for a output of HDMI to a second zone with all the benefits that entails. This is a big deal, and a feature we have not seen before, particularly at this price. The component video output is also labeled Zone 2 so it seems that you will have options for component video in your second zone (though Zone 3 looks to be simply audio at this point).
On top of that, the number of inputs and outputs has been greatly increased. Instead of having only seven speaker terminal pairs, the AVR-3313 has added four, bringing the total to eleven. Front height channels as well as width channels are labeled. It is unclear if these are assignable or not. Regardless, these extra terminals makes switching configurations on the fly a cinch.
For custom installers, a second 12-volt trigger was added (up to two) as well as an IR in and out for programming universal remotes. There are pre-outs for Zones 2 and 3 as well as a full suite of 7.2 pre-outs for adding external amplification. Analogue to component video conversion is also now supported for those wishing to integrate legacy TVs. 
Conclusion
It is easy to see how Denon has targeted their new '13 IN-Command receivers. The difference in price, rather than adding features that you wanted at all price points, adds additional power and connections. This means that the consumer (or custom installer) can pay for exactly what they need in terms of connections without sacrificing all the cool streaming and upscaling features in the process. We like this idea and hope that it resonates with Denon's customers. If you have an HDMI equipped display (and who doesn't these days) and no real need for multiple zone functionality, the AVR-2113CI will be more than enough for you. If you want many more connections, analogue to component video conversions, and multi-zone support (including two discrete HDMI connections), you'll have to pay more for it and get the AVR-3313CI. At no point, however, are you forced to sacrifice Audyssey's MultEQ XT, Apple AirPlay, DLNA 1.5 certification, 4k upscaling, or tons of other features that are usually dropped with the lack of connections.
For more information, please visit www.denon.com.
Confused about what AV Gear to buy or how to set it up? Join our Exclusive Audioholics E-Book Membership Program!
Recent Forum Posts:
Jeo92109 posts on November 28, 2012 02:59
Any update on your experiences with the 3313?

I'm new to the site and was following the thread and noticed the last post was a few months back… Has anyone got the 3313, thoughts? I've found it for less than 900 and I'd like to use it to Multizone my house…

Thanks!
LAB3 posts on July 27, 2012 08:07
kmpurc56, post: 897293
Is the discrete watts per channel the same as all channels driven?
If it does it will suprise me. Most AVR get close on 2 channel stereo but when playing Bluray and driving all amps there is usuall a drop in power to each amp. Seveal forums do a bench test on AVR and I noticed this.several years ago on my Yamaha RX-V2400 I purchased new in 2003. I twas rated 120WPC X7 and it bench tested a 70% of that when all 7 were pushed hard. I have Klipsch speakers and they just don't require a lot of power to play loud. One of the reason's I have not sold the big old boxs and purchased a high tech cool looking towers that are so popular now.
3db posts on July 27, 2012 06:34
FirstReflection, post: 887084
It's still just a parametric EQ. Overlapping curves of varying widths is fine for correcting large peaks, but it's never going to be precise enough to correct the entire frequency range. It's especially useless at higher frequencies where a parametric EQ is far too coarse and winds up affecting far too many neighboring frequencies, and yet Yamaha continues to insist on using YPAO to try and correct the entire frequency range.
That maybe on paper but I wonder how big the difference is in day to day life, considering that most adults over 40 can't hear beyond 13K ?
3db posts on July 27, 2012 06:32
Adam, post: 888134
I find myself wanting a 3313. Good thing that I can't buy one today.
Oh but there is always tomorrow!! You still have to get buy tomorrow.
kmpurc56 posts on July 26, 2012 18:49
3313ci

Is the discrete watts per channel the same as all channels driven?
Post Reply