Onkyo 2012 Midline Receivers Preview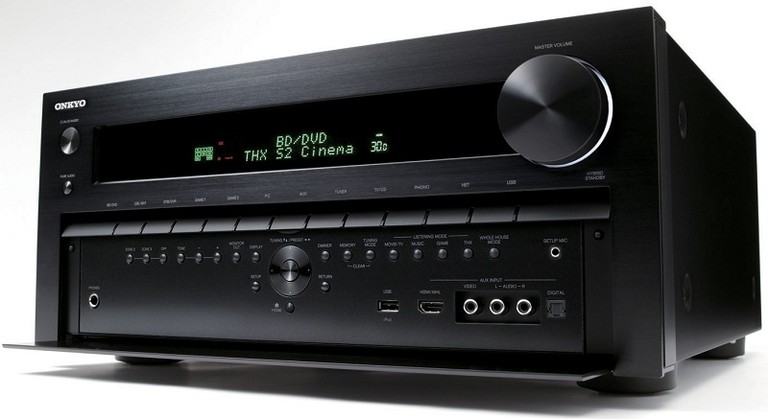 Onkyo TX-NR818 THX Network Receiver
Summary
TX-NR818
7.2-Ch THX Certified Network A/V Receiver
THX Select2 Plus Certified
8in/2out HDMI Support for 3D Video and Audio Return Channel
Network Capability Delivers Internet Radio and Network Streaming
Dual Core Video Engine with HQV Vida (1080p) and Marvell Qdeo (4K) Processing
ISF (Imaging Science Foundation) Video Calibration for Optimal Video Performance
MHL (Mobile High-Definition Link) for Smart Phone Content on HDTV
Picture-in-Picture Input Source Preview with InstaPrevue Technology
DTS Neo:X, Audyssey DSX, and Dolby Pro Logic IIz for Expanded Surround Channels
Direct Digital Connection of iPod/iPhone via Front-Panel USB Port
Onkyo Remote App for iPod/iPhone
Hybrid Standby Function to Reduce Power Consumption
Dimensions - 17 1/8" x 7 13/16" x 17 1/8"
Weight - 40.3lbs

TX-NR717
7.2-Ch THX Certified Network A/V Receiver
THX Select2 Plus Certified
8in/2out HDMI Support for 3D Video and Audio Return Channel
Network Capability Delivers Internet Radio and Network Streaming
Marvell Qdeo 4K Upscaling and Processing
MHL (Mobile High-Definition Link) for Smart Phone Content on HDTV
Picture-in-Picture Input Source Preview with InstaPrevue Technology
Audyssey DSX and Dolby Pro Logic IIz Add New Dimensions to Surround Sound
Direct Digital Connection of iPod/iPhone via Front-Panel USB Port
Onkyo Remote App for iPod/iPhone
Hybrid Standby Function to Reduce Power Consumption
Dimensions - 17 1/8" x 6 7/8" x 14 15/16"
Weight - 26.7lbs

Executive Overview
Just a little while back, Onkyo announced their 2012 entry level receivers. They were interesting but, in all honesty, they are more for us to recommend to friends and neophytes than receivers we might actually be interested in owning ourselves. Now they have released their new mid-line offerings and, frankly, we are giddy with excitement. Onkyo has long been pushing the limits of what we think can be shoehorned into a receiver and we expect no less from these two new offerings. First, we'll start with the TX-NR717 and then see what the extra $200 gets you for the TX-NR818.
The TX-NR717 is a THX Select2+ Certified receiver sporting 110 watts per channel and 7.2 channels through Onkyo's powerful WRAT amplifier, three-stage inverted Darlington circuitry, and discrete output stage components. The receiver is 17-1/8" wide by 6-7/8" tall by 14-15/16" deep and weighs in at 26.7 pounds. It sports 8 in and 2 out HDMI 1.4a connections (one input on the front), 3D support, and Audio Return Channel. The front also has a made for iPod/iPhone USB port (also usable with other forms of solid state storage), a composite video input, and a setup mic connection (for use with the room correction system). Lastly, there are a plethora of buttons for input selection, volume/setup control, and more. Chances of you using these buttons? Rare.
Taking a look at the back, we see the other seven HDMI inputs. We like that Onkyo has placed the 5-way binding posts in a line rather than stacked. This makes bare wire connections much easier (or possible) and even eases the use of other speaker wire termination types like banana plugs. To make switching speaker configuration easier, Onkyo has included outputs for up to 11 speakers (it can power three zones of audio - though not simultaneously). Other than HDMI, Onkyo has includes two component video inputs (one output) and four composite video (one output). There are seven pairs of RCA inputs for stereo audio as well as 9.2 outputs for integrating external amps (7.2 channels plus front channels) and line outs for Zones 2 and 3. In addition, there is a second USB port on the back, an Ethernet connection, three coaxial and two optical digital audio inputs, and a PC input. For $1000, the TX-NR717 has a ton of connectivity.
The Onkyo TX-NR717 features Marvell Qdeo 4K upscaling and processing, MHL (Mobile High-definition Link) for smart phone content on HDTVs, and picture-in-picture input source preview with InstaPrevue Technology. Room correction is taken care of by Audyssey's aging 2EQ system. Height and width channels channels are handled by Audyssey DSX and Dolby Pro Logic IIz supports height channels.
The TX-NR717 is fully networked, can be controlled by Onkyo's remote app, and is DNLA certified for network streaming from compatible computers. In addition, vTuner, Pandora, Spotify, Rhapsody, Sirius/XM iRadio, Slacker, LastFM iRadio, Aupeo, and MP3tunes are all supported out of the box. Plus, an HDMI overlay allows you to access the GUI without having to switch inputs. If you are not clued into how fully featured the TX-NR717 is, we don't know what to say. This is a receiver that will make both installers and enthusiasts happy.
The question becomes, why spend the extra $200 on the TX-NR818 (picture at the top of the article). It has the same number of channels, the same number of HDMI inputs, and even many of the same features. Rather than rehash the similarities, we'll point out the differences.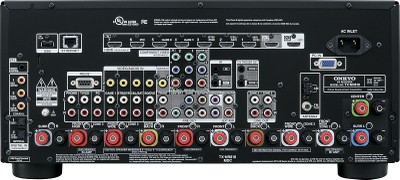 As you can see, the changes are minor. There is now an RS-232C port for custom installer control plus a removable power cord (it's actually quite unusual to find a hardwired cord at the TX-NR717's price point). Also, 12 volt triggers are included for controlling Zones 2 and 3 - another nice installer-friendly feature. Glancing at the front (picture on the top of this article), there is a flip down panel revealing a host of controls plus a full analogue inputs (composite video plus stereo RCA) and an additional optical input. Lastly, for installers and hard-core enthusiasts, Onkyo has included in the TX-NR818 a Dual Core Video Engine which offers video calibration to ISF standards for color correction at the receiver level (though we have no idea why you'd want this as opposed to doing it at the display). The TX-NR818 sports full 9.2 channel pre-outs (rather than the TX-NR717's 7.2 channels).
But most serious enthusiasts aren't going to be interested in installer features... especially not for a $200 price increase. What will interest them, however, is the significant increase in the room correction system from Audyssey's aging 2EQ to the top of the line XT32. Plus, there is a the inclusion, on top of the Dolby Prologic IIz and Audyssey DSX, of the brand new DTS Neo:X DPS which allows for front wide and front height channels (technically, it can do 11.1 but that hasn't been implemented yet). 
While both the TX-NR717 and TX-NR818 feature Burr-Brown 192 kHz/24-bit DACs on all seven channels, the TX-NR818 adds PLL jitter-cleaning circuits to further improve signal quality, as well as isolated power amp and pre-amp blocks. For those worried about interference and signal quality, this, along with the TX-NR818's onboard Digital Crossover Processing Network to cancel frequency interference when bi-amping loudspeakers will be selling points.
You may notice that the two receivers are different sizes with the TX-NR818 boasting a full inch over the TX-NR717. It also has 25 more watts per channel (135 watts) for its seven internal amps which has translated into a 13.5 pound increase is weight!. At 40.3 pounds vs the 26.7 pounds of the TX-NR717, the TX-NR818 is truly a beast and, we'd suppose, should have much more headroom.
Conclusion
Onkyo has long been known for having the most features for the money in their receiver offerings and the TX-NR717 and TX-NR818 receivers are no different. It is easy to get excited about the $1000 TX-NR717 until you see what the extra $200 for the TX-NR818 gets you. Audyssey XT32, 13.5 extra pounds and 25 extra watts per channel, full 9.2 outputs, DTS Neo:X, and a host of installer features including ISF calibration controls? It's hard to see why you wouldn't spend the extra cash. With both having THX Select2+ certification, 9.2 channels, 8/2 HDMI 1.4a connections, full featured networking, and loads more, consumers have a lot to drool over.
For more information, please visit www.onkyousa.com.

Unless otherwise indicated, this is a preview article for the featured product. A formal review may or may not follow in the future.
Confused about what AV Gear to buy or how to set it up? Join our Exclusive Audioholics E-Book Membership Program!
Recent Forum Posts:
Cinetune posts on April 09, 2013 13:20
ISF controls….

"…offers video calibration to ISF standards for color correction at the receiver level (though we have no idea why you'd want this as opposed to doing it at the display)."

I can think of a few:
1) Your display may lack some of the calibration controls offered in the receiver (gamma adjustment, separate ISF day and Night modes, etc.)
2) Perhaps calibration controls on the display work very poorly (not uncommon!)
3) many folks want to use their receiver for HDMI switching yet their $49 blue ray (for example) has brightness set too high and lacks any controls…since the Onkyo has calibration controls specific to each input (saving the day)…a calibrator can adjust the display's input to reference and then only tweak the individual inputs on the receiver on a per source basis…sweet!!
zimmer posts on August 23, 2012 14:21
Onkyo TX-NR818 questions about features

Doesn't this also have the HQV vida and the Marvel Qdeo video processing? Wouldn't that make this more worth the price? I saw a big difference when I saw the Yamaha RX-A2010 with the HQV chip.
Spyder207 posts on July 20, 2012 09:32
BoredSysAdmin, post: 896267
In 2007 I got my 805 for $717 - hair under $900 is ok, but closer to lower $800 would be even better
Not to mention how much better it would be if it were free.
BoredSysAdmin posts on July 20, 2012 07:35
eugovector, post: 896259
<$900 for xt32 is pretty good.
In 2007 I got my 805 for $717 - hair under $900 is ok, but closer to lower $800 would be even better
Marshall_Guthrie posts on July 20, 2012 01:39
<$900 for xt32 is pretty good.
Post Reply