Integra DTR-70.3 9.2 Channel Network A/V Receiver Preview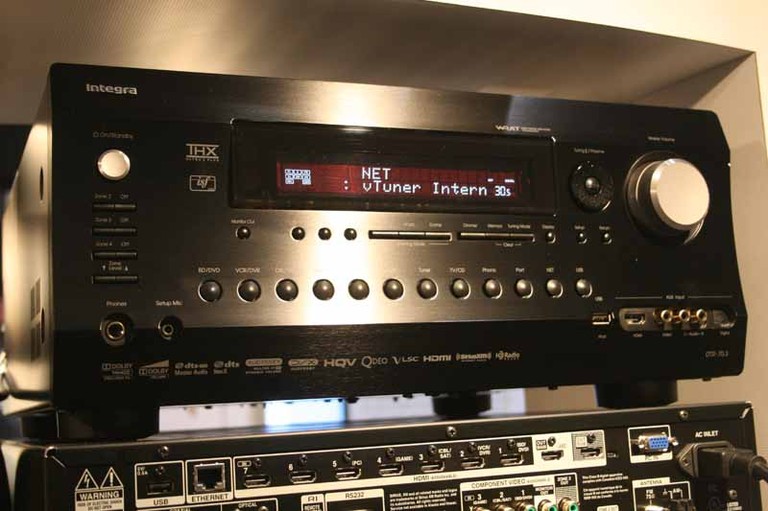 Integra DTR-70.3 AV Receiver
Summary
ADVANCED FEATURES
THX® Ultra2 Plus™ Certified
HDMI® (Version 1.4a to Support 3D and Audio Return Channel) with Deep Color™, x.v.Color™, LipSync, Dolby® TrueHD, DTS-HD Master Audio™, DVD-Audio, Super Audio CD, Multichannel PCM, and CEC
8 HDMI Inputs (1 Front/7 Rear) and 2 Outputs
Dual HDMI Outputs (Simultaneously Active Capable)
Front-Panel USB Port for Memory Devices and iPhone® / iPod® Models (Enables Display of Album Artwork)
Network Capability for Streaming Audio Files (MP3, WMA, WMA Lossless, FLAC, WAV, Ogg Vorbis, AAC, and LPCM)
Internet Radio Connectivity (Pandora®, Rhapsody®, SIRIUS Internet Radio®, Napster, Mediafly™, Slacker, and vTuner)*
Certified with Windows® 7 and DLNA Version 1.5
Firmware Updates via Ethernet and USB
ISF (Imaging Science Foundation) Video Calibration for Optimal Video Performance
HDMI Video Upscaling to 1080p/24 with HQV Reon-VX
VLSC™ (Vector Linear Shaping Circuitry) for All Channels
Large-Size Transistors for High-Current Drive
Burr-Brown 192 kHz/24-Bit DACs (PCM1796 x 6) for All Channels
Three-Stage Inverted Darlington Circuitry (Certified 4-ohms Performance)
PLL Jitter-Cleaning Circuit Technology
DSD Direct for Super Audio CD
Dolby® Volume for Reference-Quality Listening Experience at Any Volume
Dolby® TrueHD, DTS-HD Master Audio™, Dolby® Digital Plus, DTS-HD High-Resolution Audio™ Decoding
DTS Neural Surround™ Decoding
Audyssey DSX™ and Dolby® Pro Logic® IIz for New Surround Channels
Audyssey MultEQ® XT32 for Room Acoustic Correction
Audyssey MultEQ® Pro Ready with Target EQ Curve Editing
Audyssey Dynamic EQ® for Loudness Correction
Audyssey Dynamic Volume® to Maintain Optimal Listening Level and Dynamic Range
Overlaid Graphical On-Screen Display (OSD) via All Video Outputs
4 DSP Modes for Gaming: Rock, Sports, Action, and Role Playing Game (RPG)
Analog RGB Video Input (D-sub, 15 pin) and Audio Input for PC
Gold-Plated, Machined Solid Brass, 3/4" (19 mm)-Pitch Audio Inputs (TV/CD and Phono)
Universal Port for Single-Cable Connection of Optional Onkyo Dock for iPhone® / iPod® or HD Radio™ Tuner
OTHER FEATURES
140 Watts per Channel at 8 Ohms, 20 Hz–20 kHz, 0.05%, 2 Channels Driven, FTC
H.C.P.S. (High Current Power Supply) Massive High Power Transformer
Three 32-Bit Processing DSP Chips (DA830 x 1, DA788 x 2)
6 Digital Inputs (3 Optical and 3 Coaxial)
HDTV-Capable Component Video Switching (3 Inputs and 1 Output)
Linear Optimum Gain Volume Circuitry
Bi-Amping and BTL (Bridged Transless) Capability
WRAT (Wide Range Amplifier Technology)
Music Optimizer™ for Compressed Digital Music Files
A-Form Listening Mode Memory
Direct Mode
Independent Crossover Adjustment for F/C/S/SB(40/45/50/55/60/70/80/90/100/110/120/130/150/200 Hz)
A/V Sync Control Function (Up to 250 ms in 2 ms Steps)
Color-Coded, 9.2 Multichannel Pre Outs (Including 2 Independent Subwoofer Pre Outs)
Color-Coded, 7.1 Multichannel Inputs
Color-Coded, Banana Plug-Compatible Speaker Posts
SIRIUS Satellite Radio® Ready and HD Radio Ready
40 FM/AM/SIRIUS Random Presets
Compatible with RI (Remote Interactive) Dock for iPod
Bi-Directional, Preprogrammed, and Customizable RI Remote Control with Backlight, On-Screen Setup, Mode-Key LEDs, and Macro Presets for Four Activities
5 A/V Inputs (1 Front/4 Rear) and 1 Output
Video/S-Video Outputs (Monitor)
1 Audio Input and 1 Output

CUSTOM INTEGRATION FEATURES
Bi-Directional Ethernet and RS232 Port for Control
Powered Zone 2/3/4 and Zone 2/3 Pre Outs for Distributed Audio Playback in Multiple Rooms
Zone 2 and Zone 3 Subwoofer Outputs
Zone 2 Monitor Output (Component and Composite Video)
Independent Zone 2 and Zone 3 Bass/Treble/ Balance Controls
Max & Power On Volume Settings for Main Zone & Zone 2/Zone 3
Dealer Settings Memory Store & Recall with Lock/Unlock
Permanently Stored Settings
2 IR Inputs and 1 Output
3 Programmable 12V Triggers (with Adjustable Delay)
Optional Rack Mount Kit Available (IRK-180-4)
RIHD (Remote Interactive over HDMI) for System Control
General
Power Output (8 Ω, 20 Hz-20 kHz, FTC: 135 watts x 9
Dimensions (WxHxD): 17 1/8˝ x 7 13/16˝ x 17 1/2˝
Weight: 50.7lbs

Executive Overview
Frankly, we weren't going to write about the Integra DTR-70.3 receiver. We already wrote about the DTR-80.3 which is the new flagship of the Integra line and the DHC-80.3 processor which is the same thing except for a lack of amps and the addition of XLR outputs. What could the DTR-70.3 have to offer other than less features for less money? Certainly if you are value shopping that makes a difference, but as far as "news" goes, it isn't very exciting.
But then we took a closer look.
The DTR-70.3 is a cool $700 cheaper than its flagship big brother, so surely a lot of features have been dropped, right? Wrong. We looked over the specs and, depending on who you listen to, the DTR-70.3 loses about 5 or 10 watts per channel. We expected them to lose two channels of amplification (down to 7 from 9) but that doesn't seem to be the case. The DTR-70.3 still gets the Marvell Qdeo 4k processing plus the new IDT HQV Video VHD1900 scaling with ISFccc calibration like its more expensive brother. It is still THX Ultra2+ certified and sports the latest Audyssey MultEQ XT32 room correction with Sub EQ HT (for independently calibrating both subwoofer outputs) and the brand new DTS Neo:X processing. In fact, as far as features are concerned, the DTR-70.3 really has everything the DTR-80.3 has. But something had to go, right? It is $700 cheaper. So we looked at the back: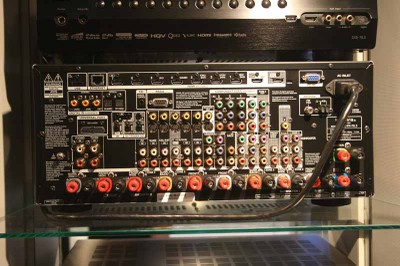 See, to us, that looks awful similar to the DTR-80.3. The first thing we noticed was that the Integra DTR-70.3 doesn't have the cool, clear, five-way binding posts, but instead the standard black and red ones. That's worth a couple hundred, right? No? Okay, we'll keep looking. It still has 11 pairs of speaker terminals and 9.2 channel analogue outputs for easy configuration switching and adding amps. It still has 7.1 channel analogue inputs for legacy gear. It has subwoofer outs with stereo pre-outs for both the additional zones and Zone 2 can still get video from a composite or a component output. There are seven HDMI 1.4a inputs on the back (one on the front) and two outputs that are ARC, 3D, and Standby Pass-thru capable. All the same inputs and outputs are available including a PC in, RS-232, Ethernet, USB (front and rear), IR, and 12 volt triggers. In fact, aside from the binding post color change, the lack of one (count'em) digital optical input, and the little model number, you can't tell these two receivers apart physically.
All the same networking is on-board including Pandora, Rhapsody, SIRIUS Internet Radio, Napster, Mediafly, Slacker, and vTuner. The DTR-70.3 is Windows 7 and DLNA certified for streaming on your local network. If you have an iDevice, you can connect it to the front USB port for a direct digital connection with album art - just like the DTR-80.3. All the same processing and DSP modes are present plus all the same custom installer features. Both have iDevice and Android apps for control. So what's different? Where is that $700 savings coming from?
Apparently, it's under the hood. While the DTR-80.3 has a shielded toroidal transformer with four independent power supplies, the DTR-70.3's toroidal transformer is unshielded and has two independent power supplies. According to the marketing material, both receivers sport low-distortion WRAT amplifier stages and high-current power supplies, but the DTR-70.3's three-transformer power supply configuration is the main difference.
We're betting there are quite a few of you that would gladly pocket that $700 (or better yet, buy an external amp with it) considering all the rest of the features are the same. In fact, the only feature that is really missing from all these new high-end Integra offerings is Apple AirPlay. With the savings on the DTR-70.3 over its larger brother, you can easily afford an AppleTV with plenty to spare.
Conclusion
It's not hard to see why the Integra DTR-70.3 is destined to become Integra's new best-selling receiver. With its feature set and price, there is a lot to like. If you have to have the top of the line offering from Integra, the DTR-80.3 isn't a bad receiver. If you are planning on using the internal amps and you have some finicky speakers (or ears), the extra $700 may make sense for you. For the rest of us, the DTR-70.3's savings is just too good to pass up.
For more information, please visit www.integrahometheater.com.

Unless otherwise indicated, this is a preview article for the featured product. A formal review may or may not follow in the future.
Confused about what AV Gear to buy or how to set it up? Join our Exclusive Audioholics E-Book Membership Program!
Recent Forum Posts:
Leo Henton posts on September 23, 2011 15:17
Please comment on the differences in DAC's between the Integra DTR-80.3 (192 / 32) versus the Integra DTR-70.3 (192/24). In an of itself would what kind and qualityof audible differences would you expect to hear from the different DAC's ?
Post Reply