Pioneer Elite VSX-LX303 9.2 Channel Network AV Receiver Preview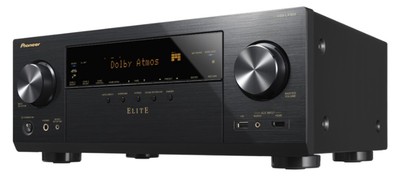 Summary
Channels: 9.2
Power: 100 W/ch (20 Hz – 20 kHz, THD 0.08 % @ 8 ohms FTC)
Frequency Response: 10 Hz to 100 kHz / +1, -3 dB (Direct/Pure Direct)
Signal to Noise Ratio: Line In, Speaker Out, IHF-A: 106 dB
Phono In, Speaker Out, IHF-A: 80 dB
Sound Calibration: MCACC
DAC: 384 kHz/32-bit
Dolby: Dolby Atmos, Dolby TrueHD, Dolby Digital Plus, Dolby Surround, Dolby Digital
DTS: DTS:X, DTS-HD Master Audio, DTS-HD High Resolution Audio, DTS 96/24, DTS-ES, DTS Express, DTS
Maximum Resolution Supported: HDMI: 4K 60 Hz (YCbCr 4:4:4)
Inputs: 7 x HDMI (1 front)
1 x component video
2 x composite video
2 x optical TOSLINK
1 x digital coaxial
4 x stereo RCA
1 x stereo RCA phono with ground screw
1 x gold-plated 1/8" / 3.5 mm aux (front)

Outputs: 2 x HDMI
1 x stereo RCA Zone 2
1 x gold-plated 1/4" / 6.35 mm headphone (front)
Dimensions (W x H x D) : 17.1 x 6.8 x 14.6"
Weight 23.8 lb

Executive Overview
We're starting to see a pattern emerging for this coming fall with major audio companies releasing affordable DTS:X and Dolby Atmos receivers that can upmix legacy content as well as having all the newest 4K video features and upscaling. Just a year ago receivers such as these would be in the $1,500 and up range, but since Onkyo released their TX-NR787 for a mere $700 on sale the push for these products is becoming increasingly prevalent.  With Onkyo's purchase of Pioneer in 2015 it was just a matter of time before Pioneer introduced their foray into this midpriced / hi-end arena with their Elite VSX-LX303.   The 9.2 channel AV receiver is priced at $799 and, like Onkyo's TX-NR787 supports and upmixes to DTS:X and Dolby Atmos soundtracks via 5.2.4-ch or 7.2.2-ch speaker layouts.

It Is good to see that both Pioneer and Onkyo are responding to Audioholics Inflated Power Ratings articles by listing unclipped full bandwidth power with two-channels driven into 8 ohm loads per FTC mandate. The VSX-LX303 is rated at 100 W/Ch (8 ohms, 20Hz–20 kHz, THD 0.08%, 2-ch driven, FTC) and comes with Pioneer's Direct Energy amp design to deliver a more stable and precise high-output power through all nine channels.  The LX-303 is augmented by 384 kHz/32-bit DAC, a quad-core 32-bit chip and an Aureus floating-point DSP chip all helping to facilitate 9.2-ch object-based audio playback of Dolby Atmos and DTS:X. Alternatively, the four Height/Surround Back outputs can drive stereo speakers in Zone 2 and Zone 3 with a 5.2-ch setup in the main room, or a 5.2.2-ch layout with Powered Zone 2 distribution. As well as analog, multiple DACs support digital source playback in up to three zones simultaneously. These are very cool features and flexibility at this price point.

On the video side the LX-303 supports pass-through for HDR10, HLG (Hybrid Log-Gamma), and Dolby Vision signals. By connecting a compatible source device, you can enjoy these latest video standards on a compatible display. What's more, all HDMI terminals support 4K (60p/4:4:4/24-bit), Wide Color Gamut (BT.2020), and HDCP 2.2, so you will have no problem when upgrading to new devices, and can also enjoy premium content such as 4K videos with digital copy protection. In addition the LX-303 will upscale older video content and although your new 4K ultra TV does this, the jury is still out on which will do a better job at it. We usually recommend having your source device do it, but it's worth comparing for yourself so you can decide which you prefer.
We're also starting to see audio devices with smart assistants such as the Amazon Echo or the Google Assistant built in like the Polk Command Bar and the Polk Assist. So far we haven't seen any AV receivers with these built it, but many of them like the LX303 integrate Chromecast so you can sync with a device featuring a Google Assistant. It also comes with DTS Play-Fi and FlareConnect for other choices of multi-room devices as well as WiFi and Bluetooth and a multitude of streaming options.
Pioneer is still using MCACC (Multi-Channel Acoustic Calibration System) as their room correction software on the LX303 which is useful to compensate for differences in speaker size, level, and distance as well as room reflections and distortions. Though, we give the edge to the Onkyo TX-NR787 with its AccuEQ Advance room correction, especially if you're going to use Dolby upfiring speakers for your Atmos immersive sound. The LX303 does come with a subwoofer calibration tool called "Phase Control". Phase Control  is designed to resolve phase-lag between the subwoofer and front L+R speakers, Phase Control compensates for bass delay at the viewing position to improve sound synchronization. Consequently, it's designed to make low-frequency effects more dynamic while also enhancing clearer reproduction of sound in the mid- and high-frequency bands.
Conclusion
Unless you've already committed yourself to the Pioneer ecosystem the LX303 is a hard sell over the virtually identical Onkyo TX-NR787 which retails for the same price as the Pioneer LX-303, but is currently on sale for $100 less. Also the Onkyo is a THX Certified Select receiver which is an added bonus for larger rooms. Don't get me wrong, a $800 receiver with all the features of the Pioneer LX303 is a great deal and will definitely hold its own for quite a few years in your home theater.  But, as fall and CEDIA approaches we expect to see all the major companies come out with competitive products. It's great to have all of these options to choose from and the solutions Pioneer and Onkyo are putting out seem very compelling.
Confused about what AV Gear to buy or how to set it up? Join our Exclusive Audioholics E-Book Membership Program!
Recent Forum Posts:
M Code posts on June 11, 2018 17:35
Important to note that the warranty for the Elite VSX-LX303 is 3 years parts/labor while the Onkyo 787 is 1 year less @ 2 years parts/labor. However the Onkyo RZ series AVRs do have a 3 year parts/labor warranty….

Just my $0.02…
lovinthehd posts on June 11, 2018 00:44
Might want to fix the 1000 wpc specification listed

Is there an actual difference between MCACC in this Pioneer vs the Advanced AccuEQ in the Onkyo?
gene posts on June 10, 2018 22:46
Ever since Onkyo's purchase of Pioneer in 2015, it was just a matter of time before Pioneer introduced their foray into the midpriced / hi-end AV receiver arena with their Elite VSX-LX303. The 9.2 channel AV receiver is priced at $799 and, like Onkyo's TX-NR787 supports and upmixes to DTS:X and Dolby Atmos soundtracks via 5.2.4-ch or 7.2.2-ch speaker layouts.
Both receivers have similar power specifications, # of amplifier channels, processing and multi-room capabilities. There are some features that differentiate the two models however.
24540
Read:
Pioneer Elite VSX-LX303 AV Receiver Preview
Which model do you prefer?
Post Reply