Yamaha RX-S602 Receiver Boasts Slim Design And Wireless Surround Capability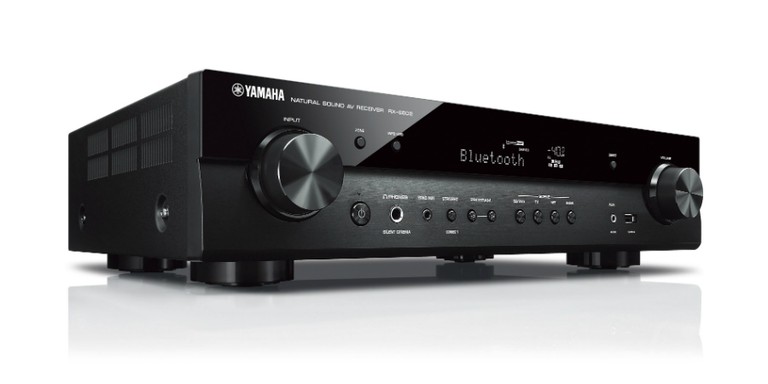 Yamaha RX-S602 AV Receiver
Summary
Rated Output Power (20Hz-20kHz, 2ch driven): 55 W
Dimensions (W x H x D): 17-1/8" x 4-3/8" x 12-7/8"
Weight: 17.2 lbs
Executive Overview
The technology inside AV receivers has advanced swiftly over the years, but the physical design of the home theater's cornerstone component has remained mostly stagnant. From a few feet away, the receiver that my brother purchased last year looks virtually identical to the first 5.1-channel model I bought in the 1990s. To be fair, a receiver's appearance isn't of much importance to enthusiasts. It's a utilitarian product designed to do a job. And if you have a rack full of gear in a dedicated room, who cares what it looks like? But for the average consumer, looks and size can be important factors when choosing a component that will be on display in a living room or other multi-use space. With these customers in mind, Marantz introduced its now-popular "slimline" AV receivers, which stand under 5 inches tall, in 2009. Marantz's success with its slim receivers did not go unnoticed by the company's competitors, and Yamaha began selling its own slimmed-down models in 2013. Yamaha's newest entry, the $650 RX-S602, takes things a step further with a technology called MusicCast Surround, which allows the user to set up a 5.1-channel system without running wires to the rear speakers.
The Yamaha RX-S602 Slimline AV receiver is just 4.5 inches tall, so it takes up much less visual space than a traditional design and should be a popular choice for apartment dwellers, or anyone who favors electronics with a sleeker look. Opinions may vary when it comes to the aesthetics of home decor, but if there's one thing that everyone can agree on, it's that unsightly wires do not make a great design statement. Enthusiasts will run speaker cables inside walls or underneath carpets, but hiding cabling can be difficult if you live in a rental property, or if you just don't want to undertake a big installation project. That's where Yamaha's MusicCast Surround technology comes in. This tech is an advancement of the company's MusicCast wireless multi-room audio system, which allows the user to stream music from a variety of sources to MusicCast-enabled speakers and electronics over a wifi network. With MusicCast Surround, the user can create a 5.1-channel surround system by connecting the three front speakers in the ordinary fashion using speaker cable, and sending the rear channels wirelessly to the company's MusicCast 20 or MusicCast 50  speakers. This functionality isn't exactly unique to Yamaha —  Denon's compact Heos AVR can do the same thing, using Heos speakers as surrounds — but it's still far from a common feature, and one that will certainly appeal to the style-conscious customers who will be considering a slim receiver. The RX-S602 also supports a conventional wired setup for the rear speakers, if that's what you prefer.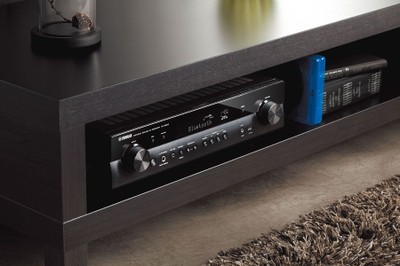 Yamaha RX-S602 fits snuggly into a compact entertainment center.

Yamaha's MusicCast Surround isn't the only new tech in the RX-S602. The receiver also offers (limited) voice control via any of Amazon's various Echo devices. Simply add the free MusicCast skill from Amazon's Alexa Skills Store, and you will be able to control many of the receiver's basic functions using voice commands. The RX-S602 also works with the free MusicCast app for mobile devices, which provides access to internet radio and streaming services, such as Spotify, Pandora, SiriusXM Internet Radio, TIDAL, Deezer, and Napster. The RX-S602 comes loaded with the usual wireless technologies, including built-in Wi-Fi, Bluetooth, Apple AirPlay, and Spotify Connect. The HDMI inputs are up to the latest spec, supporting HDCP 2.2, 4K video at 60 frames/second, and HDR video (HDR10, HLG, and Dolby Vision). 
In order to pack so much tech into such a small package, Yamaha did have to make certain compromises with the RX-S602. The receiver has only four HDMI inputs, whereas last year's comparable model (which did not offer MusicCast Surround) had six. It only supports a 5.1-channel setup, compared to the 7.2 channels in Marantz's slimline NR1609. And in the Yamaha, the amps only provide about 55 Watts of power (into 8 ohms, 0.09% THD, with two channels driven). Dolby Atmos is not supported, and Apple's new Airplay 2 protocol is absent as well. Does the RX-S602's combination of a slim form factor and wireless rear speaker capability make this $650 receiver an appealing option, or has Yamaha given up too much for the sake of style and convenience? Share your thoughts in the related forum thread below. 

Confused about what AV Gear to buy or how to set it up? Join our Exclusive Audioholics E-Book Membership Program!