Onkyo Dolby Atmos A/V Receiver Comparison Guide
Onkyo Dolby Atmos A/V Receiver Comparison Guide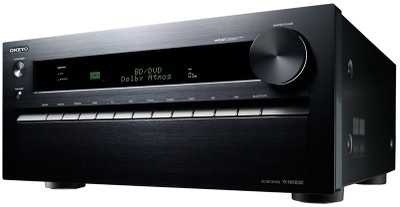 If you've kept track of the rollout of Dolby Atmos hardware, you know that Onkyo has been at the forefront of manufacturers that have adopted the new audio format. Onkyo has no less than five Atmos-ready A/V receivers, not to mention an Atmos-enabled speaker and HTIB (home theater in a box) solutions. Of course, with so many options on the table, it's not hard to imagine consumers getting overwhelmed. That's where Audioholics comes in: we'll lay everything out for you, starting with our handy dandy chart:
Model
TX-NR636
TX-NR737

TX-NR838

TX-NR1030

TX-NR3030

 MSRP
$699
 $899
 $1,199
 $1,699
 $2,399
 Channels
 7.2
 7.2

 7.2

9.2

11.2

 Power, 2ch, 8 ohm,
20Hz-20kHz

95W, 0.08% THD

110W, 0.08% THD

130W, 0.08% THD

135W, 0.08% THD
135W, 0.08% THD 

 Certified 4 Ohms
Performance

No
Yes

Yes

Yes
Yes
DACs

   24 bit Burr Brown  

   24 bit Burr Brown  

   24 bit Burr Brown  

   24 bit Burr Brown  

   32 bit Burr Brown  

 isf Certified
   Calibration Control  

No
No
No
Yes
Yes
 HDMI I/O

7 / 2

7 / 2
7 / 2
8 / 3

8 / 3
 HDMI Ver.

2.0
2.0
2.0
2.0
2.0
 HDCP Ver.

2.2
2.2
2.2
2.2
2.2
 MHL HDMI Input

 Front Panel

Front Panel
Front Panel
Front Panel
Front Panel
 Digital In
(Opt / Coax)

1 / 2

1 / 2

2 / 3

3 / 3

3 / 3

Phono In

Yes
Yes
Yes
Yes
Yes
 Video
Upconversion

To 4K (Marvell
Qdeo chip)

To 4K (Marvell
Qdeo chip)
To 4K (Marvell
Qdeo chip)
To 4K (Marvell
Qdeo chip)
To 4K (Marvell
Qdeo chip)
 Analog Preouts

0.2
 0.2
7.2

11.4

11.4

 Powered Zone 2/3

Yes / No

Yes / No

Yes / No

Yes / Yes

Yes / Yes

 Zone 2/3 Line Out

Yes / No (Fixed)

Yes / No (Fixed)

Yes / Yes (Fixed
/ Variable)

Yes / Yes (Fixed
/ Variable)
Yes / Yes (Fixed
/ Variable)
 Zone 2 HDMI Out

No
No
Yes
Yes
Yes
 Weight
 22.0 lbs

 22.0 lbs

 34.2 lbs

 45.2 lbs

 48.5 lbs

Onkyo AccuEQ doesn't EQ the front channels or sub.
Now before we discuss the specific models, there are a couple snags to take note of. First, in order to bring Atmos to market, Onkyo had to make an important decision: they could add more DSP power to handle the needs of the object based format along with Audyssey MultEQ, or they could find a way to cut the processing power requirements. Unfortunately, Onkyo chose the latter option for their entire lineup of A/V receivers. In lieu of Audyssey's proven suite of room-correction products, Onkyo developed their own stripped down auto-calibration system, AccuEQ. Ordinarily we wouldn't rush to judge something we haven't thoroughly tested; however, by Onkyo's own admission, AccuEQ doesn't EQ the main L/R channels or the subwoofer, which renders it useless as a room-correction system in our opinion.
Onkyo HDCP2.2 implementation is limited to the same data rates as other HDMI 1.4 products
Outside of the Audyssey / AccuEQ swap, there's the matter of the HDMI implementation. Like most manufacturers this year, Onkyo rolled out HDMI 2.0 across their receiver lineup. Also included in the mix was HDCP 2.2, which will be required to play the 4K Blu-ray discs that are coming next year. However, with the hardware that's current available, you can't get full bandwidth HDMI 2.0 and HDCP 2.2. Because of this, Onkyo's HDMI 2.0 implementation is limited to 10.2Gbps (the same as HDMI 1.4), negating many of the benefits of full-fledged HDMI 2.0. Of course, we note that having full bandwidth HDMI 2.0 without HDCP 2.2 is equally problematic, and it's up to next year's crop of receivers to remedy the situation.  Bottom line here, don't buy these receivers just because of an HDCP 2.2 feature bullet on the spec sheet since it's not the full implementation that will likely come in next generation models from Onkyo and their competitors.
Onkyo TX-NR636
Priced at $699, Onkyo's least costly Atmos-ready receiver packs a lot of goodies for the price including 7.2 channels of audio, 95W of power with 2 channels driven, integrated WiFi and Bluetooth for wireless streaming, 7 HDMI inputs plus two outputs, and a phono input for those with a vinyl collection. Not good enough for you? The TX-NR636 also features video upscaling up to 4K resolution, as well as Zone 2 capability (both powered and line out). In short, the TX-NR636 delivers almost everything you could ask for from a mid-priced A/V receiver.
Onkyo has the only Dolby Atmos AV receiver at the $700 price point, but there are caveats.
Only one question remains: what kind of Atmos experience can you get for $699? As mentioned earlier, the TX-NR636 is a 7.2 channel receiver. What this means with respect to Atmos is that a single configuration is supported: 5.2.2. Unlike costlier receivers that can support 9 or more channels, the TX-NR636 can only support a pair of height channels. As such, it can't deliver the same 360 degree dome of sound you can achieve with a 5.1.4 or 7.1.4 setup running on Onkyo's higher end models.


Onkyo TX-NR737
Moving up the model line to the TX-NR737 will set you back $899, which begs the question: what do you get for an extra $200? In short, more power. The TX-NR737 bumps up the power rating from 95W/channel to 110W/channel (2 channels driven), which amounts to less than a decibel of additional output capability. While that's not much to write home about, the TX-NR737 is also certified for 4 ohm performance, which is helpful for those with low impedance speakers. Other than that, the only other noteworthy item is that the TX-NR737 is THX Select2 Plus certified; we'd wager the licensing fees for the certification account for a fair chunk of the price hike from the TX-NR636.


Onkyo TX-NR838
With an MSRP of $1,199, the TX-NR838 represents useful bump in overall abilities relative to its less costly siblings. Power again gets a marginal increase, now up to 130W/channel. More importantly, TX-NR838 is also blessed with a full complement of preamplifier outs, meaning you can attach an external amplifier if you want even more juice on tap. Things also get more interesting in the multi-zone department. The TX-NR838 can assign its second HDMI output to Zone 2, and it also offers line outputs for a third zone of audio. What's more, the line-level zone outputs can be fixed level to feed another receiver, or variable to feed an external amplifier.


Onkyo TX-NR1030
At $1,699, the TX-NR1030 represents the biggest price hike over a lesser model we've seen yet. However, as far as Atmos is concerned, this is where the rubber meets the road.  The TX-NR1030 weighs a whopping 11lbs heavier than its 838 sibling meaning it's got a beefier power supply to pump out more power.  Where the previous models we've looked at have all been limited to 7.2, the TX-NR1030 is a 9.2 channel receiver with pre-outs for 11.4 channels of audio. As you might guess, this means you can build up to a 7.4.4 system, allowing for a complete Atmos-in-the-home experience. Beyond the potential for Atmos, the TX-NR1030 boasts ISF certified calibration controls, which is useful for custom installations. On the connectivity side, there's an additional HDMI input and output, bumping the count to 8 and 3 respectively, as well as a pair of balanced preamp outputs. Last and most certainly least, there is a token increase in power, up to 135W/channel.


Onkyo TX-NR3030
Capping the range at $2,399, the Onkyo TX-NR3030 boasts 11 channels of amplification as well as upgraded DACs over the TX-NR1030….and not much else. Yes, technically there's another 12V trigger output for Zone 3, and a composite video output for Zone 2 (just in case you have a 20 year old TV that doesn't support HDMI…), but we're not convinced that those are big reasons to spend an extra $700 on an A/V receiver. Given that price premium, we'd just assume purchase the TX-NR1030 and spend a few bucks on an external amp like the Emotiva XPA-3. This way, you can still appreciate a 7.x.4 Atmos experience, not to mention get a serious boost in power for the front three channels where its needed most.
Conclusion
To its credit, Onkyo has the widest range of Atmos-ready A/V receivers of any manufacturer today. Moreover, the TX-NR636 undercuts the least expensive Denon, Marantz, Pioneer, and Yamaha Atmos receivers by a significant margin, allowing consumers to get a taste of the new technology without a huge cash outlay. On the downside, we feel that it's a major oversight for Onkyo to ditch Audyssey MultEQ room correction in favor of AccuEQ. Because AccuEQ appears to be little more than a way to cut costs at the expense of performance, it's difficult to recommend Onkyo products for those wanting a more sophisticated room correction system. Frankly, that's a shame given everything else Onkyo is bringing to the table.
Confused about what AV Gear to buy or how to set it up? Join our Exclusive Audioholics E-Book Membership Program!
See also: