Onkyo TX-RZ70 Gives You 11.2CH & Dirac Live for Under $3k!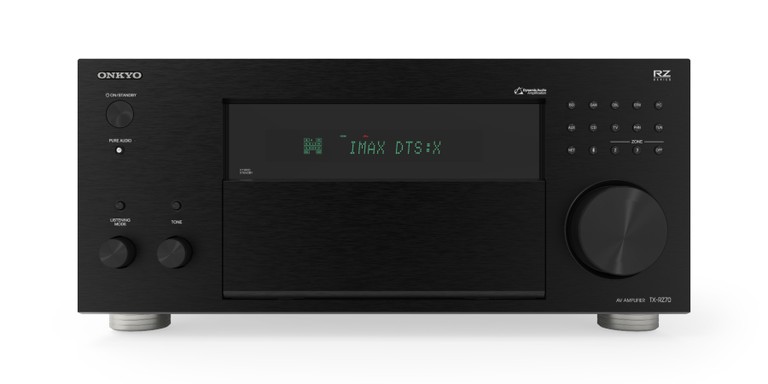 Onkyo TX-RZ70 11.2CH AV Receiver
Summary
Executive Overview
Integra and Pioneer Elite have just announced new flagship AV receivers, so it was only a matter of time until Onkyo did the same. The new 11.2-channel Onkyo TX-RZ70 AVR ($2,799) is among the first batch of products launched since Premium Audio Company — a Voxx International subsidiary — purchased the Onkyo brand in 2021. (Premium Audio Company also owns owns Pioneer's home entertainment division, along with Integra, Klipsch, Jamo, and the German loudspeaker companies HECO and Magnat.) According to PAC, the new Onkyo flagship was a collaboration between Onkyo Japan and its new parent company, which endeavored to "retain and embrace the expertise and decades of institutional knowledge of the engineers at (Onkyo's) Technology Center in Osaka." The TX-RZ70 shares a lot of DNA with the new Pioneer Elite VSX-LX805, but sells for $200 less.. The Pioneer is itself a couple Benjamins cheaper than the Integra DRX-8.4, making the Onkyo the most affordable of the bunch. For that reason alone, the TX-RZ70 is a highly-anticipated product for AV enthusiasts looking to build an 11.2CH theater system. The more expensive Pioneer and Integra models offer a few extra features, including XLR connectivity and extra subwoofer outputs (though all three receivers max out at 2 independent subwoofers, with the Pioneer and Integra offering an additional 2 outputs wired in parallel). For the average AVR user with a living-room system, these additional features might not be worth the extra cash. The Onkyo looks to be a true value here.
The flagship Onkyo TX-RZ70 AVR is one of the first projects our PAC product development team has worked on with the existing Onkyo engineering team, and represents a new standard of performance in its class.
— Rob Standley, SVP of Global Brands – Elite, Pioneer, Integra, and Onkyo
Onkyo says that the TX-RZ70 AVR "provides stellar audio performance and studio-level processing for music, home theater, and gaming fanatics," and that it's "packed with the most advanced immersive audio technologies." At its core, the TX-RZ70 is a THX Select-certified 11.2-channel receiver rated at 140 watts per channel. (Fun fact: Onkyo launched the world's first THX-certified AVR back in 1993.)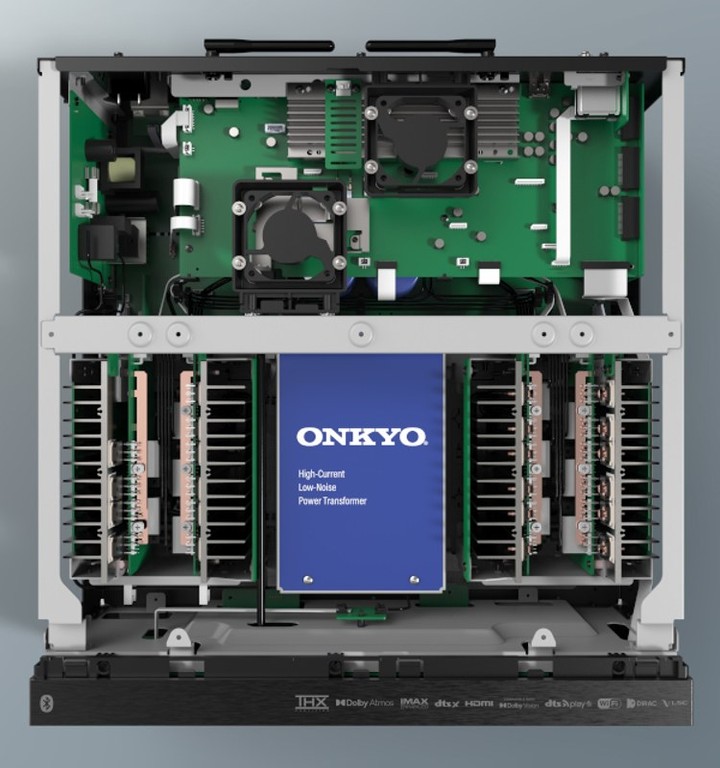 Onkyo's discrete Class AB dynamic audio amplifier boasts high current capability, which should make it compatible with loudspeakers with low impedance dips. The amp also features low negative feedback and a closed loop ground to minimize noise. Noise is further reduced by the use of a shielded power transformer. It will be interesting to see how similar or different the Onkyo's amplification is from that of the aforementioned Pioneer and Integra AVRs, which are both rated at 150 watts per channel. It is interesting to note that Pioneer and Onkyo have dropped their Class D amplifier topology in favor of a more traditional linear amp design. In past bench testing we found the Class D ICE powered Pioneer SC-07 had difficulty driving 4-ohm loads so we are eager to see the results of this new amplifier design by comparison.
The TX-RZ70 shares all of the HDMI 2.1 technologies and features found in the more expensive Pioneer and Integra receivers; these include 40GPS bandwidth speeds, support for 8K/60Hz and 4K/120 Hz resolutions, and pass-through for various HDR formats, including Dolby Vision. Onkyo hasn't skimped on audio tech either. The TX-RZ70 uses premium 32-bit ESS Sabre DACs (a pair of ES9206 chips, to be precise), which provide "unprecedented dynamic and ultra-low distortion," according to Onkyo. The TX-RZ70 also comes with Dirac Live room correction (a full-bandwidth license is included in the purchase price), with an optional upgrade available for Dirac Live Bass Control, which uses machine learning and AI to quickly determine ideal settings for any loudspeaker/subwoofer layout. The single-subwoofer version of Bass Control costs $349, while the multi-sub version costs $499. As I've pointed out before, owners of the new Denon and Marantz receivers have to pay for a Dirac Live room correction license, and Bass Control isn't even available as an option (for now, anyway). If you're shopping for an AVR and you really want Dirac Live with Bass Control, the Onkyo TX-RZ70 is currently the least expensive option I'm aware of.
Like most new receivers, the TX-RZ70 has network streaming capabilities, offering Spotify Connect, Chromecast, and Apple AirPlay 2 connectivity, along with DTS-PlayFi, which adds Tidal, Amazon Music, Pandora, and others. But the big news for many audiophiles is that the Onkyo, like the Pioneer and Integra, will be gaining Roon Ready certification via a firmware update in September 2023. The TX-RZ70 also works with smart home assistants like Alexa, Siri, and Hey Google. As you'd expect from an 11-channel receiver, the TX-RZ70 supports Dolby Atmos, DTS:X, and IMAX Enhanced, with Auro3D support scheduled to arrive via a firmware update in June. One tech feature that may prove interesting to Klipsch owners is Klipsch Optimized Mode, which reportedly allows the user to easily and seamlessly integrate Klipsch Reference Premiere speakers with the TX-RZ70. According to Onkyo's Global Product Manager Rolf Hawkins, Klipsch and Onkyo teamed up to implement the precise crossover values for specific new Reference Premiere speakers in order to simplify setup.
The Onkyo TX-RZ70 AVR is available from authorized Onkyo dealers, like our friends at Audio Advice.
More information: www.onkyousa.com

Unless otherwise indicated, this is a preview article for the featured product. A formal review may or may not follow in the future.
Confused about what AV Gear to buy or how to set it up? Join our Exclusive Audioholics E-Book Membership Program!