Pioneer Elite VSX-LX805 11.2CH AV Receiver - Poor Man's Integra?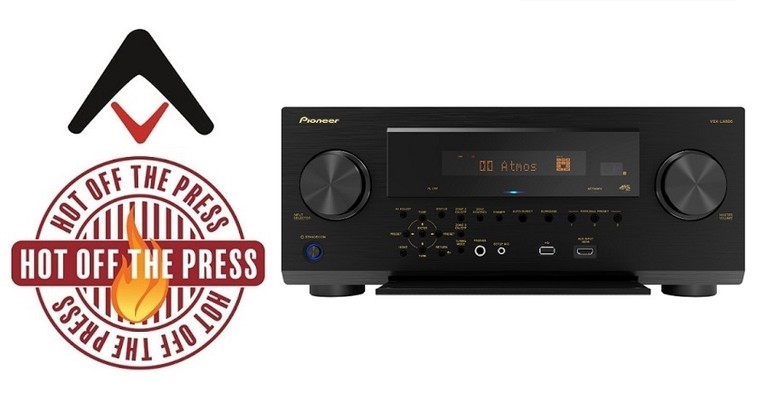 Pioneer Elite VSX-LX805 AVR
Pioneer's premium VSX series of Elite AV receivers was first launched in 2021, introducing new features like Dirac Live room correction, HDMI 2.1 with support for 8K video, and IMAX Enhanced Mode. It was also in 2021 that Premium Audio Company, a subsidiary of Voxx International, bought the rights to Pioneer's home entertainment division. (Premium Audio Company also owns Klipsch, Onkyo, Integra, Jamo, and the German loudspeaker companies HECO and Magnat.) Now Pioneer has announced its first product developed under the Premium Audio Company umbrella, a new flagship AVR called the Elite VSX-LX805, which will sell for $2,999 when it becomes available from authorized Elite retailers (and at pioneerhomeusa.com) later this spring. The folks at Pioneer Elite say that the VSX-LX805 will deliver "exceptional audio performance and studio-level processing for the discerning AV enthusiast."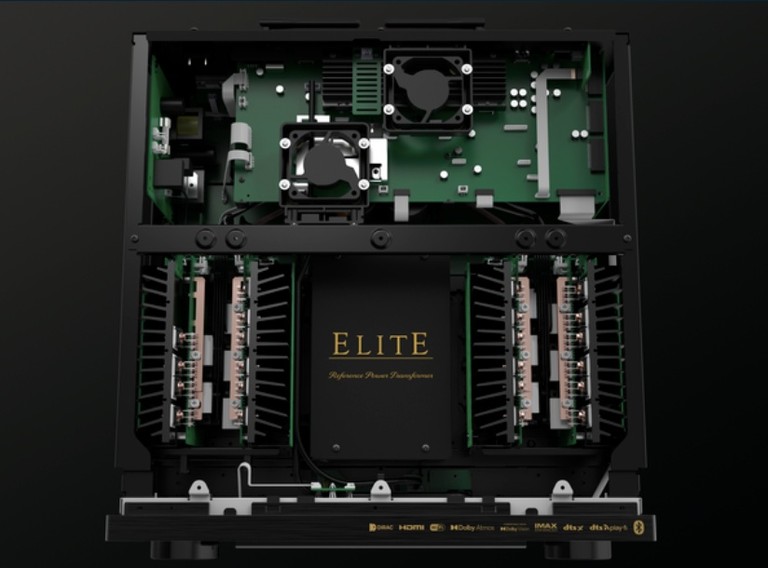 The Elite VSX-LX805 is an 11.2-channel receiver rated at 150 watts per channel (with 2 channels driven at 0.08% THD). It offers many of the same features as the recently-announced Integra DRX-8.4 AVR, but for $200 less. These similarities include the use of premium 32-bit ESS Sabre DAC chips, said to provide "unprecedented dynamic range and ultra-low distortion." It's worth noting that Denon fans would need to shell out $6,500 for the Denon AVR-A1H in order to get a 2023 receiver with ESS Sabre DACs, and Marantz fans would need to pony up for the $7,000 AV 10 processor. The Elite VSX-LX805 boasts a new symmetrical class-AB amplifier section featuring fan-shaped, anti-resonant extruded aluminum heat sinks for improved heat dissipation, and custom hi-grade capacitors rated at 18,000uF for impressively dynamic performance. Pioneer seems to have abandoned its Class D ambitions at a time when other manufacturers, such as NAD and Marantz, are embracing Class D more than ever before. Interestingly, the company's website still has a page devoted to explaining what makes Pioneer Class D amplification so impressive. We tested the Pioneer SC-07 featuring ICE amplification and found it fell short when driving 4 ohm loads. We are hoping this is NOT the case with their latest flagship VSX-LX805 AVR. This AVR looks like its able to pack a serious punch. Pioneer says this amp can "perfectly balance consumption and output requirements for optimal performance." We are guessing they must be employing a multi-rail design like the Denon and Marantz counterparts to make them more efficient at lower power levels (think Class G). The beefy power transformer is housed in a shielded case to reduce noise, and the newly-designed chassis is designed to suppress vibration.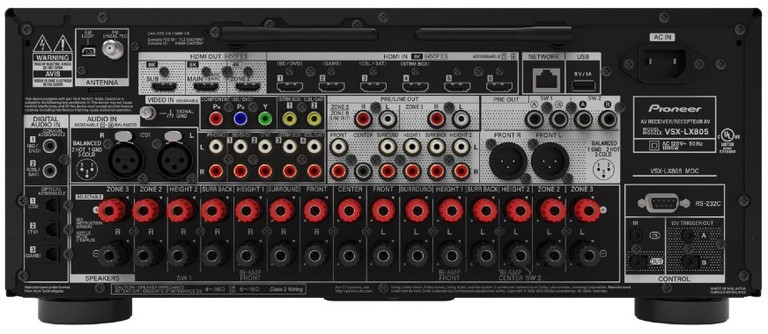 The receiver's 6 HDMI inputs and two outputs can all handle 8K/60Hz and 4K/120Hz video with 40GPS bandwidth. (The third Zone 2 output is limited to 4K.) Unlike the latest Denon and Marantz receivers, which offer Dirac Live room correction as an add-on extra, the Elite VSX-LX805 includes a full-bandwidth Dirac Live license. And Dirac Live Bass Control, which is still missing in action over at team Denon/Marantz, will be available at launch for the Pioneer. (Bass Control for a single sub runs $349, while a multi-sub license costs $499.) If you don't want to pay for Dirac Live Bass Control, the latest version of Pioneer's Multi-Channel Acoustic Calibration System (MCACC) promises to analyze phase differences and make real-time adjustments to compensate for the gap between the main speakers and the LFE signal sent to the subwoofer(s). Immersive audio support covers Dolby Atmos, DTS:X, IMAX Enhanced, and Auro3D, though the latter will arrive via a firmware update expected for June 2023. Another firmware update, slated for September, will make the VSX-LX805 certified Roon Ready.
We took extra time and care to make sure the 805 features the latest and best audio performance possible, including upgrades in digital audio processing, room tuning, high-res streaming capability, as well as the inputs and outputs, to ensure the Elite customer has the best experience with their connected gear. We also spent time meticulously listening with our engineers, making adjustments to the circuit path to ensure the most dynamic and expressive performance, honoring the brand's promise to bring the listener as close as possible to the artist's intent.
— Rob Standley, Senior Vice President of Global Brands for Premium Audio Company
Pioneer - The Poor Man's Integra?
The Elite VSX-LX805 AVR includes "audiophile-quality stereo balanced connections," but these are limited to one stereo input and one output for the front Left/Right channels. For $200 more, the Integra DRX-8.4 AVR has five XLR outputs, covering the front LCR channels plus two independent subs. The Pioneer's subwoofer outputs are RCA only. Like the Integra, the VSX-LX805 has outputs for just two independent subs (and another two wired in parallel). This is one area in which the latest Denon and Marantz models have a significant advantage. Starting at the $1,500 price point (the Denon AVR-X3800H is currently $1,499 at Audio Advice), the higher-end Denon and Marantz receivers for 2023 offer four independent subwoofer outputs and advanced LFE bass routing nobody else has. Whether this matters to you will depend on the size and layout of your home theater. This limitation aside, the VSX-LX805 looks like an exciting new flagship from Pioneer Elite. Are you ponying up for this new flagship from Pioneer or splurging for the slightly more feature laden Integra DRX-8.4 counterpart for $200 more? Share your thoughts in the related forum thread below.
More information: Pioneer Elite VSX-LX805
Confused about what AV Gear to buy or how to set it up? Join our Exclusive Audioholics E-Book Membership Program!