Integra's New 11.2CH Flagship DRX-8.4 AVR: Better than Denon?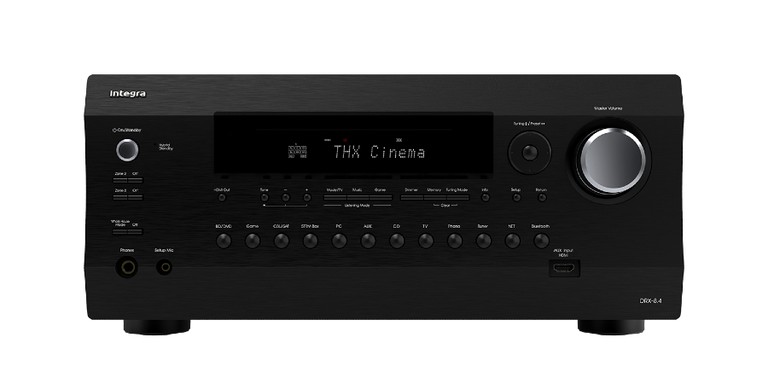 Integra DRX-8.4
Summary
Executive Overview
Since its 2021 launch, Integra's DRX series of AV receivers has been popular with custom installers thanks to advanced CI tools such as remote monitoring, along with high-demand features like Dirac Live room correction, HDMI 2.1 gaming capabilities, and aptX bluetooth transmitters for sending audio to wireless headphones. But the new flagship Integra DRX-8.4 AVR, which will sell for $3,200 when it begins shipping in the coming weeks of spring 2023, is more than just an updated option for the custom installer. In fact, I'd say it's the most exciting product to come from the brand in many years. In order to appreciate what makes this new receiver so special, it must be considered in the context of its competition. I happen to be in the market for a new receiver, and while I'd be thrilled to take home the $6,500 Denon AVR-A1H, it costs about twice what I can spend. But I don't actually need the Denon's 15 channels, and there are plenty of great, less expensive options out there, such as the Anthem MRX 1140, the Yamaha Aventage RX-A8A, and Sony's STR-AZ7000ES from the brand's newly revamped ES line. At the top of my list is the Marantz Cinema 40 ($3,500). I tend to like the Marantz house sound, and the Cinema 40 offers a number of features that appeal to me, such as Dirac Live upgradeability and four independent subwoofer outputs. (If I stick with Denon, I could save a bundle by going with the $2,500 AVR-X4800H, which offers the same features as the Marantz. Both are made in Japan's acclaimed Shirakawa Audio Works facility. I'd have to hear them both in action, but I'm leaning toward the Marantz.)
As appealing as the Cinema 40 is, it's not perfect. It only has 9 channels of amplification, so I'll need to add a stereo power amp if I want a 7.1.4-channel setup, which is the gold standard for Dolby Atmos home theater. It doesn't have XLR outputs for the subwoofers, nor for the front LCR preamp channels — and I'd probably want to add an external amp for those channels. At 125 watts-per-channel, the Cinema 40 can't match the 150-watt rating of the AVR-A1H (which does offer XLR outs, by the way). I was hoping that the Cinema 40 would use ESS Sabre DACs, like those found in the AVR-A1H and Marantz's own high-end AV 10 processor, but alas, the Cinema 40 uses the same DACs found in some less expensive Marantz receivers. Lastly, Dirac Live isn't actually included with the Cinema 40; I'll have to cough up another few hundred dollars for the upgrade. And for now, the excellent Dirac Live Bass Control subwoofer optimizer isn't even available on the Marantz (though I'm hoping it will become available next year). These issues may or may not be deal-breakers when it comes time for me to buy my next AVR, but wouldn't it be great if there were a receiver that checked all these boxes without costing twice what I'm prepared to pay? This is precisely where the Integra DRX-8.4 AVR comes in. At $3,200, it's not inexpensive, but it costs less than the Marantz, Sony, Yamaha, and Anthem options I just mentioned. And my wish-list is almost completely covered, with 11 channels of on-board amplification rated at 150 watts, XLR outputs, ESS Sabre DACs, Dirac Live included in the price, and Dirac Live Bass Control available as upgrade right now. Hopefully, you're starting to see why the DRX-8.4 AVR is such a big deal.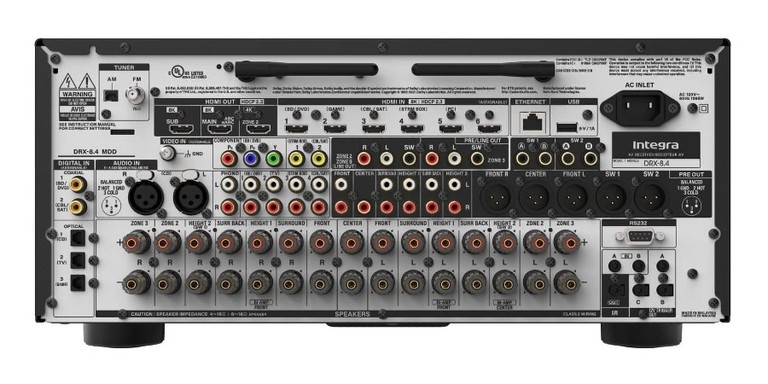 True to the Integra name, the DRX-8.4 was "exhaustively tested and built through close working relationships with professional installers," so that it "exceeds high expectations with a full suite of integration software tools and XLR connectivity," according to the company. It offers all the HDMI features you'd expect, with 6 inputs and 2 outputs all supporting 8K 60Hz (and a 3rd HDMI output for Zone 2, limited to 4K). HDR video passthrough is present and correct, with HDR10, HDR10+, and Dolby Vision covered. Gaming features like VRR (Variable Refresh Rates) and ALLM (Auto Low-Latency Mode) are supported, along with HDCP 2.3. Dolby Atmos, DTS:X, IMAX Enhanced, and Auro-3D are supported as well, though the latter will arrive via a firmware update. So far, so typical for an AV receiver in 2023. But the folks at Integra say they've gone to great lengths to improve sound quality, so much so that the DRX-8.4 is a bonafide audiophile music machine. With music-lovers in mind, the DRX-8.4 will be certified Roon Ready after a firmware update scheduled for June, meaning your high-res library — along with those offered by Qobuz and Tidal — can be easily enjoyed via the receiver, with no hassles or dropouts. Integra's team reportedly "spent weeks working with Roon to make sure your device will integrate seamlessly with your Roon account so you can listen to your entire music library wherever the AVR is powering your home theater." (For a deep dive on Roon, check out our video entitled Everything You Want to Know about the Roon Music Player.) The DRX-8.4 also has Chromecast and Apple AirPlay 2 built in, along with support for Amazon Music, Spotify, Deezer, TuneIn, and others.
The Integra DRX-8.4 boasts more power, more symmetry, and an unprecedented number of referral-ready features. Simply put: we mean business, and we're ushering in a new dawn of audiophile-level sound with this industry-dominating AVR.
— Integra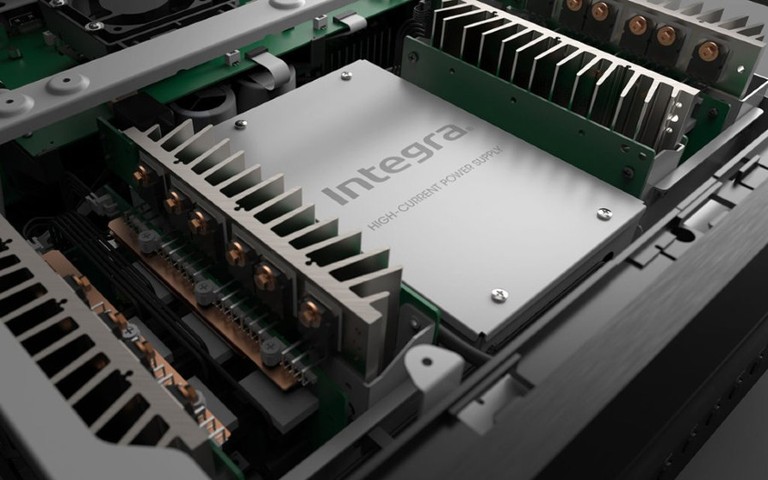 Back to Linear Class AB Amplification
Those claims of improved sound quality come down to the basics: build quality, parts quality, and circuit design. The DRX-8.4 is built into an all-new chassis engineered in-house, and promises "best-in-class amplification" with a high-current power supply and carefully-designed audio signal path, for "optimum noise reduction and signal clarity," according to Integra. The all-new reference symmetric class AB amplifier design promises to maximize audio performance, delivering an "expertly engineered" 150 watts of power to the receiver's 11 channels (8 ohms, 20 Hz–20 kHz, 0.08% THD, 2-ch driven, FTC). If you're using fewer than 11 speakers, you can bi-amp the main left, right, and center speakers by re-routing the unused power amp channels. The DRX-8.4's amplification features extruded anti-resonant aluminum heat sinks and hi-grade capacitors that promise to "perfectly balance consumption and output requirements for optimal performance." As I mentioned earlier, the DRX-8.4 also uses audiophile-quality ESS Sabre digital-to-analog converters, specifically a pair of precision 768 kHz/32-bit ESS ES9026PRO 32-bit Hyperstream II DAC chips. Integra says that these state-of-the-art DACs offer "studio-grade processing capability" and "unprecedented dynamic range with ultra-low distortion."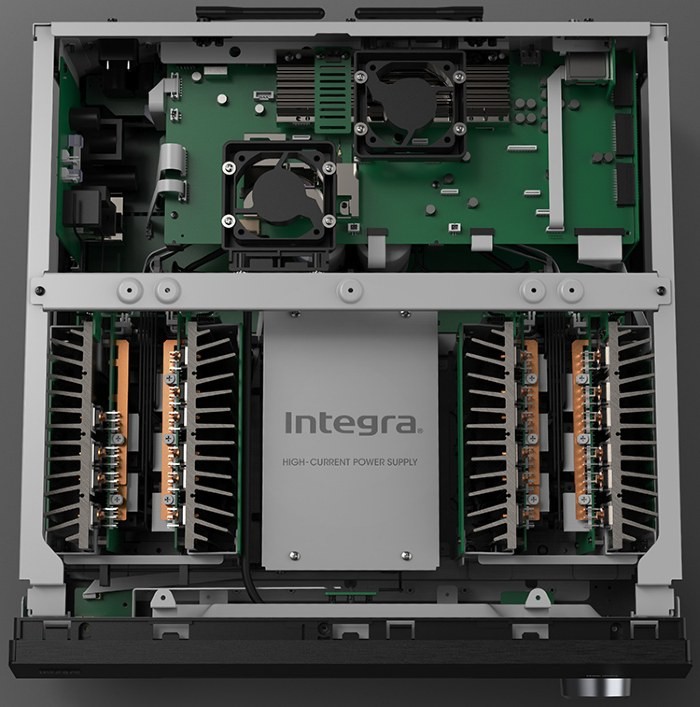 Dirac & XLR Outputs
Next on my wish list was XLR outputs, and here the DRX-8.4 actually one-ups the mighty Denon AVR-A1H. While the Denon has 4 XLR outputs — meant to be used with 4 subwoofers, or the main LCR channels plus one sub — the Integra has 5 XLR outputs, so you can use a balanced 3-channel amp for the LCR channels and still have 2 XLR outputs for a pair of independently-adjustable subwoofers. Should you want to upgrade to external amplification for other channels, the DRX-8.4 has pre-outs for all 11 channels on unbalanced RCA jacks. Dirac Live implementation is another area in which the DRX-8.4 actually bests the flagship Denon. Though in fairness, the Denon has full Audyssey MultiEQ XT support on board as well. While the AVR-A1H will offer Dirac Live as an upgrade (any day now), the DRX-8.4 includes a full-frequency (20Hz – 20kHz) Dirac Live Premium License, no upgrade required. Users can choose a basic calibration using the free Integra mobile app and included wired microphone, or a more advanced calibration using the Dirac app for PC or Mac, and an optional USB microphone (Integra recommends the $79 UMIK-1 from miniDSP). And while Denon and Marantz owners are still waiting to hear when and if their receivers will be getting Dirac Live Bass Control, it's already available for the DRX-8.4, even though the Integra hasn't started shipping yet. Prices for the Integra's Bass Control upgrades are the same as for other brands: $349 for a single sub, or $499 for the multi-subwoofer option, which uses machine learning and AI to quickly determine ideal settings for any subwoofer layout.
Custom Installer Options

As you might guess, the DRX-8.4 includes the most advanced and sought-after custom installation features you're likely to find in a receiver, from the optional IRK-180-4C rack adapter to the advanced web app for setup, backup, and recall of all AVR settings. In addition to IP control and web setup from your browser of choice, the DRX-8.4 features onboard HDMI diagnostics and a quad core network processor "for ultimate IP responsiveness and stability." Other installer-friendly features include the following: assignable amps for Zone 2, Zone 3, and passive subwoofers; compatibility with OVRC Pro, Domotz, Luxul Pro Watch, VPN, and other remote monitoring platforms to help manage, configure, and troubleshoot devices on the network; support for smart home assistants like Josh, Alexa, and Google; compatibility with Control4, Crestron, Save, URC, Elan, and RTI custom installation control systems; an onboard diagnostics tool kit, including test patterns, EDID/HDCP adjustment, and virtual remote, all available via the web app; Integra's most robust API ever, with discrete commands for virtually any AVR function; and custom control drivers based on integrator feedback, all developed and maintained by Integra's software team in Osaka, Japan.
Integra vs Denon

As you might be able to tell, I think the Integra DRX-8.4 is a seriously promising piece of AV gear, and I hope we get an opportunity to put it through its paces, both on the test bench and in the listening room. Like any piece of gear built to a price point, there are a few potential downsides that you should be aware of if you're considering an AV receiver in this price range. The Integra's biggest limitation, in my opinion, is that it has only two independent subwoofer outputs (the 3rd and 4th outputs are in parallel with the first two). As I mentioned at the start, all of the latest high-end AVR offerings from Denon and Marantz offer four independent subwoofer outputs. For some people, this will be a non-issue. Using more than two subwoofers might not be practical for those of us who don't have dedicated home theaters. (If I'm being honest, my living room is pretty small, and I might be able to squeeze in three subs, but four? No way.) But some hardcore home-theater enthusiasts will skip the Integra based on this limitation alone, and that's fair enough. Next, the DRX-8.4 only has 11 channels of processing, so it maxes out at the 7.2.4 configuration. Again, that is enough for most of us, but some folks with larger theaters will gravitate toward an AVR with 13 channels, such as the Sony STR-AZ7000ES or Denon AVR-X8500HA. Next, there's power to consider. Although the DRX-8.4 offers ample power on paper, we've yet to see whether the 150 watts it promises will prove as potent as the 150 watts provided by the Denon AVR-A1H. Our test bench showed prior Integra AVRs weren't able to drive 4 ohm loads as well as comparable Denon AVRs. However, the hefty 50lbs DRX-8.4 appears to be a different animal than their last generation of AVRs.
It's worth noting that none of the receivers on the market today can match the power output of the legendary Denon AVR-5805 from yesteryear, which produced 170 watts/ch and doubling down at 4-ohm loads without breaking a sweat but the AVR-A1H comes the closest by today's standards. If you find that you want more power than the DRX-8.4 can deliver, adding external amplification is easy enough as we've found prior Integra AVRs to have very clean preouts and the DRX-8.4 should be no different.
The only other nitpick I have is that, unlike the unusually elegant Marantz Cinema 40, the Integra DRX-8.4 isn't much to look at, with ho-hum styling that wouldn't have looked out of place in a Best Buy in 1999. But if you can look past its generic appearance and don't plan to use more than two subwoofers, the Integra DRX-8.4 has so much to offer that it's impossible to ignore. I plan to wait and see whether its sonic performance lives up to its tantalizing potential, but I'll admit that I have high hopes for this receiver. And if I were running the show over at Denon and Marantz, I'd be paying very close attention to this product launch.
Would you make the switch to an Integra for your next high-end AV receiver? Share your thoughts in the related forum thread below. 

Unless otherwise indicated, this is a preview article for the featured product. A formal review may or may not follow in the future.
Confused about what AV Gear to buy or how to set it up? Join our Exclusive Audioholics E-Book Membership Program!