Dirac Live Room Correction Added To New Onkyo TX-RZ50 AV Receiver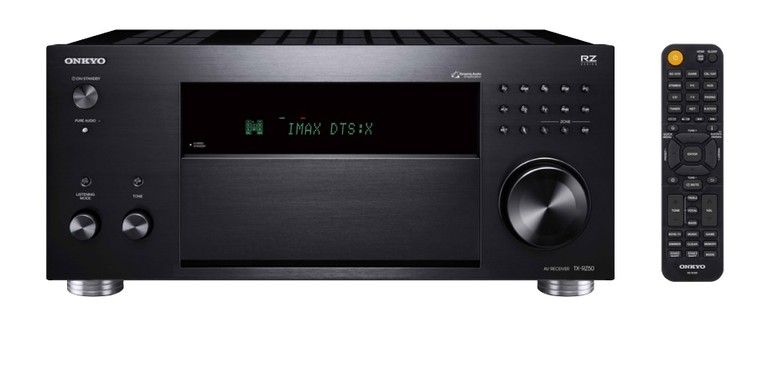 Onkyo TX-RZ50 AV Receiver
Summary
Power output: 120 W/Ch (8 ohms, 20 Hz–20 kHz, 0.08% THD, 2 channels driven, FTC)

Dynamic power 250 W (3 ohms, Front) 220 W (4 ohms, Front) 130 W (8 ohms, Front)

THD+N (Total Harmonic Distortion + Noise) 0.08% (20 Hz–20 kHz, half power)

Input sensitivity and impedance 200 mV rms/47 k-ohms (Line) 3.5 mV rms/47 k-ohms

Frequency response 5 Hz–100 kHz/+1 dB, -3 dB (Direct Mode)

Dimensions (W x H x D) 17 1/8˝ x 7 15/16˝ x 15 11/16˝

Weight 30.9 lbs.
Executive Overview
They're back! For awhile, it was touch and go if Onkyo and Pioneer were going to survive last year. But they've both come out swinging last week. One of the biggest highlights at the 2021 CEDIA show in Indianapolis, Indiana was the announcement that Dirac Live will be integrated into more mainstream AV receivers. For over 10 years, Dirac has been the leader in room correction for the high-end market, working with virtually all of the top brands. Now, integration with receivers from Onkyo, Pioneer, and Integra delivers Dirac Live from few to many, equipping more consumers with a home theater audio experience previously only available through higher-priced systems.
Mainstream consumers are demanding premium audio more than ever before. Onkyo, Pioneer, Pioneer Elite, and Integra recognize that the highest quality can be achieved through sophisticated room correction software like Dirac Live – which impacts sound quality even more than any hi-res audio format. In collaboration with four of the industry's most iconic brands, Dirac is proving that the world's best room correction software is not just for audiophiles. It's for everyone.
-Erik Rudolphi- Dirac's VP of Home & Pro Audio
DIRAC Live room correction is a state-of-the-art digital room correction technology that improves overall audio performance across the full frequency band with no additional upgrade required. Dirac Live automatically calibrates sound in your room using either your smartphone and an included wired mic, or you can go virtually wireless with the Dirac Live DPC or MacOS application, and a 3rd party USB mic.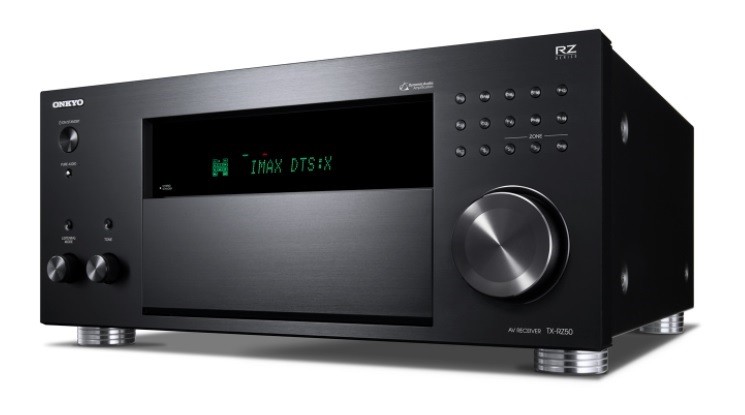 One of the first receivers announced to be receiving the upgraded and highly regarded room correction software is the Onkyo TX-RZ50. The TX-RZ50 is a 9.2 channel receiver with up to 11.2 channels of processing for 7.2.4 system layouts.  Not only does it come with Direct Live room correction software, but it also has the coveted THX Certification which guarantees the same reference volume of a commercial theater in rooms where the screen-to-seat distance is about 12 ft. In 1993, Onkyo became the first consumer home theater electronics brand to be THX-certified. The TX-RZ50 offers four distinct THX listening modes: cinema, gaming, music, and surround.
The TX-RZ50 is also IMAX certified.  DTS:X technology, IMAX Mode digitally re-mastered content for the home environment is created to provide the same sharp 4K HDR images and powerful sound just as the filmmaker intended. IMAX Enhanced films are available to stream or own on Ultra HD Blu-ray.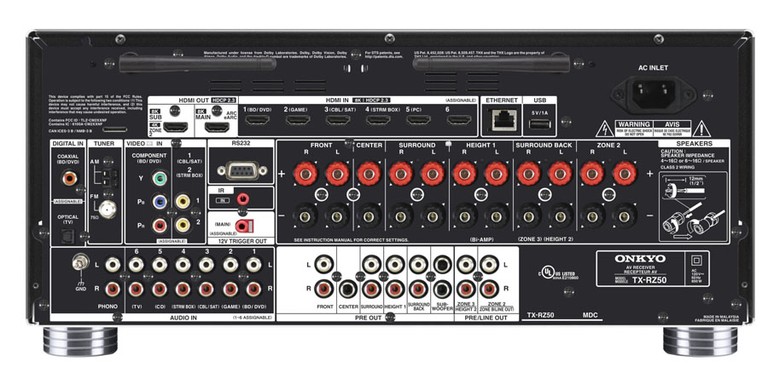 HDMI 2.1 On ALL Inputs!
HDMI 2.1 is the most recent update of the HDMI spec and supports eARC, a range of higher video resolutions and refresh rates including 8K60 and 4K120, and Dynamic HDR formats. 8K delivers a super-immersive viewing experience with 2x the horizontal and vertical resolution of 4K, and 4 times as many pixels; and combined with 60Hz refresh rate enables smooth and sharp viewing of content with high-speed action. HDMI 2.1 with 8K and eARC ensures your system is ready for the clearest and cleanest picture available both now and down the road. With  eARC the TX-RZ50 supports the latest high-bitrate audio formats including Dolby Atmos, DTS-HD Master Audio, DTS: X, Dolby TrueHD.
We're still seeing a trend towards gamer catering in the newest receivers. During COVID-19, the video game industry brought in more money than both sports and movies combined, so it only makes sense.  TX-RZ50 features HDMI 2.1 enhancements for gamers which allows 4K/120Hz HDR pass-through for ultra-fast motion. The high VRR (Variable Refresh Rate) helps eliminate lag, stutter, and frame-tearing for fluid gameplay and ALLM (Auto Low Latency Mode) helps optimize latency from source to screen.  The TX-RZ50 also comes with QFT (Quick Frame Transport) to limit lag for a smoother experience.
We're also seeing the number of streaming options increase year after year including high resolution streaming from sites like Qobuz and companies like Apple and the ability to create a seamless whole home audio system with compatible devices. The TX-RZ50 works with Sonos, Chromecast built-in, AirPlay 2, Roon and DTS Play-Fi, this includes Spotify, Amazon Music, Pandora, TIDAL, Deezer, or TuneIn streaming services. ThTX-RZ50 can also send and receive audio via Bluetooth wireless technology. With the newest Bluetooth codec you can stream from your device to the receiver using SBC or AAC codecs, or transmit audio playing through the AVR to compatible wireless headphones using SBC, aptX, or aptX HD codecs including 24-bit audio over aptX HD. The improved data transfer capabilities of the latest generation of Bluetooth should ensure clear and reliable sound reproduction so you hear your favorite songs just as the recording engineer intended.
The TX-RZ50 does come with Discrete Zone 2 HDMI Switching, which allows you to set up different high-definition entertainment options with  in two different rooms. If you watch a movie in the home theater, while the kids watch cartoons in their playroom you will get 8K60 in the home theater and 4K120 resolution in the playroom.
The Onkyo TX-RZ50 will be available this fall at $1,400 and comes with 3-year warranty. This could very well be the hottest buy in AV receivers for 2021.

Confused about what AV Gear to buy or how to set it up? Join our Exclusive Audioholics E-Book Membership Program!