Denon's New Entry-Level 8K AV Receivers Are Ready for the Future!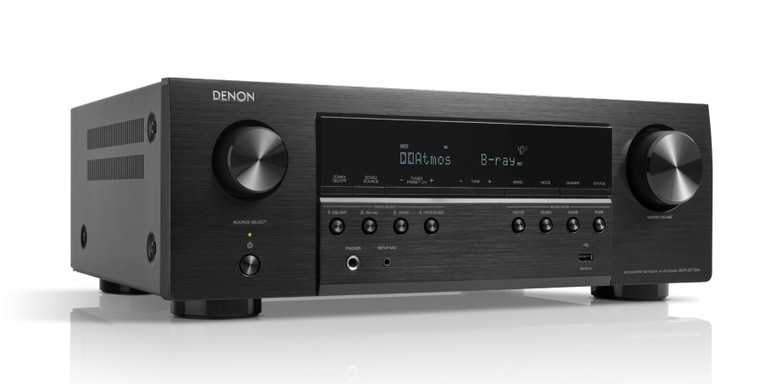 Denon AVR-S770H
Summary
Denon has announced two affordable, 8K-capable AV receivers, new for the second half of 2023. The 7.2-channel AVR-S770H ($649) and the 5.2-channel AVR-S670H ($549) are designed to work in small and medium-sized home theater applications, and will likely find themselves in typical living-room systems where reliability and ease of use are more important than cutting-edge performance. One might argue that next-gen features like 8K support aren't necessary in an entry-level receiver. Why bother putting 8K/60 and 4K/120 pass-through in these receivers? Why pack in the latest HDMI technology, including HDR10+ and Dolby Vision?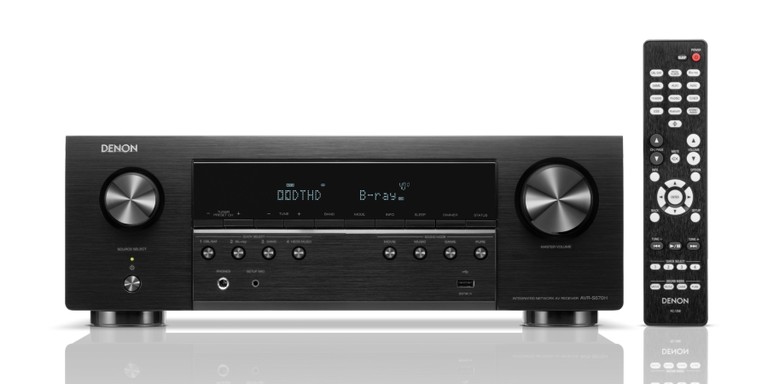 Denon AVR-S670H
It's true that many potential buyers will not need such features, and might be pairing the AVR-S670H or AVR-S770H with an older TV, or a less expensive one without the latest bells and whistles. By necessity, buyers in the budget category aren't early adopters, and it's not like there's an abundance of 8K content out there waiting to be streamed in 2023. That said, buyers in this price category may not replace their gear as often as hardcore AV enthusiasts. I know guys who buy a new receiver or AV processor every couple of years. On the other hand, my brother Dan spent about 600 bucks on a Denon receiver in 2017 or 2018, and has no plans to upgrade it any time soon. When he bought the AVR, he was using an older 1080p plasma and cheap Sony speakers that I gave him in the 1990s. He didn't need 4K video support or HDMI eARC back then. But because Denon tends to pack the latest features and decent performance into even its most affordable AVRs, his receiver was able to accommodate a later upgrade to a 4K OLED TV, a new Roku Ultra streamer, and some nicer Monitor Audio speakers. While I'd love for him to upgrade to a receiver with Dirac Live processing and high-end amps, he's still perfectly happy with his older Denon. And that's why products like the AVR-S770H and AVR-S670H make a lot of sense to me. Sure, right now 8K video feels like vaporware to most of us. But future-proofing has real value. In 2029, 8K video may well be commonplace, and many folks who buy these new Denon receivers will still be using them several years down the road.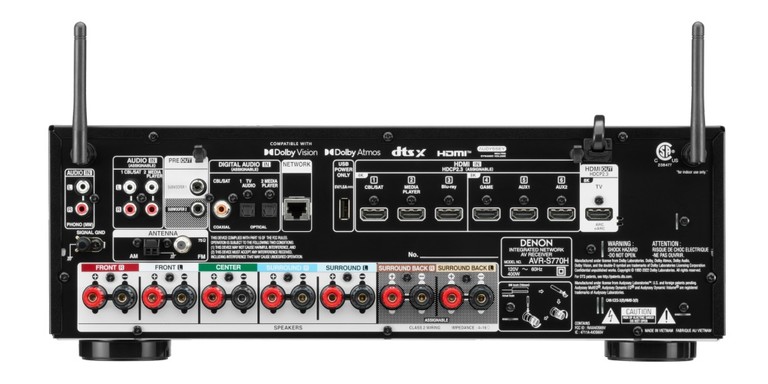 Denon AVR-S770H Back Panel

Both the AVR-S770H and AVR-S670H feature Dolby TrueHD and DTS HD Master Audio decoders, but only the 7.2-channel 770H handles Dolby Atmos and DTS:X. Both models offer HEOS integration, which allows users to stream music from their favorite online services such as Spotify, Pandora, Tidal, and others. Users can also share music with other HEOS-enabled speakers throughout the home. Crucially for AVRs in this price category, which attracts many AV newcomers, the AVR-S770H and AVR-S670H promise easy setup thanks to Denon's award-winning Setup Assistant, which features step-by-step instructions, and Audyssey MultEQ room correction technology, which delivers automatic results without requiring much input from the user. 
The AVR-S770H and AVR-S670H both offer six HDMI inputs, and 75 watts of power per channel (in stereo mode, into 8-ohm speakers), which should be sufficient for the majority of casual home theater setups — assuming the speakers involved aren't unusually difficult to drive. Both models can be through select authorized Denon retailers like our friends from Audio Advice.

Unless otherwise indicated, this is a preview article for the featured product. A formal review may or may not follow in the future.