Denon Remote Control App for '11 Series First Look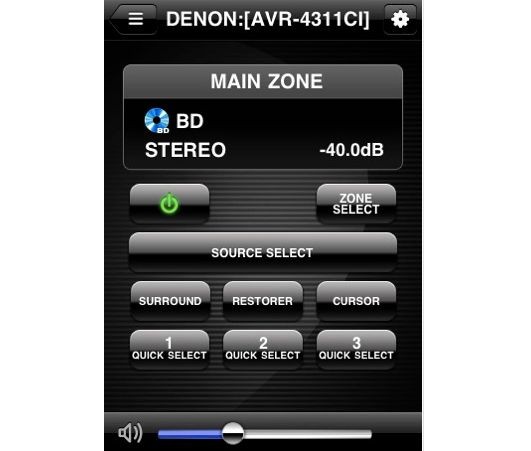 Yep, there's an app for that... just not a great one
Summary
Compatible with:
AVR-4311CI (SRP: $1,999)
AVR-3311CI (SRP: $1,199)

AVR-991 (SRP: $999)

100th Anniversary Product Collection Model AVR-A100 (SRP: $2,499)
Works with:
Allows control of Denon receiver:
Power on/off
Volume
Input selection
Choosing multi-zone networking
Content-streaming
Tuner commands
Radio station pre-sets
Balancing the audio soundfield for specific room parameters

More

Executive Overview
How long ago was the term "app" solely the preview of the programmer? How long ago was it that "app" became a household word? Well, the iPhone was released in 2007 so about three years ago. In that short amount of time, not only is the whole world aware of apps but businesses practically have to have one to be current. We've seem apps from many different home theater related manufacturers. We've seen apps that help you hand a flat panel. We've seen apps that help you level match your speakers. We've seen apps that measure speakers, that tell you about the movie you're watching, and even that let you know when is the best time to hit the bathroom while in the theater.
As receivers and processors get more and more powerful, we're seeing more networking features included. This means streaming from your computer or from the Internet. This means access to Netflix, Pandora, Rhapsody, YouTube, and Amazon (though often not all in the same box). This means that your entire library of music and movies is available without having to touch a disc. This also opens up a whole world of access to your receiver/processor without having to rely on the remote control.
What we're finding is that more than more manufacturers are releasing their own Remote Control apps. Denon, in celebration of their 100th year in business has created their own app. Currently the app only supports a few, selected models in the '11 line namely the AVR-4311CI, AVR-A100, AVR-3311CI, and the AVR-991 as long as you've updated the firmware of the latter two since the end of September. There is no word about support of any other Denon receivers or processors at this time though we wouldn't be surprised if the AVP-A1HDCI processor and the AVR-5308CI receiver saw firmware updates in the future (this is a guess on our part). Of course, in the iTunes store there are plenty of people complaining that it doesn't support their receiver (some of which are generations old) but for a free app, you sort of have to take what you can get. Those that do have compatible receivers are reporting a great user experience.
One of the things we like about the Denon Remote app is that you can download it and play around with a "Demo" mode. This allows you to get an idea of what you would be able to control if you had one of their newer receivers (or reportedly Blu-ray players). The controls are fairly basic but useful. On the main page you can control volume, power, and mute directly along with three "Quick Select" buttons (which we are guessing are macros). From there you can dig down to select source, zone, surround mode, restorer (for streamed MP3s), and a cursor window. We particularly appreciate the the surround menu as typically these duties are handled on a Denon remote via a couple of buttons that have to be pushed multiple times to get to the right mode. When you select "Net/USB" as the source, a second window opens that gives you access to any and all content on your network. From here you can play, pause, and skip forward/back your content. The app will even show the artist, song, album, and album artwork on the streamed media. 
This app is a "must have" for those with compatible receivers but that doesn't mean it isn't without its issues. The Denon literature on the app states that it allows users to control their "receiver's basic functions." That's about right. Even the radio presets can't be manually typed in - it looks (from the app interface) that you still need to use the remote or maybe the web interface to enter tuner presets. While accessing album artwork and easily scrolling through networked media is cool, where is the support for receiver setup and calibration? Where is access to any of the back-end menus for even the most basic functions? There is a "Menu" option on the "Cursor" screen but it is unclear if that is for Blu-ray control or for the setup menus. Even if it is the later, it is a poor substitute to having a dedicated screen.
While switching zones is cool, and higher end users probably do it a lot, most higher-end users are already using a Crestron or similar app and makes all that invisible. The prominence of the zone control seems a bit odd. What's really missing here is a dedicated iPad app. This amp is created for the iPhone/iPod Touch which (obviously) has a much smaller screen. A lot more could be done with a dedicated iPad app. While this app is fairly new and probably will grow in the future, we definitely would have liked to see a lot more functionality than switching inputs, controlling zones, and changing surround modes. We'll be interested to see if Denon really embraces this technology of if this app was someone's pet project that ended up getting released. If it is the latter, it is still better than nothing but a lot more could be done.
Conclusion
We'd love to tell you that you could (theoretically) throw away your Denon remote if you have a "Network 11" receiver but that just isn't the case. The app is free and it works over your network (which is cool) but it has only very basic functionality at this time. If you have a AVR-4311CI, AVR-A100, AVR-3311CI, or AVR-991, download it now (update your firmware if it isn't working on the latter two). If you are on the fence about a purchase of one of Denon's newer or older receivers, this shouldn't really sway your decision. Likely as not you'll still be using the remote from time to time. 
To download the app, click here. 
For more information, please visit www.denon.com.

Unless otherwise indicated, this is a preview article for the featured product. A formal review may or may not follow in the future.