Sceptre Speaker Sound Bar Preview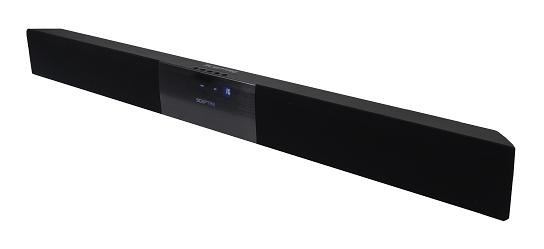 Sceptre Speaker Sound Bar
Summary
Model No.

SB20202B

Number of Woofers
2

Number of Speakers

2

Individual speaker diameter

2.5 inch

Speaker type

Active

Response Bandwidth

70 Hz – 20 kHz (±3dB)

Speaker Type

Active

Input sensitivity (mV)

500 mV rms

Sound Pressure Level (dB)

87 dB ±3dB @0.5m

Output power (Watt)

20W

Signal-To-Noise Ratio (Analog Output) (dB)

100 dB

Supported Sampling Frequencies

32kHz, 44.1kHz, 48kHz, 96kHz

Supported linear PCM bit Depths

16-bit, 24-bit

Response Bandwidth

20 Hz – 20 KHz (±3dB)

Preset Equalizer settings
4 (News, Movie, Music, Games)

Connector Types

2 Stereo RCA Inputs (Analog),
1 SPDIF (Digital)

Connectivity Technology
Wired

Power supply type

External AC adaptor

Power Range Input

100-240 VAC, 50/60 Hz

Power Range Output

15 VDC, 2.4 A, 36 W Max.

Audio Amplifier

Integrated, Class-D Amplifier with 1% THD

Cables Included

Audio Cable (Analog input left and right, SPDIF all in one cable)

Included Accessories

Wall Mounting hardware kit, 1 AC power adaptor, 1 Remote Control with battery (CR2025 x 1)

Remote Control

Infrared

Controls
Power, Volume, Preset EQ, Sources

Storage Temperature Range

-10ºC – 60ºC / 14ºF – 140ºF

Operation Temperature Range

5ºC – 35ºC / 41ºF – 95ºF

Certifications (ex. FCC, UL .. etc.)

FCC, UL, cTUVus

Net Weight with wall mount


5.07 lb

Net Weight without wall mount


4.74 lb

Gross Weight


7.71 lb

Dimensions without wall mount


37.25 × 3.50 × 2.28 inch
Executive Overview
A quick overview - bar-type speakers are designed to sit under your new flat-screen display. They come in two flavors - surround bars and sound bars. Surround bars are designed to recreate the five channel surround experience from a single speaker. Sound bars are designed to enhance the two channel experience you'd get from using the internal speakers in your display. While you can't always tell the difference from the outside, the name usually gives the function away.
Usually.
The Sceptre "Speaker Sound Bar", aside from having the the most Google-proof name since "the Loud Speaker" product a company released some years back (don't search for it, you'll never find it), somehow seeks to buck this trend. The name and design suggests a sound bar (two channel) but the website says that it features "3D Surround Sound". In Sceptre's defense, they also label the analogue RCA inputs "Analogy".
We're not sure that's much of a defense.
Back to the point. The Sceptre is a Sound Bar. It has to be. Any sort of simulated surround mode it might have shouldn't be engaged for the pure fact that it can't possibly be at all convincing. How can we say this? Personal experience? Years of research? Insider information?
No. Common sense. 
First, specifics. The Sceptre Speaker Sound Bar is 37.25" wide, 3.5" tall, and 2.28" deep. It has a remote but many of the newer Sceptre TVs also have four buttons that will change the mode, input source and also affect volume on the Sceptre Sound Bar - very convenient.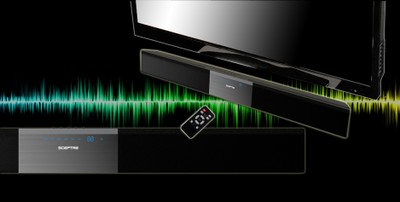 The Sceptre Speaker Sound Bar has four sound modes - News, Movie, Music, and Games. It has stereo analogue RCA inputs and a coaxial digital input. An included cable has all three cables in one bundle (an example where some cost-savings for Spectre might actually yield a convenience for some users). There is an included wall mounting kit, AC power adapter, and the aforementioned IR remote. With the wall mount, the Sceptre Speaker Sound Bar is just over five pounds. One thing that did impress us was the Sceptre included auto dimming on the LED readout - a thoughtful feature.
Sceptre's Speaker Sound Bar sports 20 watts per channel which Sceptre brags is "doubling the sound capabilities of traditional television sets." These watts are being pushed into a pair of 2.5" drivers. While they specify that the drivers can play 20Hz to 20kHz +/-3dB, the whole system is rated down to 70Hz. Frankly we don't put much stock in either of those specifications. The single driver per channel design is also the main reason why we don't believe any sort of surround simulation (in this scenario) can do anything but offer a minimal DSP pseudo-surround experience. There are some more sophisticated simulated surround speaker effects on the market, but you typically need a little bit more to work with to pull it off convincingly. Users will want to see which of the Sceptre modes they prefer based on their own preference.
Conclusion

The important thing to remember about the Sceptre Speaker Sound Bar is the price. At just a penny under $170, the Sceptre Speaker Sound Bar is likely to be one of the least expensive offerings in the store (and it's sold sold at QVC, Sears, Kmart, and Costco). But if you are paying full retail, you really aren't getting more than less expensive offerings from other manufacturers that utilize the same single-driver per channel design. Will the Sceptre Speaker Sound Bar sound better than the internal speakers in your new display? Probably. Will it sound $170 better? We're dubious.
For more information, please visit www.sceptre.com.

Confused about what AV Gear to buy or how to set it up? Join our Exclusive Audioholics E-Book Membership Program!
Recent Forum Posts: