Yamaha AVENTAGE CX-A5000 AV Processor and MX-A5000 Amplifier Review
Yamaha AVENTAGE CX-A5000 AV Processor and MX-A5000 Amplifier Review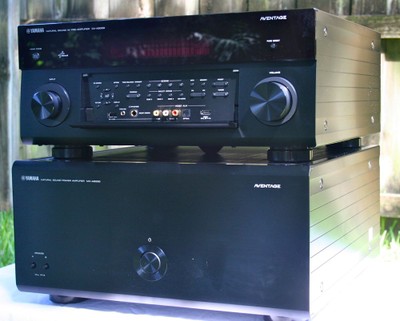 Yamaha AVENTAGE CX-A5000 Processor and MX-A5000 Amplifier
CX-A5000 AV Processor

XLR balanced connection (11 channel PRE OUT and 2 channel input)
ESS Technology ES9016 SABRE32TM Ultra DACs for all channels including front and rear presence channels
Cinema DSP HD3 with 33 DSP programs
High-density presence and richly detailed sound ensured by high sound quality parts and design
Specially designed high rigidity chassis eliminates the effects of vibration for greater sound purity
Front MHL® supports full HD video and audio from mobile phones and portable devices
Network functions such as AirPlay® and AV Controller App
Access to Pandora®, Rhapsody® Spotify, connect, and SiriusXM music streaming service
FLAC or WAV 192 kHz / 24-bit audio playback
Ultra HD (4K) pass-through and upscaling
Yamaha video processing optimizes video content
High-resolution Music Enhancer further heightens musicality from the original content
Advanced HDMI® zone switching allows unprecedented AV switching to multiple zones
HDMI: 8 inputs (1 on front) / 2 outputs with 3D and Audio Return Channel
YPAO™ R.S.C. (Reflected Sound Control) sound optimization with multi-point/speaker angle measurement
Full LED backlight learning and preset remote unit
Versatile zone control up to four zones including Party Mode
2 Handy trigger control
Dimensions (W x H x D): 17-1/8" x 7-1/2" x 17-5/8"
Weight: 30 lbs
MX-A5000 11 Channel Power Amplifier

150 W per channel (8 ohms, 20 Hz-20 kHz, 0.06% THD, 2 ch driven)
170 W per channel (8 ohms, 1 kHz, 0.9% THD, 2 ch driven)
Custom made, large-size toroidal transformer
Current feedback power amp with three stage Darlington circuit
27,000μF custom block capacitors
Specially designed high rigidity chassis and highest quality parts
Noise resistant XLR balanced connections and single-ended RCA
Bi-amping capability all channels
High quality gold-plated speaker terminals
Auto Power Standby
Handy trigger control (trigger in / out and through out )
Detachable high quality thick AC power cord.
Dimensions (W x H x D): 17-1/8" x 8-1/4" x 18-1/8"
Weight: 56 lbs.
Speakers A, B or A+B
Pros
Oodles of features and power
Cutting edge technology with nearly every conceivable feature supported
Accurate YPAO Room Correction with angle adjustment
Pristine Fidelity
Price
Cons
No aspect ratio processing
Confusing layout of amplifier inputs/outputs
Yamaha CX-A5000 and MX-A5000 Introduction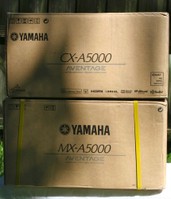 Many of us who have been in the audio world for a while never thought the big manufacturers would ever get back into separates. We thought they had abandoned the pre/pros for the more lucrative and much larger buying audience for receivers. Separates were left to the likes of budget online retailers and esoteric companies.
But we were wrong.
Yamaha's AVENTAGE series of receivers has consistently impressed us ever since they were released. They've been committed to making a receiver line that will push the boundaries and be at the forefront of technology. When they announced an AVENTAGE separates solution, we didn't know what to think. We knew they would be technologically advanced, but how would Yamaha market them? Would they create a line that had the very best technology simply to show that it can be done but price them out of the range of most users or would they try to put out a separates solution that enthusiasts could actually afford. Honestly, we would have been okay with them going either way.
But we were happy they went the affordable route.
The AVENTAGE separates aren't exactly cheep at $3000 apiece, but they are far more affordable than many esoteric offerings out there. Yes, you can put together a separates solution with a receiver and an amp that has much of what the CX-A5000 and MX-A5000 has for less - but not much. And you'll still be lacking some of the features that you simply can't get anywhere else. Marantz and Integra are the only other major manufacturers in this price class offering separates solutions but neither offer full 11 channel support in a two box solution like Yamaha.  Yamaha AVENTAGE separates are going to get a very good value rating. Let's face it - these products at these prices are a tour de force for the AV giant. This is like getting a Lamborghini at Honda prices. Like getting a yacht for the price of a canoe. Like...well, you get the picture.
Yamaha CX-A5000 & MX-A5000 AV Separates Video Review
First Impressions
The Yamaha CX-A5000 is an 11.2 channel pre/pro and the MX-A5000 is its high-powered standalone eleven channel amplifier companion. The Yamaha CX-A5000 and MX-A5000 came well-packed and free from any cloth bags or other trappings that esoteric offerings add to make you think your purchase is more special than it actually is. Yamaha likely didn't feel the need to do that and, frankly, I agree. The CX-A5000 processor is hefty at 30lbs but the MX-A5000 amplifier is a beast at 56lbs. While not coming anywhere near some of the weights we see some AV amps approach (over 100 pounds isn't unheard of), 56 pounds is still plenty unwieldy.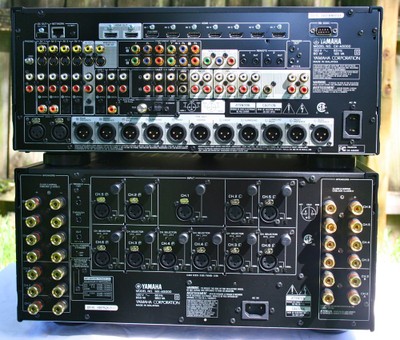 CX-A5000 (top) and MX-A5000 (bottom)

Rather than beat around the bush, I'm going to dive right into these products. The CX-A5000 has more connections than you're likely to ever need. As it is without amps, the space usually reserved for speaker terminals houses balanced (XLR) connections for eleven speakers. There are no balanced outputs for subwoofers, however there are a total of 13 (one for each speaker and one for each dedicated subwoofer output) RCA-style unbalanced connections for the main zone and a pair of RCA outputs for stereo sound to Zones 2 and 3. There are unbalanced 7.1 inputs for legacy gear as a pair of XLR balanced inputs for high-quality stereo sources.
Of course, HDMI is onboard with seven rear-mounted and one front-mounted input and two outputs. The HDMI outputs can be run in parallel (same output through both) or the second HDMI can route content to a fourth zone including any analog or digital source or streaming source. The GUI will be available in that zone as well - a nice feature. The HDMI connections are Audio Return Channel and Standby-through capable and support both 3D pass-through and 4k pass-through and upscaling. The front-mounted HDMI input is MHL (Mobile High-definition Link) compatible for use with mobile devices.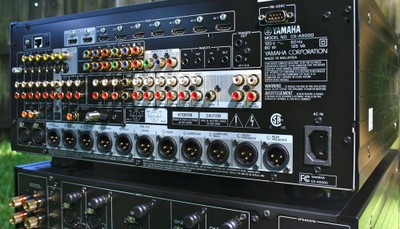 CX-A5000

There is a full suite of component, composite, and s-video inputs along with plenty of optical and coaxial digital audio inputs. We are actually surprised that s-video was included, as we don't know of anyone that actually used that connection when it was a slight improvement over composite. If we had to hazard a guess, all the boards with composite include s-video as well. Of course, there is a phono input for vinyl lovers with a grounding screw. Trigger outputs are on board for amps and other gear as are IR ins and outs and RS-232 for integrating with control systems. As with many high-end offerings these days, the CX-A5000 has an Ethernet connection for connecting to your home network and for network control.
The MX-A5000 is rated 150 watts into 8 ohms. It has two very large (27,000μF) capacitor banks for high, instantaneous power. While we'll put the amp on the test bench later in this review, it is clear that the MX-A5000 is a beast. The amplifier has a very different layout compared to many amplifiers. There are 11 channels of amplification which is divided into a single channel (channel 1) and then Left and Right Channels 2 thru 6. Channel 2 (both sides) has A and B for switching between two speakers. The whole amp is laid out with bi-amping in mind, stacking channels so that they can be cloned with a flip of a switch. This makes for a confusing design but one that can be flexible for installers that have clients with challenging demands. For most users, however, they are going to hook their speakers to the amp and never think about it again.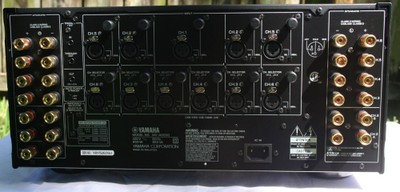 MX-A5000 back - closeups on the next page

Confused about what AV Gear to buy or how to set it up? Join our Exclusive Audioholics E-Book Membership Program!
See also:
Recent Forum Posts:
Franck posts on December 27, 2016 04:33
Hello,

I have got a Jamo D600 pack (4 ohm).
when you say "We ALWAYS recommend leaving the impedance switch set in the default high (8 ohms or more) mode regardless of the speaker load you will be using", does that mean that that I can set the impedance switch to 8 ohms without any risk even if all my speakers are 4 ohms?
Thank you
hmarkstrom posts on November 06, 2016 07:16
I first had the Yamaha CX-A5000 and MX-A5000 and then after a year replaced Yamaha CX-A5000 with Yamaha CX-A5100. Since it got DTS:X it has been upgraded two times.

I have a 7.2.4 configuration with XTZ Cinema speakers and four XTZ Cinema S2 Atmosphere in the ceiling.
Dolby Atmos and DTS:X have a very dynamic sound and I have played the beginning of Terminator: Genisys load and people that listen to it was very impressed and a cousin said that it sounded better than in the cinema.
Montucky posts on March 30, 2016 13:54
parkgoons, post: 1111657, member: 19009
Why buy this over an Emo setup?
For me, it's Atmos/DTS:X. Don't get me wrong. I love Emotiva and I'm actually planning on an Emo XMC-1 in another room of mine, but they both have their advantages. If you only want 7.x, then the Emo's a freaking amazing value. Especially with Dirac Live and all that. Need 7+.x.4, then the Yamaha's the way to go IMO.
parkgoons posts on January 04, 2016 12:23
Why buy this over an Emo setup?
Harald posts on July 03, 2015 13:25
Halo - up to my current knowledge the CX-A5000/MX-A5000 Combo is not able to stream any music file format gapless, right? (I am particulary interested in FLAC and AIFF) Does anybody know that perhaps Yamaha is working on an update to fix this? I read something like this in a blog from 2014. And furthermore when this updated Version will arrive to the (German) market?(BTW, I have contacted Yamaha Germany CSC but the picture is still not clear to me)
Post Reply