Cambridge Audio Minx M5 Multimedia Speakers Preview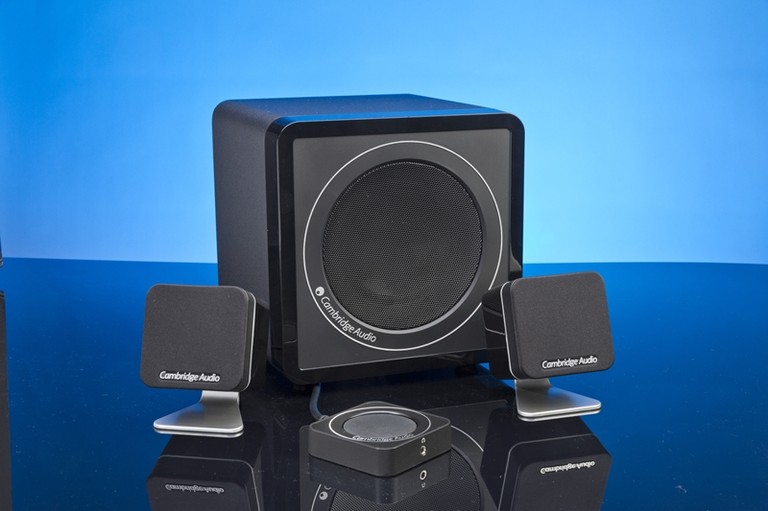 Cambridge Audio Minx M5 Multimedia Speakers
Summary
Satellites - 1x50mm (2") driver
Subwoofer - 1x135mm (5.25") woofer
Connectivity - USB audio-in / 3.5mm aux input / 3.5mm headphone output
Power output - Satellites: 2x15W / Subwoofer: 30W
Standby power consumption - <0.5W
Frequency response - 45Hz - 20kHz
Dimensions - Satellites: 2.9 x 2.9 x 2.91 inches / Subwoofer: 7.9 x 7.9 x 8.1 inches
Weight - Satellites: 0.96 lbs / Subwoofer: 9.7 lbs
Executive Overview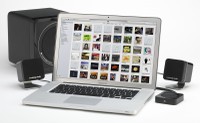 The crazy thing about being an AV enthusiast is that people expect you to have suggestions on nearly any AV product. I don't think there is a member in our forum that can't rattle off three or four different speakers that they would recommend. Subwoofers? Probably more, and delineated by price range. They probably have an opinion on displays, receivers, amps, and places to shop for interconnects and accessories. But what about the less sexy components? What about portable speakers? What about bedside system? What about speakers for your computer?
Probably not as much.
But every day companies are vying for consumer dollars in these markets. Cambridge Audio has a long history of putting out quality Hi-Fi gear. Their current website is a strange mix of high-end components and portable and personal speakers. While some may find it hard to reconcile the two, I think of it this way - all that technology that went into the Azur offerings, some of that must filter down. It just has to. So when Cambridge Audio announced a new desktop system, especially one that uses its own DAC and not your computer's, I was excited. With Cambridge Audio offering high quality, standalone DACs, here is a consumer-level product that certainly could have benefited from the higher-end side of the company.
The Minx M5 speaker system, at first blush, looks to be very similar to other desktop offerings. The Minx M5 consists of two, small satellite speakers an a small "sub" woofer. The speakers are about 3" cubes and the sub is just about an 8" cube. The satellite speaker each have a single 2" driver and the sub has a 5.25" woofer. Cambridge Audio rates the Minx M5 system down to 45Hz which seems remarkably honest of them. The Minx sub might not have a ton of output at 45Hz, but it probably gets there.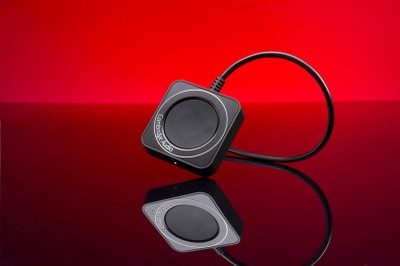 Cambridge Audio makes a few interesting decisions with the Minx M5. First, they've opted for a standalone control unit rather than putting the controls on one of the speakers. This will make placing the speakers a bit easier because you won't have to consider having them in reach (even though, on a desktop, they are likely to be in reach anyhow). The control unit, which looks a little like a coaster, controls power and volume. Cambridge Audio says that the sub can be "hidden from sight and controlled remotely" but I don't see anything on the control unit for adjusting the sub. It may be done from the computer.
Rather than using the audio output on your soundcard, they've opted for a USB connection to your computer. Their DAC (which is what drew my interest in the first place) does all the conversion duties. If you have a high-end soundcard...well, you're not looking at these speaker are you? But if you do, you may not find the Cambridge Audio DAC all that compelling. But for the rest of us, it is a lot cheaper than upgrading your soundcard. In addition to input from your computer, the Minx M5 has a 3.5mm input and a headphone output conveniently located on the control unit.
Conclusion
Do you need a compact speaker set for your desk? Does $229 sound like a lot of money to you? Would having the manufacturers of high end AV components design the external DAC for your speakers interest you? The new Cambridge Audio Minx M5 is all of these things and more. With 3" cube satellites weighing under a pound and an 8" cube "sub", Cambridge has put a lot of technology into their new desktop offering by using a USB connection and their own DAC rather than connecting to your computer's soundcard. Rated down to 45Hz, we're very curious to hear how this inexpensive offering sounds.
For more information, please visit www.cambridgeaudio.com.

Confused about what AV Gear to buy or how to set it up? Join our Exclusive Audioholics E-Book Membership Program!
Recent Forum Posts:
haraldo posts on June 26, 2013 17:00
Subwoofer with a 5.25" woofer, and rated to 45Hz, geeeeezzzzz
Where is the world gonna end

Is there not a minimum performance requirement that you have to meet….. before you can call it a subwoofer?

Still, quite cool
Post Reply