OPPO BDP-83SE Special Edition Blu-ray Disc Player First Look

Oppo BDP-83SE Special Edition
Summary
Disc Types
BD-Video, DVD-Video, AVCHD, DVD-Audio, SACD, CD, HDCD, Kodak Picture CD
CD-R/RW, DVD±R/RW, DVD±R DL, BD-R/RE
BD Profile
BD-ROM Version 2 Profile 2 (also compatible with Profile 1 Version 1.0 and 1.1)
Internal Storage
1GB (Actual available storage varies due to system usage)
Output
Analog Audio: 7.1ch or 5.1ch, stereo
Digital Audio: Coaxial, Optical
HDMI Audio: Stereo, up to 7.1ch high-resolution PCM, up to 5.1ch DSD, bitstream or LPCM conversion of Dolby Digital, Dolby Digital Plus, Dolby TrueHD, DTS, DTS-HD High Resolution Audio, and DTS-HD Master Audio.
Analog Video: Composite, Component Video (Y/Pb/Pr, 480i/480p, 720p/1080i available for non-restricted content only)
Digital Video: HDMI with HDCP (NTSC: 480i/480p/720p/1080i/1080p/1080p24, PAL 576i/576p/720p/1080i/1080p/1080p24)
Video Characteristics
Composite Video Amplitude: 1.0Vp-p (75Ω)
Component Video: Y: 1.0Vp-p (75Ω), Pb/Pr: 0.7Vp-p (75Ω)
Audio Characteristics
Frequency: Stereo 20Hz - 44kHz (±0.2dB), 20kHz - 96kHz (±1.1dB)
7.1CH 20Hz - 44kHz (±0.4dB)
Signal-to-Noise Ratio: >117dB (A-weighted, auto-mute off)
THD+N: < 0.002% (1kHz at 0dBFS, 20kHz LPF)
Dynamic Range: >104dB (24-bit unweighted)
Channel Separation: >106dB (24-bit unweighted)
General Specification
Power Supply: ~ 100V - 240V, 50/60Hz AC
Power Consumption: 35W (0.5W Standby)
Dimensions: 430mm x 336mm x 77mm, 16-7/8 x 13-1/4 x 3 inches
Mass: 5.1kg / 11.2 lbs
Operating Temperature
5°C - 35°C
41°F - 95°F
Operating Humidity
15% - 75%
No condensation
Executive Overview
You don't have to spend much time on any Home Theater Forum before you come across the name Oppo. Oppo has been touted by fans, enthusiasts, and industry professionals as being the best bang for buck in the DVD market. If you haven't owned one, you know someone that has. Heck, you've probably suggested one to more than one friend, acquaintance, family member, or anonymous user on the Internet. When Oppo came out with their cost defying, feature rich Universal Blu player - the BDP-83 - people were understandably excited. Of course there was a lot to get excited about. It was a universal player which means that it plays not only Blu-ray discs, DVDs, and CDs (which all Blu-ray players will do), but also DVD-As and SACDs. While the common man might now know about these formats, for the enthusiasts, it is a must.

As a brief history, SACD and DVD-A are two formats there were meant to usher in not only higher fidelity recordings but also multichannel, high fidelity recordings. You don't have to spend too much on speakers and a receiver before you realize just how bad much of the over compressed mainstream music sounds on a higher fidelity system. Suddenly you have two stacks of music - music that sounds good in the car (where the road noise and bad speakers need a highly compressed track just to be heard) and music that sounds good in your house.
SACD and DVD-A took this to a whole new level. Now you have music that we meant to be played back by a high quality surround sound system (some of the offerings were in stereo but many were not) and were recorded at a much higher bitrate and with minimal if any compression. This was music with dynamic range, with nuances, with the ability to not only hear the vocals but to discern individual instruments, sounds, and (sometimes) mistakes. Music lovers flocked (well, maybe not flocked but at least picked up one or two) to these new formats once they picked up a compatible player. The problem was that the players were newer and more expensive. Oppo, of course, fixed that with their very affordable DVD player offerings. But when Blu-ray and HD DVD came out, there was a new high-res format on the block and the struggling DVD-A and SACD formats were all but abandoned. In fact, you could barely find a Blu-ray player that played SACD (Sony's format) and DVD-A was all but non-existent. It seemed that music lovers would be stuck with two players - an SACD/DVD-A DVD player and a Blu-ray player.
We heard announcements from the likes of Denon and Lexicon that new Universal Blu players were in the works. They'd have top of the line everything including support for just about every format under the sun. Finally the music lover would have an all-in-one option. But it came at a cost. The Denon DVD-A1UDCI Universal Blu-ray Player hit the stores as a cool $4500 with the Lexicon BD-30 (which is very much an Oppo BDP-83 clone) just shy of $3500. That is just too much for the average enthusiast. Of course Oppo had the remedy for that as well with the BDP-83 which retailed for just shy of $500. With nearly all the features of the higher priced offerings but at a fraction of the cost, it couldn't help but shoot up to the top of the AV enthusiast's Christmas list. Now, Oppo is upping the ante again.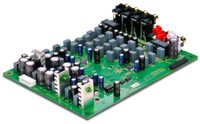 The Oppo BDP-83SE is a "Special Edition" version of the Oppo BDP-83 Universal Blu player. For an extra $400 (yes, that almost doubles the price of the original) you get upgrades only a connoisseur could love. Namely, you're getting an upgraded audio section, a better power supply, RS-232 support, and a faceplate with the words "Special Edition" on the front. While Oppo has a complete comparison chart, the main differences are upgraded DACs (ESS Technology ES9016 4 DACs per channel vs. Cirrus Logic CS4398 1 DAC per channel) and increased frequency response (up to 44kHz at +/-0.2dB) for those with Supertweeters (a technology with questionable benefit). Even Oppo admits that this upgrade isn't for everyone. From their website:
OPPO Digital recommends the BDP-83 Special Edition to customers who primarily use the analog audio output to connect to either a dedicated stereo or a multi-channel surround system. For customers who primarily use the HDMI output to connect to an A/V receiver or directly to a TV/projector, and for customers who primarily use the digital optical/coaxial audio output, the standard BDP-83 is recommended.
Lastly, if you are already a BDP-83 owner and want the upgrades but don't want to buy a new player, Oppo will do it for $299 (100 savings off the sticker difference). You'll have to ship your player to them on your dime (which deflates a bit the $100 savings) but Oppo will make the changes and ship it back at their cost. You'll get all the upgrades EXCEPT the faceplate. This means that your "new" SE player will not have any branding to announce it as such. In lieu of a faceplate, Oppo will send you a Special Edition sticker if you like. For those that want all the upgrades including the new faceplate Oppo suggests Ebay and then a new purchase.
Conclusion
When we say this player isn't for everyone, we mean it. It really isn't. If you are connected via HDMI or digital audio, you absolutely will see zero benefit from this upgrade. In that case, save yourself some coin and get the standard Oppo BDP-83 player which did extremely well in our testing.  The "Special Edition" upgrade is for users that utilize an analogue connection with very high quality gear. While there may be some sonic benefit, Oppo seems to be catering this upgrade to the esoteric crowd that worries more about Supertweeters and speaker cables than they do about room acoustics. For that crowd, we think that Oppo is making a very good decision that will surely bring them a lot of sales that they might not have gotten. For the rest of us, the BDP-83 will be just fine thank you. 
For more information, please visit www.oppodigital.com.

Unless otherwise indicated, this is a preview article for the featured product. A formal review may or may not follow in the future.
j_garcia posts on December 20, 2013 15:40
It is still an excellent player. If I wasn't getting a deal on the 105, I probably wouldn't be upgrading
Alex2507 posts on December 20, 2013 00:20
j_garcia, post: 731688
I had the 83 for quite a while before upgrading to the SE. The difference is easily noticeable after recalibrating. I leave the player set to zero except for the sub and adjust the channels with my receiver. My player was also completed and returned to me in one day (I am local) so my "audio memory" didn't need to stretch too far. This isn't just people wanting to believe because they spent more. The upgrade was totally worth it to me for music. I've heard the same thing from everyone who has done the upgrade.
I can already hear the difference and it's still in California. My thanks in the above post shows just how long I been wanting this thing.
basspig posts on July 21, 2010 04:23
I got my BDP-83 this week and one of the first things I did was bench test it with a test CD.

Maximum output before clipping is +9.9dBm
Any positive value on the Trim adjustments will result in clipping of the output signal. IMHO, this is a poor design decision.
The rail voltages on the output buffer seem to be only +/-4VDC, as opposed to +/-12VDC, as with commong op-amp rails on audio equipment.
If Oppo had implemented higher rail voltages, the positive Trim adjustments would make sense. As it stands, they only cause clipping in the player.

I tested the square wave response of the BDP-83 and was dismayed to see results identical to the first CD players before oversampling was developed–square waves with 6% overshoot and ringing that didn't subside until the zero crossing point on a 400Hz test signal @ -10dBfs. I've seen this degree of ringing in 1983 on the first-generation CD players.

By contrast, my Sony BDP-S301 has only 2% overshoot and ringing subsides about 1/3 of the period of one half cycle of square wave.

One of the reasons why I chose the Oppo was because I thought I could get above the noise floor with the +10dB trim, achieving +20dBm (I had hoped) on the outputs, thus enabling me to play my Ultimate Fireworks Video on Blu-ray, without the ambient sounds (which peak at -85dBfs) being plagued by hum and hiss. The Oppo has a 60 and 120Hz buzz in the output when powered on, about 100dB below full output. In contrast, my Denon DCD-590 has no audible hum in its output, when the preamp volume is cranked to maximum.

So in order to play my fireworks video at real life volume levels, I must tolerate 58dB(A) of hum and hiss.

Picture quality is not an issue, although the player does seem glitchy, with the picture blanking out and digital 'snow' and then picture restored, upon playback or resume of certain chapters on many discs I've tried.

I was also a bit disappointed that the USB port cannot see nor play h.264 videos that are essentially the same CODEC as Blu-ray movies. Most popular formats are NOT supported.

Given the extremely mediocre audio performance of the D/A converters on the BDP-83, one can see why the SE edition would be an improvement, possibly AUDIBLE improvement.
aisloy15 posts on July 14, 2010 11:19
I like your discussion.Thank you very much.
bogrod posts on July 08, 2010 14:26
j_garcia, post: 731957
No, none that I have seen. I thought even Gene's review had similar comments that the SE was superior as well. I'll have to reread it.
Thanks. I'm not saying that the differences don't exist, but in a way it sort of reminds me of the same thing that some say about interconnects. Subjective statements from some mention significant differences. I'm simply skeptical that it's something along those lines.
Post Reply
Confused about what AV Gear to buy or how to set it up? Join our Exclusive Audioholics E-Book Membership Program!