Lexicon BD-30 Universal Blu-ray Player First Look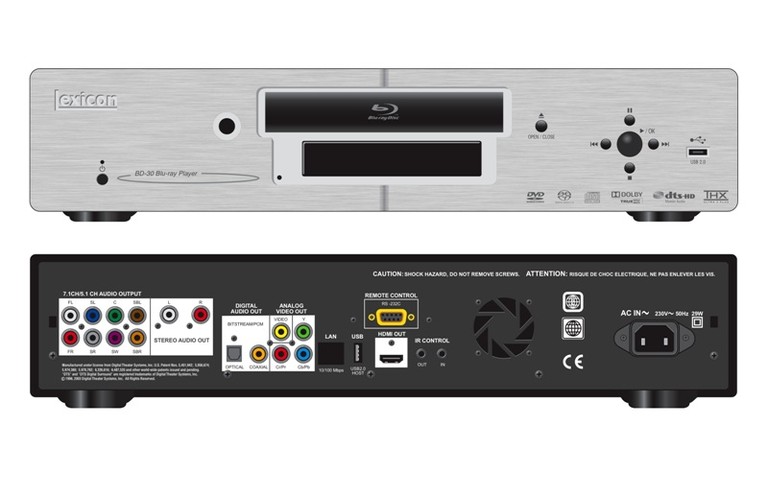 Lexicon BD-30 Blu-ray Player
Summary
Product Name:

Lexicon BD-30 Blu-ray Player

Manufacturer:

Lexicon

Review Date:

August 11, 2009 02:05

MSRP: $3,499
First Impression:

Mildly Interesting
Supports Blu-ray, DVD, SACD, DVD Audio, CD and video & audio over USB
Has a reported loading time of less than 5 seconds
Uses Anchor Bay's VRS technology
BonusVIEW
BD-Live
RS-232 for use with external control systems
Look at specs for Oppo BDP-83 (should be very similar if not identical)

Executive Overview
Lexicon is not really a manufacturer that is known for their high value products. While they often offer products on the cutting edge, you are certainly going to pay for it. Hot on the heels of the Oppo BDP-83 release (a scant $499 in comparison), the Lexicon BD-30 comes in at a scathing $3,500. Lest you think they are priced well out of contention with everyone else, the Denon DVD-A1UDCI universal player that just arrived, has had a price bump up to $4500. Marantz' pending UD9004 universal player is slated to show up at $5999, according to their website.
As you'd expect, the Lexicon has everything you might want in a Blu-ray player including Profile 2.0 and BD-Live support, 7.1 analogue outputs, and top of the line scaling. For your legacy DVDs, the BD-30 includes Anchor Bay's (ABT) Video Reference Series (VRS) video processing chips. This is the top of the line offering from Anchor Bay and will provide as good upscaling as you can get on any device currently on the market. Dedicated stereo output and RS-232 support are included as are one each coaxial and optical digital audio outputs.
Upon closer inspection it looks as though Lexicon simply repackaged the Oppo BDP-83, and got it THX certified.  At roughly $3k more than the Oppo its a hard sale for all but those loyal to the brand.  Notice the virtually identical back panel of the Oppo BDP-83 (pictured below) and Lexicon BD-30 players.  This is no coincidence but in fact yet another example of cloned products (see Attack of the Clone Processors and Attack of the Clone Amplifiers). 

Oppo BDP-83 Back Panel

   Lexicon BP-30 Back Panel (rendering)

Like Oppo before them, Lexicon is really pushing the inclusion of a USB 2.0 port on the back of the unit with the BD-30. This allows users access to any content off a USB key or drive. This, according to Lexicon, is the reason that the BD-30 player is future-proof. While we agree that they have included just about everything they could, we're not convinced that USB connection alone will be enough to guarantee future-proof-ness (is that a word?) Surely, something will prevent a hurdle at the chipset level. One thing that is not clear from the Lexicon release is Bitstreaming versus native decoding. Under supported audio formats they list a "Source Direct" mode for Dolby TrueHD and DTS-HD. This sounds like bitstreaming, but we'll have to wait for the full review to find out more and also to see what options exist for PCM output.
Supported Video Formats:

Blu-ray
DVD
Upconverted DVD
DVD-Audio
SACD
Compact Disc
AVCHD
Kodak® Picture CD™
CD-R/RW
DVD-R/RW
DVD+R
BD-R/RE

 

 

Supported Audio Formats:

CD
SACD
DVD-Audio discs
Source Direct mode for audio and compatibility with Dolby TrueHD, HDCD, DTS-HD
One thing that is clear is that Lexicon is not really marketing this player to the common man (or woman), especially those that frequent internet sites like these to get the full scoop. If you didn't get that from the price, then you will from the language of the release. There are constant references to custom installers specifically in relation to the RS-232 support but also in general. It it obvious that Lexicon expects this product to be marketed to those with the money to afford a home theater installation specialist. For the amount of money they are asking, we're not surprised.  Lexicon is not the first manufacturer to clone a source device.  McIntosh used to clone Pioneer LD players, Denon used to clone Panasonic DVD players, etc.  But kudos to Lexicon for offering the first cloned Blu-ray player at SEVEN (7) times the price of the original article.
Conclusion
While the BD-30 may be marketed as a top of the line universal Blu-ray player, it is obviously geared towards a particular clientèle. From an aesthetics standpoint, it is clearly a winner as it has the exact look you'd expect from a high end manufacturer like Lexicon. At least it looks like it will. The picture provided by the manufacturer is clearly a rendering and not a working model. We expect that the product will be similar if not exactly the same. The BD-30 will be released at this year's CEDIA and we expect it will be shipping soon after.
For those with deep pockets that are not content in buying a relatively generic Chinese name brand player (albeit an excellent one), you can rest assured that Lexicon's got you covered with their version of this player that includes a thicker faceplate, THX certification and a more glorious name brand.  Sometimes bragging rights are worth a little extra coin... but in this case its more akin to a small government bail out.
Confused about what AV Gear to buy or how to set it up? Join our Exclusive Audioholics E-Book Membership Program!
Recent Forum Posts:
Matt34 posts on January 26, 2010 10:03
toddrick, post: 679198
I wonder if they based this on Oppo's BDP-83SE and not just their BDP-83. Yes it still seems like price gouging for whatever modifications Lexicon did, but less so as the BDP-83SE retails for $900.
It's not based on the "SE".
toddrick posts on January 26, 2010 10:01
Oppo BDP-83SE?

I wonder if they based this on Oppo's BDP-83SE and not just their BDP-83. Yes it still seems like price gouging for whatever modifications Lexicon did, but less so as the BDP-83SE retails for $900.
j_garcia posts on August 17, 2009 17:15
I think we often say "DACs" as a generic term, but it is the fact that different players handle the D to A differently (or something else in the chain) and that DOES translate into a difference in sound quality IMHO.

My 2900 cost more than my Oppo, but I feel the Oppo sounds better. Does that mean I am biased because the Oppo is new, but cost half the price? The difference I heard was immediate and I wasn't the only one who noticed it.
chriscmore posts on August 17, 2009 02:10
Lordoftherings, post: 611256
That's just the beauty of it.

* Something else other than or in tandem with the Dacs, must be a contributor to this.
You mean like clocks, filters, and the output stage?
Impossible.
chriscmore posts on August 17, 2009 02:07
Seth=L, post: 611080
…when there is no available difference to be heard.
There is. Record the output from multiple DACs and do bit-comparisons and you'll find that your statement isn't true. Whether or not it matters is only your value statement and irrelevant to what others may value.
Or easier yet, just listen. Or easier still, feel great that you already have the perfect DAC and stop trying to impose your listening results on others.
Post Reply