Harman Kardon SB 16 Surround Bar First Look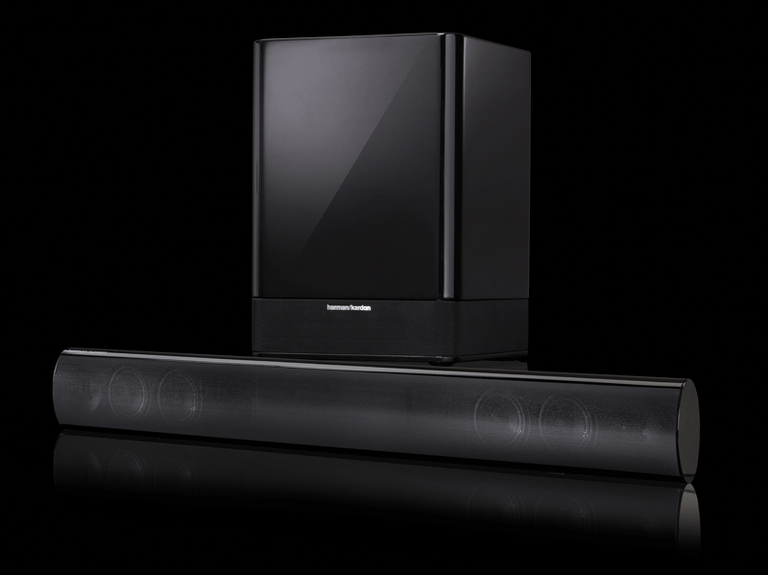 Harman Kardon SB 16
Summary
SB 16/230 System
Frequency response: 50hz – 20khz
SB 16 CTR Soundbar
midrange transducers: two x 3" (75mm) cones per channel, video-shielded

high-frequency transducer: one x 3/4" dome per channel, video-shielded

amplifier power: 25 watts x 2

power requirement: 24V dc, 2.5a – 2.7a

dimensions (h x w x d):110mm x 920mm x 89mm (4-5/16" x 36-1/4" x 3-1/2")

weight: 3.6kg (8 lb)
SB 15/230 Subwoofer
woofer: 10" (254mm) cone

enclosure type: ported

power requirement: 230V ac, 50hz/60hz, 100w

dimensions (h x w x d): 480mm x 380mm x 380mm (18-7/8" x 13-3/8" x 13-3/8")

weight: 15.4kg (34 lb)
Executive Overview
Manufacturers are out there right now trying to figure out how to give consumers what they want. Harman Kardon thinks they have the answer with their new SB 16 (SurroundBar 16) 2.1 solution. Technically it is a single stereo 2-way sound bar paired with a subwoofer. Like all surround bar solutions, the SB 16 simulates surround sound using DSP and one long thin stereo speaker (in this case it is 4-5/16" x 36-1/4" x 3-1/2" which should look pretty good under a 42" or less display). The SB 16 is set up as two separate channels with a .75-inch tweeter on the far ends of the front baffle followed by two 3" woofers. It is internally amplified with a 25 watt amplifier and weighs in at a slight eight pounds. The glossy black finish on the speaker and sub should match well many current decors (especially if you spend any time at Ikea, and honestly, who doesn't?).
Don't get us wrong, we love that the public has finally gotten that sound is important. We love that when you talk about surround sound with someone off the street, they don't look at you like you're trying to insult them in Klingon. This is what we've been working toward for years. "Sound is every bit as important as video," we've been saying. For years we got shrugs of derision or out and out insults. How could sound be important? Especially as important as video? Well... try watching a movie without it. 
The sense of immersion you can have in a movie or musical piece is directly related to the sound. If you are struggling to hear the dialogue or if explosions sound like inflated paper bags being stepped on, it can take you out of the movie just as much as distorted video. If you've ever seen a martial arts or action movie with the sound off and noticed how far away each of the punches and kicks were when they always looked dead on with the sound you know how important it is. 
So we've won, right?
Not so fast. Like a teenager that thinks upgrading their muffler will make their car sound like it has a big engine, and that this is just as good as actually having a big engine, Joe Consumer is trying to figure out how to get that good sound. More importantly, they are going for good surround sound, in a package that they understand. And what they understand is small. Preferably something they can shove behind their TV. Enter Harman Kardon and their SB 16 Surround Bar system and wireless sub.
As most Audioholics readers know, there are two ways to simulate surround sound. You can either attempt to bounce the sound around the room or you can use DSP and adjust the phase of the audio coming out of the drivers to trick your ear into locating the sound somewhere other than at the speaker. With a 2.1 solution, the latter is obviously the case. Harmon Kardon should have the technical know-how to pull this technology off convincingly. But with surround bars, it is often about connections (and sometimes lack of connections). The SB 16 scores on both fronts.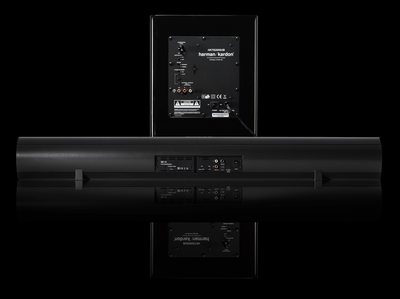 As you can see, there are three inputs on the back of the SB 16 bar - analogue, coaxial, and optical. This allows you to connect multiple devices which is important. Those looking for a surround bar are generally not interested in using a receiver. If you assume that they are only using one source in a room, you can get away with one input (an unreasonable assumption in our opinion) but we highly recommend as many as possible. What you will also notice is the complete lack of input on the subwoofer.
Instead, what you find on both is a Wireless Code switch. This gives you four different channels in case the wireless connection between the sub and the bar is meeting interference. In this day and age, if you are putting out a surround bar solution, it is almost mandatory that there be a wireless option for the sub. At the $599 price point of the Harman Kardon SB 16, it's a pretty good deal.
The sub consists of the same glossy finish along with a 10" woofer in a ported enclosure. The sub is fairly small with a footprint just over a foot square - but taller than your average consumer might expect at nearly 19". Since nothing helps a sub perform as much as internal volume, we like that Harman didn't try to shoehorn performance out of a bread box with a folded horn. The sub also weighs in at a respectable 34 pounds, indicating that there is some real technology and bracing in there. 
The SB 16 has a number of convenience features including the ability to program the bar to respond to your TV remote, an EQ switch that allows you to adjust the bass of the bar based on placement, and an auto turn-on feature. Wall and shelf mounting options are available and included in the box. This really is a one-stop solution for your second TV. It also sounds good, with bass output that is respectable, and honest, and a stero image that will blow away anything you'll find on a TV's internal speakers. This is more than a small upgrade, and will allow even the most aesthetically-limited users to bump up their sound to a level previously unheard of.
Conclusion
Harman Kardon rates the SB 16 surround bar solution down to 50Hz which, while not an impressive stat for bass freaks, is probably one of the most honest we've seen. We can't help but respect that. How many surround bar solutions have we seen that rate themselves down to 40 or 30Hz when you could tell, just by the specs, that there wasn't a chance that was true. We got our ears on the Harmon Kardon SB16 and can say that it's as impressive in real like as it is on paper. The SB 16 is very competitive in terms of its price point and design philosophy. The wireless sub is a plus and three inputs a definite bonus. The SB 16 seems to have it all from looks to features. What was more impressive is what they accomplished sonically.
For more information, please visit www.harmankardon.com.

Confused about what AV Gear to buy or how to set it up? Join our Exclusive Audioholics E-Book Membership Program!
Recent Forum Posts:
eddy657 posts on December 29, 2012 09:14
Harman Kardon SB 16/230 Soundbar

Hi, I've had my SoundbarHi for a few months but now, all of a sudden, the volume frequently turns itself up, so much so that I have had to switch it off. I've tried adjusting the frequency settings as a well as the trim settings to no avail.
Do you ave any suggestions please?
ksalno posts on February 03, 2011 22:24
Looking for an opinion on the best connectivity option. I currently have 3 sources in my bedroom connected to a Sony 32XBR via HDMI - an Xbox360, BD player, and DTV HDR. The Sony offers both coax and optical digital out. I am better off to connect to the TV via HDMI and then out to the SB16 from the TV via coax, keeping audio in the digital domain all the way to the speakers? Or should I run a connection from each source directly to the speakers, bypassing the TV audio handling altogether?

Also, if I go with the first option and run everything through the TV, could I improve the sound quality by inserting a good quality DAC between the TV and the SB16. I haven't read anywhere what DACs the SB16 used on the digital inputs but there are some pretty decent ones out there in the $100-200 range, I think.
Post Reply