Samsung HW-H750 Soundbar and HW-H600 Sound Stand Preview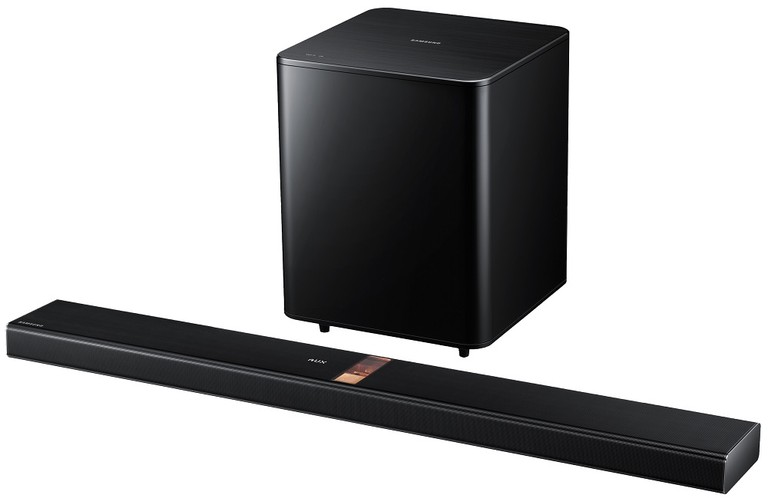 Samsung HW-H750 Soundbar
Summary
HW-F750 Soundbar
General Features
310 Watts Total Power
2.1 Channel
Connectivity
Anyent+ (HDMI - CEC) available
USB Host 2.0 Available
Bluetooth Available
SoundShare available
ARC (Audio Return Channel) available
HDMI Out available
1ea of HDMI Input
1ea of Audio Input
1ea of Optical Input
Dimension
943 x 57 x 120mm Spk (Main) Net Dimension (W x H x D)
291 x 369 x 291mm Sub Woofer Net Dimension (1-Piece)
1006 x 455 x 346mm One Packing Dimension
Accessory
ASC MIC (5m) available)
Audio Cable (1.2m) available
Decoding Format
AAC available
MP3 available
WAV Available
WMA available
OGG decoding available
FLAC decoding available
Special Feature
Crystal Amplifier Pro available
Valve Amp available
Installation Sensor available
Weight
Main Speaker Net Weight : 2.2kg
Sub Woofer Speaker Net Weight : 7.25kg
One Packing Gross Weight : 15.7kg
Audio Feature
Dolby Digital available
DTS available
3D Sound Plus Available
Vertical Surround available
Smart Volume available
Auto Sound Calibration(ASC) available
0 - 200ms Lip Sync
Sound Modes (DSP) x 6ea
Speaker
Wireless Active Sub Woofer
2 Way 3 Centre Speaker
Power
Stand-by Power Consumption (Main) : 0.45 Watts
Stand-by Power Consumption (Subwoofer) : 0.45 Watts
Operating Power Consumption (Main) : 24 Watts
Operating Power Consumption (Subwoofer) : 20 Watts
Free Voltage Adaptor
HW-H600 Sound Stand Soundbar
General Feature
Total Power: 80W
Number of Channel: 4.2Ch
Decoding Format: AAC, MP3, WAV, WMA, OGG, FLAC
Audio Feature
Dolby Digital: Yes
DTS: Yes
Bluetooth HI-FI Codec: Yes
Surround Sound Expansion: Yes
Number of Sound Modes (DSP): 4
Video Feature
3D Video Pass: Yes
4K Video Pass: No
Connectivity
Anynet+ (HDMI-CEC): Yes
USB Host 2.0: 1.1
Bluetooth: Yes
TV SoundConnect: Yes
ARC (Audio Return Channel): Yes
NFC: Yes
Bluetooth Power On: Yes
Headphone Jack: No
Number of HDMI Input/Output: 1
Number of Audio Input: 1
Number of Optical Input: 1
Speaker
Subwoofer Power (W): 40W
Speaker Type: Closed Enclosure
Speaker Power (W): 10+10+10+10+20+20
Subwoofer Type ( Active / Passive / Wireless, Bulit-in ): Bulit-in
Dimension (WxHxD)
Packing Type: One Packing
Net Dimension (Main Speaker) (WxHxD): 735 x 36.5 x 360mm
Gross Dimension (WxHxD): One Packing: 888 x 92 x 433mm
Weight
Net Weight (Main Speaker): 5kg
Gross Weight (One Packing): 6.5kg
Power
Free Voltage: Yes
Energy Star: Yes
Accessory
Remote Controller: Yes
Audio Cable: Yes
Battery: Yes
Executive Overview
If there is a segment in the audio market that shows no sign of slowing down, it is soundbars. It seems that every week we hear of a new soundbar solution being released. These run the gamut from high-end surround sound simulators to simple two-channel solutions that are meant only to augment the admittedly poor sound from your display's speakers. Consumers seem in love with these speaker solutions and manufacturers are clamoring to give them something to spend their disposable income on.
Samsung has recently expanded their line of soundbars with two new offerings. One is the traditional looking soundbar with a wireless sub, and the second is what Samsung is terming a "Sound Stand." The HW-H750 soundbar will retail for $800. This soundbar (if you look closely at the picture at the top of this article) features a number of vacuum tubes. Samsung promises that the HW-H750 combines, the "warmth and natural sound of analog with the latest digital audio technology."
Currently, the HW-H750 isn't shipping in the US but it has been out in the UK for a while. From Samsung's UK site, we discovered that it has 310 watts of power into 2.1 channels (40 watts per channel for the bar and 150 for the subwoofer - yes, we realize that doesn't add up). It can be placed flat on a table (with the thin edge facing you) or on a wall (with the flat side facing you). According to Samsung, the Auto Sound Calibration system will determine the orientation of the bar.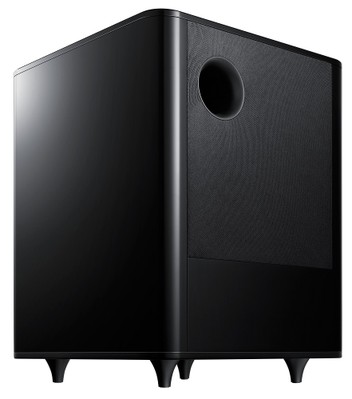 Samsung HW-H750 Subwoofer

The HW-H750 is compatible with Samsung's Shape Wireless Audio-Multiroom products for streaming from different Samsung products without having to add additional wires to your setup. The HW-H750 has one each HDMI, 3.5mm analog, and Optical digital inputs. There is an HDMI output that is ARC and CEC enabled and a USB input for streaming audio files. For those that want to stream directly to the HW-H750, Bluetooth is on board. The HW-H750 can decode AAC, MP3, WAV, WMA, OGG, and FLAC files and is compatible with Dolby Digital and DTS. The HW-H750 has 96k/24bit HD Audio support. Of course, you can get simulated surround from the soundbar with the 3D Sound Plus DSP.
The plan to wall-mount your TV and soundbar is a laudable one, but often that proves to be too much for the inexperienced DIY'er. They don't know exactly what to do about power or how to hide cables and they get to the point where they just decide to stick their display on a stand. That way they don't have to worry about the rat's nest of wires because it is hidden behind the furniture anyhow.
We've seen stand-type soundbar solutions for a while. They are an elegant solution to a common problem - a soundbar sitting in front of a TV looks weird and can block the IR receiver. Samsung's new HW-H600 soundbar sits under you television. It can hold up to 77 pounds and fits most TVs from 32" up to 60". Like most of these stand-type solutions, the HW-H600 has front-firing drivers with a folded-horn integrated subwoofer. According to Samsung, the HW-H600 has four drivers powered by 10 watts each and two "sub" drivers getting 20 watts each.

Samsung HW-H600 Sound Stand Soundbar

Like the HW-H750 soundbar, the HW-H600 is designed with simulated surround sound in mind. It has multi-directional technology which bounces sound off the tabletop to provide vertical sound effects. With the Surround Sound Expansion DSP, the HW-H600 enriches the output so that it appears that the sounds are not only coming directly from the television, but also from the sides and behind the listener.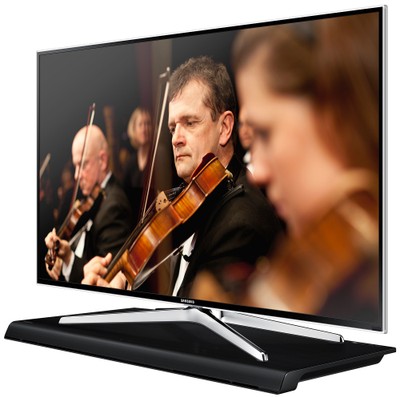 HW-H600 with a display on top

Like the HW-H750, the HW-H600 has built-in Bluetooth streaming and compatibility. It features Samsung's TV Sound Connect which allows the bar to connect wireless to select Samsung TV's. It has the same inputs and outputs as the HW-H750 except it lacks the room correction system and mic and an USB input. The HW-H600 can pass through 3d but it is not rated to pass 4k video. HDMI CEC and ARC are supported as is NFC Bluetooth pairing. The HW-H600 will retail for $400 when it ships in the spring.
Conclusion
It is hard to find real faults with the new HW-H600 and HW-H750 offerings from Samsung. The HW-H600 is for those that want an unobtrusive pedestal soundbar with integrated subwoofers, easy install, and simulated surround. The HW-H750 is for those that wish for a more complete solution with a wireless sub and a bar that hangs on the wall.
For more information, please visit www.samsung.com.

Unless otherwise indicated, this is a preview article for the featured product. A formal review may or may not follow in the future.