Samsung 2013 Soundbar Lineup: Did You Say Vacuum Tubes?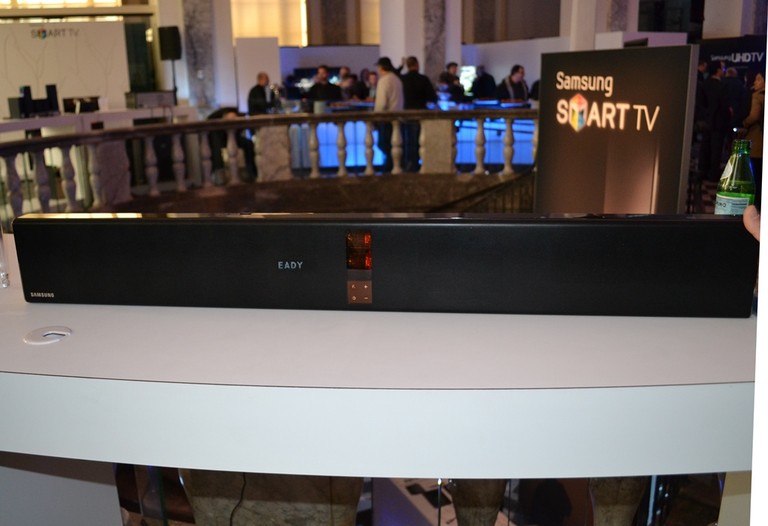 Samsung 2013 Soundbar Lineup: Did You Say Vacuum Tubes?
Summary
| | | | | |
| --- | --- | --- | --- | --- |
| | HW-F750 - $799 | HW-F550 - $399 | HW-F450 - $299 | HW-F355 - $179 |
| Amplification | 310w | 310w | 280w | 120w |
| Subwoofer | 150w, wireless | 150w, wireless | 120w, wireless | 60w, Wired |
| Inputs | HDMI (in/out), USB, Optical, Analog | HDMI (in/out), USB, Optical, Analog | HDMI (in/out), USB, Optical, Analog | USB, Optical, Analog |
| Dimensions (WxHxD) | 37.1" x 2.2" x 4.6" | 37.1" x 2.2" x 2.5" | 35.7" x 2.8" x 1.8" | 37.1" x 2.3" x 2.6" |
| Weight | 7.7 lbs. + 15.95 lbs. | 4.09 lbs. + 15.95 lbs. | 4.29 lbs. + ? | 3.85 lbs. + ? |
"Yes! My life is complete!" If you're any sort of audioholic, that might not be your reaction to a new batch of soundbars from Samsung, but if you're a home theater installer or general consumer, these soundbars are a something to get excited about. And not just because they're new. Samsung is upping the ante this year with their most expensive soundbar yet, the $799 HW-F750. This means they are directly competing against some well-respected audio manufacturers, like Atlantic Technology, Paradigm, Definitive Technology, and Klipsch (though they still haven't caught up to Bose). If you aren't looking to throw down nearly $800, they have three less expensive models to choose from as well. Below is a rundown of each model.
HW-F750 Soundbar - $799 and vacuum tubes!!!
(UPDATE: We have a full review of the HW-F750)
The HW-F750 is Samsung's attempt to blend not just form and function, but also features. For starters, it includes a 150w wireless subwoofer, 310w internal class D amplifier—and tube input section! Samsung said the tube input stage provides a warmer sound, but it also looks freaking cool (see pictures below). The internal amp powers "X" number of speakers, were not sure how many drivers are in the soundbar, so feel free to replace X with a number that sounds good to you (their website says 3 drivers, but that doesn't make much sense, so I am assuming it's wrong). What we do know is that the HW-F750 has two different orientations (a design choice that has been popping up more often). When setting on a stand the unit is 2.2" high and 4.6" deep. Wall mounting a soundbar with those dimensions would look pretty funky, so when mounting the soundbar you flip it up, reversing the height and depth. In order to make both orientations look and sound good, Samsung installed an LED readout and drivers on two sides of the soundbar. Depending on the orientation, the soundbar will automatically enable the LED readout and drivers facing you. It's unclear what the other drivers are used for at this point.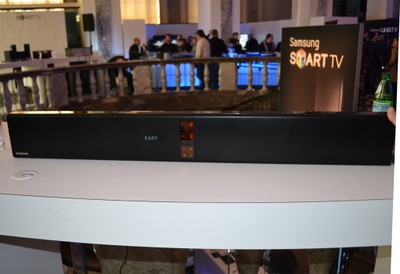 HW-F750 Vertical Orientation
The HW-F750 also has 6 DSP modes (yawn) and an auto sound calibration mic (pretty cool). Inputs are pretty typical, with 1 HDMI in/out (ARC), optical, USB, and analogue input. Even though it has an HDMI input, it won't actually decode HD sound formats, which is a disappointing trend in the industry. The final noteworthy features are actually built into every new Samsung soundbar: Bluetooth, Smart On, and Soundshare. Soundshare is a new technology from Samsung that sends all of the sound from your 2013 Soundshare-enabled TV wirelessly to the soundbar. This means one less cable to worry about hiding in the wall when mounting the soundbar. Smart On means that you can use the TV remote (2013 models) to control the power and volume on the soundbar. Honestly, that's something Samsung should have had last year, and it's just now playing catch up. The final feature included on all of their soundbars is Bluetooth, allowing wireless audio transmission from portable devices.
 HW-F750 Horizontal Orientation
The HW-F750 looks like it will be a great solution for people who want a sleek soundbar loaded with a plethora of cool features. If you don't care about Bluetooth, USB, Soundshare, or any other features it has and are strictly looking for sound quality, there are likely better options. With that said, we will save our final judgment until we actually get to hear the unit.
HW-F550 & HW-F551 - $399
Take one step down from the HW-F750 and you end up with a product half the price, the HW-F550 for $399 (The F550 is black and the F551 is silver). This soundbar is smaller than the HW-F750, at 37.1" W x 2.2" H x 2.5" D, but it still has the same 150w subwoofer. It also has the same DSP modes and inputs/output. What you lose is the tube input stage, auto calibration setup, and (we assume) a loss in driver surface area as well (based on size/weight/price and single orientation). I see the HW-F550 as a great fit for people who want better sound than what their TV can offer, but want the subwoofer hidden and the speakers as small as possible.
Samsung HW-F550

HW-F450 - $299
I predict this will be the best-selling soundbar for Samsung. It knocks the price down another $100 to $299, but still has all of the features of the HW-F550. The subwoofer gets bumped down to a smaller, 120w unit, and the internal amp drops to 280w. It still has the same DSP modes and inputs/output. It's a little taller than the HS-F550, at 35.7" W x 2.8" H x 1.8" D, but it's thinner as well. The HW-F450 is very similar to their current HW-E450, but with the new 2013 feature set.
A final note on this soundbar (actually on all Samsung models) is that they are much easier to wall mount than nearly any other brand on the market. Most soundbars use small keyhole brackets for mounting, and you're lucky if you get a cardboard template. Even if you do, they are difficult to level perfectly. The Samsung mounting system gives you nearly an inch of vertical movement, and well over 15 degrees of level adjustment, after all is said and done. This is because they utilize a small mounting plate that attaches to the wall via two screws, which sit in 1" vertical slots. If you need to move the soundbar up/down, just take it off the wall, loosen the two screws, and move the plate. Done! I am not sure why other manufacturers don't use a simple system like this, but they should.


Samsung HW-F450

HW-F355 - $179
Rounding out the bottom of Samsung's 2013 lineup is the HW-F355 for a meager $179. Although many audiophiles balk at  cables costing less than a few hundred dollars, I think the HS-F355 is a great product. It isn't for people concerned with bone crushing 20Hz bass or mind blowing surround effects. It's for people who say, "My TV speakers suck, what can I get that's better? But I don't want to spend much." For that person, the HW-F355 is a superb option. Remember, it still supports Bluetooth, Smart On, and Soundshare. The inputs drop to 1 optical, 1 analogue, and 1 USB. Amazingly you still retain a subwoofer, but it's not wireless and is only rated at 60w. The internal class D amp also drops to 120w, less than half of the HW-F450, but the overall dimensions are about the same.


We Don't have a picture of the HW-F355, so here is a big pic of Kate Upton from the event instead.

Conclusion
The 2013 Samsung soundbar lineup reflects a true understanding of their target audience and consumer expectations. The products generally aren't aimed at the audiophile crowd, but seem like they will be great solutions for the everyday consumer. Each product offers a unique set of features in a slightly different form factor, providing a clear delineation between products, which helps consumers more easily decide on which one fits them best. Although I would have liked to see the HW-F750 be more audio-centric, the lineup as a whole looks solid.

Unless otherwise indicated, this is a preview article for the featured product. A formal review may or may not follow in the future.