Roku Adds Amazon On Demand Video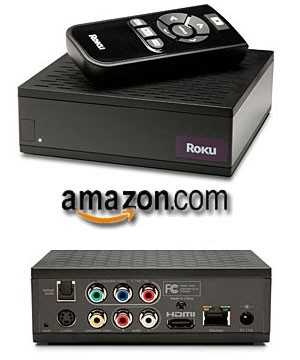 Roku Adds Amazon
The little box that could is making a comeback. After getting a large portion of their market co-opted by the XBox 360 and newer Blu-ray players, not to mention a whole slew of displays announced at CES that will soon be hitting stores with Netflix streaming ability, a lot of people wondered what was next for the little box from Roku. Apparently a deal with Amazon to stream their On Demand selection.

According to the press release (below) and a report on Endgadget HD, the free upgrades both delivers and disappoints. It delivers exactly what it promised - access to Amazon On Demand but Amazon still lacks HD content and multichannel audio. Amazon sports over 40,000 titles to be rented or purchased and with a decent Internet connection you should see the best available quality. Some of the problems already identified include the fact that the rental time starts from the time of purchase and not when you first start the movie/show and the interface is sort of basic. Still, for a free upgrade, there certainly can't be too many complaints.

What's exciting about this announcement is not so much that Amazon is on Roku, but that anyone other than Netflix is on Roku. This paves the way for other third party content providers like Hulu (we hope) to develop apps for the $99 box. While we were disappointed to see Hulu cut some of their third party support last week (specifically from Boxee and TV.com), they did announce a new deal with DailyMotion. This probably indicates that Hulu is looking to have a greater control over who is streaming their content not necessarily that they are trying to keep their content all to themselves.

The Competition
The real question still revolves around the future of the Roku. One thing that they Roku has going for it is future compatibility. Roku is ready to go with an included HDMI port just begging for high definition video and multichannel audio. What it didn't have going for it was a lot of current and on the horizon competition. Microsoft has already started streaming Netflix on their 360 platform not to mention Samsung and LG Netflix enabled Blu-ray players. Now, with Amazon they are striving to increase the reach and therefore the marketability of their box.
But will it be enough?
At CES 2009 we saw a slew of displays and components with Netflix, Yahoo! Widgets, Amazon, and more. Currently, for a one time $40 charge, you can stream Hulu and YouTube from you PC to your Xbox 360 or PS3 with a program called PlayOn. If the future is streaming, the question is whether or not the Roku is the medium. It seems that integration into almost every piece of home theater equipment is just on the horizon. Even though the $99 price tag is very appetizing even in this economy, will the Roku have enough staying power as people upgrade their components to those with built in streaming? Will they be able to add on enough functionality to entice new users? If Roku can add functionality and features faster than the competition, then they very well may be the set-top box of the future. If not, at least they will be remembered as one of the first that brought online streaming to the masses.

--- Press Release ---

ROKU NOW OFFERS ACCESS TO AMAZON VIDEO ON DEMAND
Digital Video Player Instantly Connects Consumers To Over 40,000 New Titles
SARATOGA, CA, March 3, 2009 – Roku, Inc., maker of the popular Roku digital video player, today announced that customers can now watch movies and TV shows from Amazon Video On Demand. With Amazon Video On Demand, Roku customers can for the first time purchase or rent new release movies the same day they are released on DVD and watch commercial-free TV shows the day after they air– all from Amazon's extensive selection of more than 40,000 movie and TV titles.
"We are excited to give our customers access to Amazon's massive catalogue of top movies and TV shows – including many new releases", said Anthony Wood, Roku CEO and Founder. "The launch of Amazon Video On Demand on Roku demonstrates our commitment to creating an open platform that instantly delivers the entertainment consumers want directly to their TVs."
The compact Roku player connects directly to any TV and uses a broadband Internet connection to deliver DVD-quality video instantly. Roku customers can now choose from Amazon's enormous selection without paying subscription fees, waiting for downloads, or running out to the video store.
"The $99 Roku player provides our customers with tremendous value and a compelling entertainment experience," said Roy Price, director of Amazon Video On Demand. "Consumers are looking for inexpensive and hassle-free ways to watch their favorite movies and TV shows, and the Roku player meets that need head-on."
How It Works:
- Connect the Roku player to your TV and your broadband Internet connection (Wi-Fi is built in for ease of set-up)
- Browse Amazon Video On Demand's extensive selection right on your TV
- Rent or purchase and instantly watch any of more than 40,000 choices, including top new releases and the latest TV shows
Over the course of the next week, current Roku customers will receive a free and automatic software update giving them access to the Amazon Video on Demand service. All Roku player customers will continue to have access to Netflix Instant Watching with unlimited access to more than 12,000 movies and TV episodes for a low monthly fee.
The Roku digital video player is available for purchase exclusively at Roku.com and Amazon.com.
About Roku
Roku is a market leader in innovative applications for digital media. Through its work in both software and hardware, the company develops and sells consumer products and business solutions to bring rich media to the end user. Its products include: The Roku Digital Video Player and the SoundBridge Internet radio line. Roku is privately held and based in Saratoga, Calif. For more information on the company and its products, visit: http://www.roku.com.
RequiemX posts on March 03, 2009 18:45
I'm itching to add Hulu streaming to my setup, but don't want to get an Xbox to do it.

I thought Boxee + AppleTV was the answer, but the content providers didn't care for that arrangement.

I wonder who's going to earn my money?

(maybe it's looking more like HTPC time for me…)
Post Reply