Roku Leaks Netflix HD Service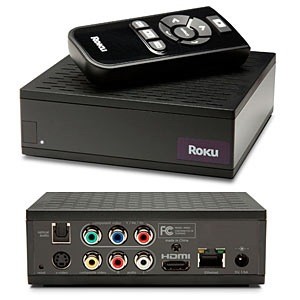 We knew that HDMI port was back there for a reason...
We hear news of online movie streaming all the time - more and more recently in relation to Netflix with their Roku box and impending Xbox 360 service. If you read between the lines (or on the lines for the most part) of these reports, you'll find an underlining thread of "yeah, but it's only standard definition."

No more.
On the Roku forums, RokuTim (suspected to be Tim Twerdahl, VP of Consumer Products for Roku) has stated that Roku will be the first service (over Xbox specifically) that will offer Netflix HD. According to the post, Roku owners will enjoy high definition content by year's end, new menu systems, and equal to or greater than the content library that the Xbox will offer. Here is the full post:
First, let me apologize for our delay in responding to this thread. Typically we don't comment on unannounced products and features, but clearly this is an important topic to you, our most loyal and involved fans. So, I'm pulling back the curtain a bit earlier than usual. Here's the scoop…



Roku will be delivering Netflix in HD by the end of the year
Roku will be using Advanced Profile encodes which will deliver HD at substantially lower bit-rates than what Xbox is offering
The number of titles is up to Netflix but the library will be the same as or larger than the Xbox library
The UI will be updated to run in 720p and more covers will be visible on the screen at a time
And the release will include another major new feature that you'll have to wait a bit longer to learn about ;-)

All of us at Roku truly appreciate your interest and support. We build these products for you and it's hugely gratifying to get your feedback – even when you're unhappy with us. We will continue to do everything we can to deliver the best content at the best value in the most consumer-friendly manner possible.

Thanks for your support,
Tim
The thing that struck us was the apparent air of competition between Roku and Xbox 360. We had been thinking of the Xbox/Netflix marriage from Netflix's standpoint - what is important is to get Netflix into a living room - Netflix doesn't really care who gets it there. The thought that Roku would serve those without an Xbox 360 or Live membership is obvious but there must be considerable crossover. Right now, the LG BD300 Blu-ray Player with Netflix access is too new to be a threat but eventually, Roku's potential customers will begin to be eroded by them (and other players we predict) as well.

While Netflix's future looks very bright, their first partner may eventually be left by the wayside if this growth into any product that will take them continues. What has our interest piqued is the suggestion that the Roku's new codec will deliver HD at lower bit-rates than the Xbox. While this might turn out to be simply MPEG-4, it might just give Roku the talking points that they need to remain viable. If they can stream HD to homes with marginal Internet speeds, they may be the go-to box for a large segment of homes that either don't have access to or can't afford a high speed Internet services. The big question is whether or not Roku and Netflix will be ready in time for Christmas. While the hardcore early adopters will be interested no matter the release date, having a product ready to go for Christmas may give Roku a huge bump in public consciousness not to mention revenue.

Lastly, there is no mention of additional cost for the box or physical upgrades to existing owners. We've known that the Roku box was equipped to handle HD but never thought to see it so soon. If the Roku box stays at the $99 price point, you are looking at an HD solution that is 1/4 the cost of many of the Blu-ray players out there. While we are sure that Blu-ray will trounce any streamed service in a head to head competition, Joe Public may not see it that way. They may just see the H and the D and the price tag.

There are a lot of "ifs" in the above article. We can't wait to see how all this turns out.