LG BD300, Blu-ray and Netflix Together at Last!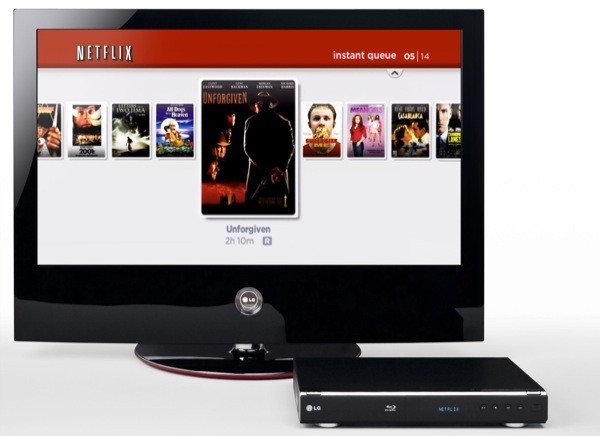 This September a new Blu-ray player will hit the market from LG that makes cunning use of the Ethernet port. The BD300 will be capable of streaming Netflix movies. Blu-ray Profile 2.0 certainly has its advantages.
If you're one of those choosey chaps for whom playing back Blu-ray discs and up-converting standard definition DVDs to 1080p simply isn't enough... LG has your number. It's the model number BD300 to be precise. LG is the Korean electronics firm that's been planning set-top-box streamers for use with Netflix, the sort that might compete with Apple TV. But few would have expected to see the Netflix streamer combined with a Blu-ray player.
Netflix subscribers will be able to take advantage of its 12,000 title library of streaming video entertainment without the need for an extra box. At an anticipated price point below $500, LG's new Blu-ray player will be an affordable way to get the format's complete profile into your home theater. The BD300 will include BD Live, BonusView features and LG's own SimpLink technology that combines on-screen menus of other LG products.
Netflix is looking like a company on the move. It's already promoting its streaming movie titles through both Xbox Live and Roku. We've been looking for an LG set-top-box announcement, but combining it with a Blu-ray player makes sense. The LG press release is of course a bit light on details for the Blu-ray player. For instance it doesn't mention audio-video codecs with which the player will be compatible. We'll look for more details as September arrives.
LG already gave us the first Blu-ray/HD DVD combo player, now it's giving us the first Netflix/Blu-ray combo player. Unexpected innovations are a good thing.
Recent Forum Posts:
davidtwotrees posts on September 11, 2008 18:50
Sighs. Nothing is easy now is it! Thanks for the very informed up to the minute!
allargon posts on September 11, 2008 09:51
Makes sense as the Netflix stuff is only SD at this time… if this is a Blu-Ray/Netflix only BH200 (The BD300 was originally going to be a BH300 HD DVD/Blu-Ray player until Warner/Toshiba abandoned HD DVD.), then the upscaling ability of the system should be excellent. The Marvell QDEO is up there with the Reon. However, the BH200 does s-t-r-e-t-c-h 4:3 discs. Hopefully the BD300 doesn't stretch those 4:3 pan and scan streams from Netflix.
Adam posts on September 11, 2008 08:49
No problem! I just want to add that the quality of the streaming movies is dependent on your download speeds. Netflix's viewer doesn't seem to have a good buffering system. I have 1.5Mbps on my DSL (granted, junk by today's standards), and the movies are blurry. I get what they call "Basic" quality. So, I have no desire to move to a set-top box for Netflix because the movies won't look at that great for me…until my phone company upgrades the DSL equipment in my neighborhood. I'd definitely recommend trying it out on your PC (if you have one) with one of Netflix's free trials before you commit to dropping Blockbuster or getting this new combo player.
davidtwotrees posts on September 11, 2008 07:00
Thanks, Adam! I am currently with Blockbuster due to the fact that I can take my mailed movie to the store and pick up a fresh one. I have the one at a time plan so this works out best for me. But streaming movies and a blu ray player would send me back to Netflix!
Adam posts on September 08, 2008 19:39
The streaming movies are part of the membership - no additional cost. If you have a PC (not a Mac, yet), you can watch the streaming movies right now.
Post Reply