New Xbox Live Interface Imminent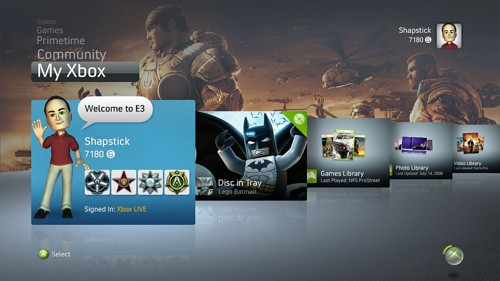 Due to debut Nov. 19
For those that have been looking forward to the "New Xbox Experience" since its announcement at E3, the wait is almost over. Microsoft announced Wednesday that their interface will be going live on November 19th. This gives you just over a week to play with it before Thanksgiving and Black Friday. The interface will be considerably different than users have seen in the past with the most notable addition being the Avatars. Avatars ape the "Miis" made popular by the Wii. They are graphical representations of the user. Users will be able to pick body types, hair, clothes and more. Microsoft promises to keep up with current trends by adding content to the Avatar customization database. Other additions to the interface include:
3-D friends list
"Vista-like" interface making browsing easier
Xbox Live Party lets groups of up to seven people chat and share pictures over a television screen while simultaneously playing games (different or the same)

Stream Netflix movies

Additional content including movies, TV shows, music, and more.
This upgrade is not optional and will automatically download the first time you connect to Xbox Live after the launch. You'll need an Xbox Live account and for some functions a hard drive. In order to stream Netflix movies you'll also need an active Netflix account (which starts at $8.99 a month) and a hard drive.

In addition, prices for the Xbox have dropped recently for the entry-level Xbox 360 Arcade system from $279 to $199. The basic Xbox 360 model with a 60-GB hard drive sells at $299 and the high-end Xbox 360 Elite with a 120-GB hard drive $399, both down $50. According to a recent report, games will soon be bundled with the systems and the boxes will include a Netflix logo. Both the Pro and Elite Xbox 360 consoles will come with LEGO: Indiana Jones and Kung Fu Panda while the Arcade console will receive SEGA Superstars Tennis and an Xbox Live Arcade compilation disc. This is pretty standard for Microsoft who had a similar game bundling deal during last year's holiday season.