Xbox 360 Elite to Support HDMI, Larger HD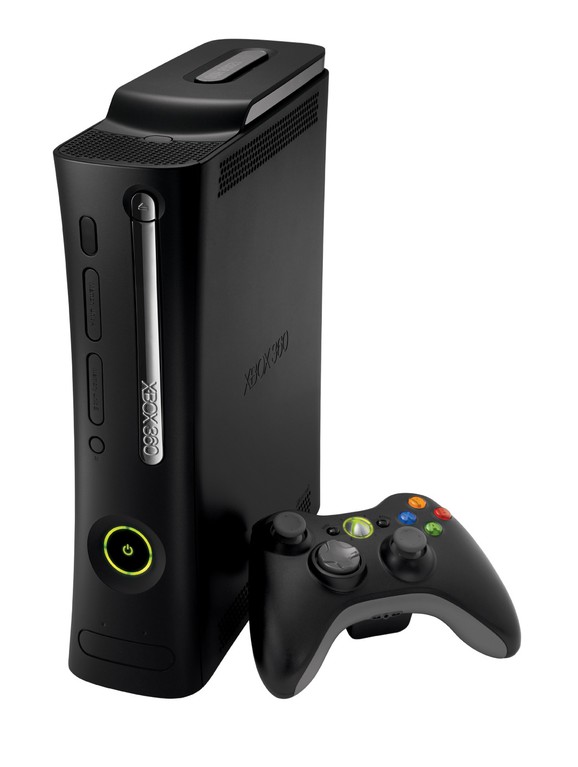 Xbox 360 Elite
Microsoft announced today their much-anticipated Xbox 360 "Elite" model. This will serve as the premier Xbox 360 console package. It will include a 120GB hard drive, 1080p HDMI output, a high-definition cable, and a premium black finish with metallic detailing. The Xbox 360 Elite also includes a black wireless RF controller (30 foot range) and black Xbox Live headset.
The New Box - HDMI 1080p

Xbox 360 Elite is equipped with a premium black finish and three core processors capable of playing back games in high-definition and full surround sound. Adding HDMI output at up to 1080p and you can see how this new box presents a compelling option for DVD playback with upscaling capabilities right out of the box. This new Elite model comes with an HDMI cable for immediate connection to the latest digital HDTVs. The Xbox 360 Elite's HDMI also supports the transmission of multi-channel surround audio.

The 120GB Hard Drive
The huge 120GB detachable hard drive is, according to Microsoft,  the largest available on any current game console. It allows users to save games and store television shows, movies, music, pictures, trailers, extra game levels, demos, and other content available from Xbox Live Marketplace. This is a sizable upgrade from the 20GB hard drive included with the current Xbox 360 model. The new drive includes a data transfer kit to allow users to easily migrate data from their current 20GB drives to the upgraded version.

Rechargable Battery Pack (option)

With the new black Rechargeable Battery Packs, you can juice up additional wireless controllers with the Play and Charge Kit you already own. Match the style of Xbox 360 Elite with the black Rechargeable Battery Pack. (Sold Separately)
Play & Charge Kit (option)
Now available in black, the Xbox 360 Play & Charge Kit comes complete with a charging cable and rechargeable battery pack. It's all you need to juice up your Xbox 360 Wireless Controller. (Sold Separately)
The new Xbox 360 Elite console will be in stores starting April 29, 2007 at an MSRP of $479.00 USD.

dem beats posts on April 15, 2007 11:11
Here is the point of view i see from microsoft. It's evil but the right move.

The xbox has never, ever made a dollar in any quarter since it's been out(unless there was a change this past year) either model actualy. Xbox live is the key I beleive, that and you can run your microsoft media PC right through that maching. The software and expandability is limitid though. As I see Bill G not beign stupid and just wanting a machine in the war, I think he must have a plan. I think that plan is world domination, in form of our media experience. Contol you digital cable through the Xbox. Control you're downloadable content through yoru xbox. Eventualy it will be conroll your whole AV experience through the microsoft software/pc type machine.

Bill wants to be in your living room. He has controll of the majority of the PC's in the world. Vista even has new software put in it that will scan your machine and connect to microsoft and if you have any software or media that it can't verify to be legit it will wipe it from your machine without even asking you for permision. It's about control. He can see eventualy down the line Sony placing themselves to have control in the livig room. Nintendo makes games and gaming consoles, and amazing inovation. They are not trying to dominate anything else. the Sony and Microsoft empires see it a bit different and are battling for who will be the "easiest choice" to control out media experience on our TV's, not for just games but cable and satalite and everything else.

I am a 360 owner and that was a choice based on it can run games movies and they do have a better grasp on what live game play should be. I do not connect it to the net ever accept for the update everyonce and a while and to download a Game or extra oblivion content etc. That may change some day though. And I do intend on getting the PS3 at some point but for me as the user it's about ease of getting enjoyment, I'm not going to skrimp and save and kill myself over getting a machine, and there is nothing in the form of games to make me run over to ps3…yet. The capability of the cell processor is incredable though, and manufacturing them will go down in price soon. And Sony will then have the r&d dollars to expand their network and software library.
Seth=L posts on April 13, 2007 19:00
Matt34, post: 262891
How difficult a job are we talking about when it comes to upgrading a harddrive on the 360?
Finding someone who has hacked it is the probably hardest part. I don't know exactly how it is done, but I would think it would be some kind of firmware deal, putting a disc that enables the 360 to accept other HDDs.
Matt34 posts on April 13, 2007 18:53
How difficult a job are we talking about when it comes to upgrading a harddrive on the 360?
Wafflesomd posts on April 08, 2007 00:49
PPl, mod your consoles.
davo posts on April 05, 2007 02:08
Rob Babcock, post: 260822
The 120 gig HD will rock; one of the best uses for it will be to store downloaded HD movies. I don't have a PS3 or 360 yet but my brother downloads quite a few movies for his 360. The large drive will be handy for that.

Once I get moved (within a month) I'll replace my current PJ with an HD model. Then I imagine I'll buy a PS3. To me the fact that it plays games is just gravey: right now the PS3 is the cheapest BluRay player on the market, $100 cheaper than the next cheapest model. Even if I never play a game it's a good deal.
I'm right with you on that one, I LOVE gravey (maybe not ON the PS3). Am also waiting a little bit to buy PS3.
The hard drive add-on that MS is selling is a total rip. You can buy stand alone units with much higher storage for less right now.
Anyone that bought X360 would have to be spewing at the moment but don't worry, MS will still accept more of your money!!
Post Reply