Libratone Live and Lounge AirPlay Speaker Preview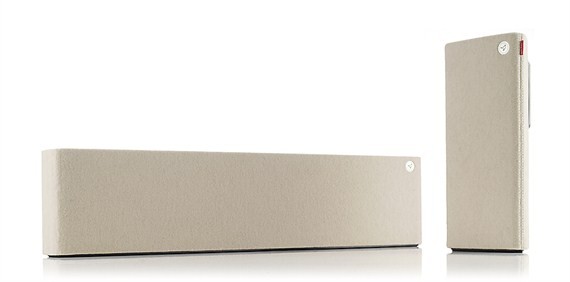 Libratone Live and Lounge AirPlay Speakers
Summary
TECHNOLOGY
Wireless active speaker with built-in Digital Signal Processing and Digital Amplification. Implements Libratone patent-pending FullRoom acoustic technology for exceptional sound performance.
AIRPLAY
Works with iPad, iPad 2, iPhone 4, iPhone 3GS, iPod touch, (4th, 3rd and 2nd generations) with iOS 4.2 and iTunes 10.1 (Mac or PC) or later.
INPUTS
AirPlay (wireless) and 3.5-mm audio minijack for analog or optical digital sound.
AMPLIFIER
150W total. 1x50W bass, 2x25W tweeter & 2x25W midrange.
DRIVE UNITS
1x5" bass, 2x3" midrange and 2x1" ribbon based tweeter (Live).
1x8" inverted woofer, 2x4" ceramic midrange and 2x1" ribbon based tweeter (Lounge).
ACOUSTIC PERFORMANCE
Frequency range: 45-20.000 Hz Max. output 100 dB SPL/1m (Live).
Frequency range: 38-20.000 Hz Max output: 103 dB SPL/ 1m (Lounge).
MATERIALS
Libratone speakers are made of exclusive materials including a satin chrome handle (Live only), a body of wood, high-end piano finish and Italian cashmere wool.
DIMENSIONS
H: 18.5 in. W: 7.7 in. D: 6 in. Weight 14 pounds (Live).
H: 8.7 in. W: 40 in. D: 4.7 in. Weight: 27 pounds (Lounge).
POWER
110-230 Volt AC, 50/60Hz. Power consumption 80/6 W. Energy saving standby power consumption of only 1 W.
Libratone speakers are not rechargeable and need to be connected to mains (110 - 230V AC) to play.
IN THE BOX
Libratone speaker, Mains cable and Quick Start Guide (Lounge includes analog/digital cable and wall mount).
Executive Overview
It shouldn't be surprising that manufacturers of speakers have embraced some of the newest features of our tablets and mobile phones. It shouldn't be, but we were still surprised at it. We expect (and look for) features like Apple's AirPlay in devices like receivers. It is the logical place for them. But why? It is because of our preconceptions? That sound comes from receivers and not directly from speakers? Are we showing our age and yelling, virtually, at these upstarts to get off our digital lawn?
Maybe.
Libratone (and others) have not been so narrow-minded and have started releasing speakers that are AirPlay-equipped. This means that all you need is an iDevice and the speaker and you are ready to rock. Frankly, we LOVE this idea for whole home audio (or at least portable) solutions. Got a friend with a song they want you to hear? No problem. Want to take your speaker outside? Fine. Usually need sound in your living room as background but occasionally want it in other rooms? Just move the speaker. It's a very versatile solution.
Libratone has released two new AirPlay equipped speakers: the Live and the Lounge. The Live is a smaller, lighter, more portable speaker designed to be moved around at a moment's notice (it even has a chrome handle). The Lounge is a larger speaker better suited for more permanent placement. Think of it as a soundbar of sorts.
To start with, you're going to need either an iDevice with iOS 4.2 or higher or a computer with iTunes 10.1 or better for a streaming connection. Of course, you'll also need Wi-Fi in your home (which should go without saying). Both of the speakers have a 3.5mm jack on the back for a direct connection. The specifications suggest that a digital optical connection can also be made through that input, though only the Lounge includes the necessary cables. Speaking of cables, many associate "wireless streaming" with "wireless." This is not the case with either of the Libratone offerings. Both require that you plug them into the wall for power. While we think a battery would have been nice for the smaller Live speaker, it certainly isn't a requirement since you need to be near a Wi-Fi network for the streaming to work anyhow.
The Live (the vertical speaker in the picture above) is the smaller of the two speaker at 18.5" tall, 7.7" wide, and 6" deep and weighing a fairly substantial 14 pounds. Like the Lounge, it can be wrapped in Italian cashmere wool with piano gloss highlights. It has a 5" bass woofer, two 3" midrange drivers, and two 1" ribbon based tweeters. It is rated down to 45 Hz with a max output at 1 meter of 100 dB. That's pretty impressive performance for such a small speaker.
The Lounge, with many of the same stylings (sans the chrome handle), looks every bit the big brother. Oriented horizontally, the Lounge includes hardware for wall mounting. It features an 8" inverted woofer, two 4" ceramic midrange drivers, and two 1" ribbon based tweeters. The larger speaker is rated down to (vaguely-rated) 38Hz with a maximum output of 103dB at 1 meter. All of these specs lack some pretty important qualifications. At 8.7" high, 40" wide, and 4.7" deep, it looks, as we noted above, very much like a sound bar. It only weighs 27 pounds, so wall mounting shouldn't be much of a problem.
To up the ante, Libratone has released the Libratone App which allows for the customization of the FullRoom feature of the speakers. This tailors the output for multiple environments. The app will ask you to input the speaker's location (shelf, wall, etc.) and distance to walls. What confuses us is this note from their website:
Libratone Live and Lounge, on the other hand, play like acoustic instruments, dispersing sound waves in multiple directions, reflecting them off the walls. This eliminates the sweet spot and gives you a 360° sound experience. To get a bit more technical, inside the cabinets there are five units each driven by dedicated audiophile amplifiers and each dedicated to spreading sound in a specific direction. This setup means that the system both spreads out the sound and encapsulates you in it.
This sounds like the drivers are angled but that those angles can't be modified. Perhaps the app adjusts the output based on your data?
What really got us about these two new speakers was the cost. The Libratone Lounge is available in Slate Grey, Blueberry Black and Vanilla Beige as standard at a cost of $1,299 and as red and green cashmere in its premium offering at a cost of $1,399. The more petite Libratone Live is available in grey, black and beige as standard at a cost of $699 and as premium in red and green cashmere at a cost of $799. Call us crazy, but why would anyone pay extra for cashmere on a speaker? We don't even buy cashmere for our wives.
One thing we are really missing with both of these offerings is more inputs. A single 3.5mm inputs simply isn't enough. Especially when the Lounge is being marketed as an under-TV option, we believe a few more should be in order. After all, most TVs won't output discrete digital audio sourced from HDMI, let alone analogue audio. At least a single dedicated digital audio input would seem more appropriate for the price - and a pair of analogue audio inputs would be even better. Given the price tag of these speakers (even the non-cashmere versions), it doesn't seem like too much to ask.
Conclusion
Libratone markets their new Live and Lounge AirPlay speakers as "Scandinavia in your living room." Well, apparently this isn't the Ikea Scandinavia but the more expensive, "cashmere-wrapped" Scandinavia. The speakers do boast not only the ability to stream from iDevices via Apple's AirPlay, but also the ability to tailor that sound via Libratone's dedicated app. Will it sound $700 worth of good for the portable Live speaker or $1300 worth of good for the larger, Lounge? We don't know. We're still stuck on wondering how much better will the $100 cashmere wrap will make the speakers sound.
For more information, please visit www.libratone.com.

Unless otherwise indicated, this is a preview article for the featured product. A formal review may or may not follow in the future.
Adam posts on November 12, 2011 20:14
Although I'm not interested in those speakers, you just got me thinking about a cashmere wrap for my SVS. Or maybe some other lighter colored material to get a change from the black cloth that I've been looking at for four years.
Post Reply
Confused about what AV Gear to buy or how to set it up? Join our Exclusive Audioholics E-Book Membership Program!