Sunfire Universal Subwoofer Wireless Kit First Look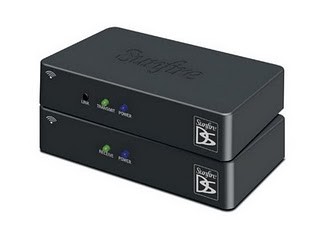 Sunfire Universal Wireless Subwoofer Kit
Summary
| Specifications | SDSWiTX | SDSWiRX |
| --- | --- | --- |
| Latency | 17 ms | 17 ms |
| Resolution | 16 bit | 16 bit |
| Sampling rate | 48 kHz | 48 kHz |
| Wireless band | 2.4 GHz | 2.4 GHz |
| Error checking | no info | no info |
| Weight | TBD | TBD |
| Dimensions | TBD | TBD♠ |
Executive Overview
Aside from size, one of the biggest headaches in placing a subwoofer is the cable. Just like the rear speakers, running a cable across the room or even over an open space between the home theater furniture and the best placement for the sub, can cause more than a few fights between otherwise amicable partners. Unfortunately some manufacturers like to make their sub cables bright orange or blue which only exacerbates the situation. 
There have been a few wireless speaker solutions released in recent years. Mostly in connection with home theater in box systems. These "wireless" rear speakers are about as wireless as I am armless - not at all. The wireless solution always requires power. This means that you either have to place the speaker near an outlet or (and we've never seen this solution) have to charge your rear speakers occasionally. Subwoofers have the advantage (if you'd call it that) of having to be placed near an outlet. Plus, they are normally located on the floor rather than on stands/walls/shelves. A wireless solution with a sub requires nothing more than an extra outlet.
With subs so ripe for the wireless solution, it was only a matter of time before Sunfire released a solution. The Sunfire Universal Subwoofer Wireless Kit has been purposefully designed for subwoofer use. As you might expect from Sunfire. The "universal" aspect means it will work with any sub/receiver. Which doesn't really need to be mentioned as only a company more interested in keeping all their toys for themselves rather than making money would make a proprietary system. In Sunfire's defense, their website makes no mention of this "universal" aspect probably indicating that someone in their marketing firm made the executive decision to include that word in the title. We're just lucky that same brainiac didn't try to shoehorn 3D or HD in there somewhere.
If there is one concern about wireless speaker systems it is fidelity. You don't want to pay 10x's what it would cost for a cable just to find out that the signal has been changed or there is distortion or interference. Sunfire is using a 2.4Ghz signal with 17ms latency. Sunfire claims the solution has 16 bit resolution and samples at 48hz. The transmission is digital which Sunfire says will provide "100 percent accuracy." That should be true if there isn't any interference or other problems. We'd like to see this claim tested. What we don't know is how many channels Sunfire has the option of using or if it sends out redundant signals on many channels.
One thing that surprised us at first was how the units were price individually. At $80 a pop, why would you want just one? Well, you would if you have a single subwoofer output and plan on using multiple subs. But, again, for a product that is currently shipping, information on how it works is woefully thin. The press material suggests that one transmitter can pair with two receivers but we're wondering why? Why can't you pair as many receivers as you want? Plus, what about those with multiple subwoofer outs with individual calibration for the subs at their receiver? Can you use more than one transmitter in a room? We don't know. Usually we'd take a look at the manual (if there is one) to get our answers or at least a look at the back panel. With the Sunfire Subwoofer Wireless Kit, the manual link downloads a PDF for their Dynamic Series Subwoofers - decidedly NOT the kit.
Conclusion
Sunfire suggests a 25 foot maximum distance which sounds about right to us. Expect less than that unless you can ensure a direct line-of-sight between the transmitter and receiver. Also realize that 2.4Ghz is susceptible to interference from such things as microwaves, cordless phones, or even your wireless network. Without more information on how Sunfire is dealing with these sources of interference, we'd suggest keeping your receipt.
For more information, please visit www.sunfire.com.

Unless otherwise indicated, this is a preview article for the featured product. A formal review may or may not follow in the future.