Sanus Systems Expands Furniture Line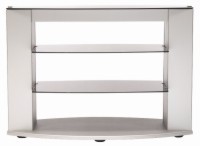 (Saint Paul, MN) - Sanus Systems continues to unite form and function with the addition of Platinum Furniture Digital TV Stands now available in two new colors. These stands feature sleek black tempered glass shelving with a silver or black wood base. The result is a solid, well-crafted piece whose color scheme will complement any entertainment system.
The clean lines and modern design of Platinum Furniture Digital TV Stands integrate easily into any type of home décor. The open architecture allows maximum airflow for proper component temperature regulation, and its custom-blended black or silver finish perfectly matches today's TVs and components. Construction is of quality resonance-absorbing materials that offer a unique cable management channel to optimize performance without compromising aesthetics.
The new Platinum Furniture models are available in three widths (model PFV36 is 36" wide; PFV47 is 47" wide; PFV59 is 59" wide) and they are easy to assemble. The heavy-duty top shelf holds up to 150 lbs, and the strong, tempered glass mid shelf supports up to 60 lbs. All models will be available in June with prices ranging from $299.99 to $419.99.
"Our new Platinum Furniture stands give customers more color options to correspond with market trends in AV equipment," said Keith Pribyl, vice president of retail sales for Sanus Systems. "These stands are designed to complement all of today's newest digital TVs and components while maintaining Sanus Systems' high standards of performance."
About Sanus Systems
Sanus Systems designs and builds a broad variety of audio video furnishings, mounts and accessories that will satisfy even the most demanding audiovideo enthusiast or interior designer. Every Sanus product is engineered to enhance both the AV system and its surrounding décor. Today Sanus offers over 300 products, including home theater units, TV stands, audio racks, wall mounts and speaker supports. Sanus products are available at thousands of retail locations nationwide; a store locator is available at www.sanus.com .