Klipsch Icon V Speaker System Review
Klipsch Icon V Speaker System Review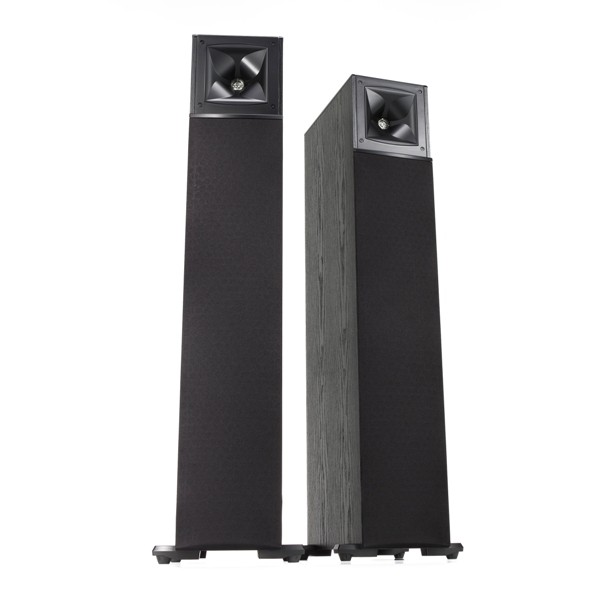 Klipsch VF-36 Floorstanding Speakers
VF-36 Floorstanding Speakers ($949.99 pair)
Frequency response: 36Hz - 23kHz +/- 3dB
Low frequency extension: 33Hz
Power handling: 150 W continuous, 600 W peak
Sensitivity: 97.5dB
Nominal impedance: 8 ohms compatible
Crossover frequency: 1780 Hz
Drive components: Shielded two-way system utilizing three 6.5" fiber-composite lightweight cone woofers and one 1" aluminum dome tweeter mounted in a 6" square 90º X 90º XT Tractrix® Horn
Enclosure material: MDF (medium density fiberboard)
Enclosure type: Bass reflex via front flared port
Dimensions : 45" (114.3 cm) x 8.5" (21.6 cm) x 15.75" (40 cm)
Weight: 55 lbs (24.9 kg)
Finishes: Black vinyl with furniture-grade black wood veneer top cap
VC-25 Center Channel ($279.99)
Frequency response: 77Hz - 23kHz +/- 3dB
Low frequency extension: 70Hz
Power handling: 75 W continuous, 300 W peak
Sensitivity: 93.5dB
Nominal impedance: 8 ohms compatible
Crossover frequency: 1900Hz
Drive components: Shielded two way system utilizing 2 - 5.25" fiber-composite lightweight cone woofer and 1 - 1" Aluminum dome tweeter mounted in a 4.5" Square 90° X 90° XT Tractrix horn.
Enclosure material: MDF (medium density fiberboard)
Enclosure type: Sealed enclosure
Dimensions: 7" (17.8 cm) x 21.5" (54.6 cm) x 8.75" (22.2 cm)
Weight: 16 lbs (7.3 kg)
Finishes: Black vinyl with furniture-grade black wood veneer side caps
VS-14 Specifications ($329.99 pair)
Frequency response: 99Hz - 23kHz +/- 3dB
Low frequency extension: 92Hz
Power handling: 50 W continuous, 200 W peak
Sensitivity: 89dB
Nominal impedance: 8 ohms compatible
Crossover frequency: 2000Hz
Drive components: Two-way system utilizing one 4.5" fiber-composite lightweight cone woofer and two 1" aluminum dome tweeters mounted in dual 4.5" square 90º X 90º XT Tractrix® Horns in a WDST configuration
Enclosure material: MDF (medium density fiberboard)
Enclosure type: Sealed enclosure
Dimensions: 6.75" (17.1 cm) x 15" (38.1 cm) x 6.5" (16.5 cm)
Weight: 7.5 lbs (3.4 kg)
Finishes: Black vinyl with furniture-grade black wood veneer top and bottom cap
Synergy Sub-12 ($500)
Frequency response: 24-120Hz +/-3dB
Amplifier power: FTC Rated Power: 300 watts continuous @ 1% THD, Dynamic Power: 650 watts
Maximum acoustic output: 117dB @ 30Hz 1/8 space, 1m
Drive components: 12" (30.5cm) fiber-composite cone, down-firing woofer
Amplifier: BASH® digital hybrid
Phase: Switchable 0-180 degrees
Enclosure type: Bass-reflex via rear-firing port
Inputs: L/R line-level RCA jacks, L/R high level speaker binding posts
Outputs: L/R High level speaker binding posts (passthru)
Dimensions: 18" (45.7cm) H x 15" (38.1cm) W x 19.9" (50.5cm) D
Weight: 40 lbs. (18.2kg)
Features: Volume, Lowpass, Phase, Auto Power
Finishes: Black vinyl
Voltage: 110/120 VAC 60Hz
Export voltage: 220 VAC 50/60Hz
Pros
Dynamic
Great at moderate volume
Cons
Fatiguing at higher volumes with music
Midrange a bit thin
Introduction
Too often I find myself reviewing and recommending speakers that you can only find at a specialty shop or online. Klipsch worked with Best Buy to create the Icon V series of speakers which means that these speakers will be available to nearly everybody. For movies, TV, and games the Klipsch Icon V's are a sure ticket to a great experience. Responsive and dynamic, the group as a whole performs well.

Confused about what AV Gear to buy or how to set it up? Join our Exclusive Audioholics E-Book Membership Program!
Recent Forum Posts:
derrickdj1 posts on December 09, 2011 14:09
Klipsch Icon V series

I ,have a Klipsch Icon V home theater and think these speaker are amazing. They are crisp and clear. Good tonal balance from the highs to the lows. My Pioneer SC 35 does a fantastic job on room correction to adjust the highs so the horns are not to bright. I demo these as well as the reference and Synergy line and felt this was a better value. I have a 9.1 setup using all Icon V speakers a love it. I read reviews on this speaker and they appear like movie reviews, frequently off the mark.

SC 35 avr
VF 36 mains
VS 14 front height
VS14 surrounds
VF 35 surround back
VC 25 center
AA RW 15in sub
mudrummer99 posts on December 17, 2008 00:48
Matt34, post: 497873
That's what I don't understand, are they going to be reference replacements? Because you can get RF-82 for just about the same price and even less if you shop ebay.

I would have no qualms about having a set of Ref in my HT setup.
They are not the replacements for the Ref series, those are the Icon W's, which perform far better than the V. I just find it interesting that they are at the same price point and there is such a very pointed difference between two in quality. For my money, I'd be all over the Ref.
bandphan posts on December 16, 2008 19:05
IMO creating private labled lines to drive profits lowers qc and creates a mariage that is broken between the factory and the retailer and very rarley works out in the long run. This model may work for say the furniture industry but not for higher end audio.
abjonesiii posts on December 16, 2008 18:51
Matt34, post: 497873
That's what I don't understand, are they going to be reference replacements? Because you can get RF-82 for just about the same price and even less if you shop ebay.
It is peculiar to say the least. You can't blame Klipsch as a company though for pairing with best buy to put out a speaker line. In fact its quit genius. Companies like Paradigm, B&W, and other require a visit to the specialty shop where as Klipsch is positioning themselves to be in the face of anyone shopping for electronics because lets face I say "electronics" most people think "Best Buy".
My only hunch would be that in the push to capture huge market share that BB can deliver Klipsch does not want to put its own Reference line out to be smeared. Most audiophiles will likely dismiss any speakers available in a big box store as high profit low quality knock offs for the mass public. IMHO the RF series can hold its own (I own RF-82's) The possible poor rap the company's premier line could get for just being perceived as cheap just for being on the big chains shelf is worth making a whole new line to prevent.
Just my thoughts.
irishtom posts on December 16, 2008 16:05
I don't understand the notion expressed by the reviewer that a speaker not good enough for music is good enough for movies. The scores of movies like Ben-Hur, South Pacific, El Cid, West Side Story and Lawrence of Arabia is certainly worth being reproduced in the best manner possible.

Now maybe a mediocre speaker is adequate for reproducing the car crashes and bombastic surround sound of the latest "hero outrunning an explosion" movie but not for reproducing the sublime work of Rozsa, North, Elmer Bernstein, Tiomkin, Newman, Rogers & Hammerstein and others.

The reviewer also thought that the speakers in question would need a subwoofer with "all" movies. All? Do we need subwoofers for "Gone With the Wind" and "Sunset Blvd"?
Post Reply