EMP Tek EF50T Speaker System Review
EMP Tek EF50T Speaker System Review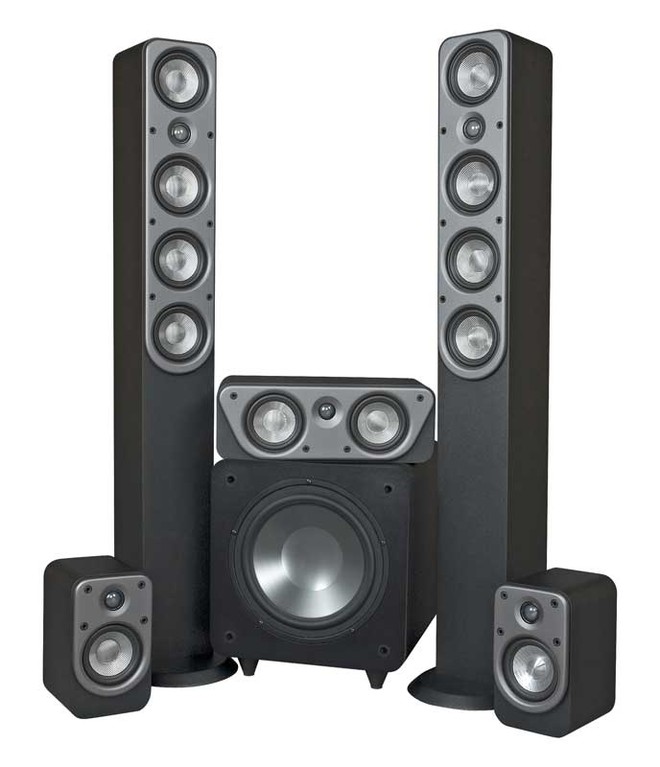 EMP Tek EF50T Speaker System
EF50T - Tower Speaker

Frequency Response: 80Hz - 20kHz ±3dB
Sensitivity : 87dV ([email protected])
Recommended Power: 50-150 Watts
Woofer: Four 4" Aluminized Fiberglass Matrix
Tweeter: 1" Poly Silk Dome
Impedance: 8 Ohms
Crossover Frequencies: 3000 Hz
Video Shielding: Yes
Dimensions: 5" x 40" x 6.5" (W,H,D); Bass 9" x .75" x 11.5" (W,H,D)
Finish: Black
Weight: 28.15 lbs
Interchangeable Faceplates

EF50 - Bookshelf Speaker

Frequency Response: 100Hz - 20kHz ±3dB
Sensitivity : 84dV ([email protected])
Recommended Power: 35-150 Watts
Woofer: 4" Aluminized Fiberglass Matrix
Tweeter: 1" Poly Silk Dome
Impedance: 6 Ohms
Crossover Frequencies: 3000 Hz
Video Shielding: Yes
Dimensions: 5" x 8.5" x 6.5" (W,H,D)
Finish: Black
Weight: 5.3 lbs
Interchangeable Faceplates

EF50C - Center Speaker

Frequency Response: 100Hz - 20kHz ±3dB
Sensitivity : 85dV ([email protected])
Recommended Power: 35-120 Watts
Woofer: Dual 4" Aluminized Fiberglass Matrix
Tweeter: 1" Poly Silk Dome
Impedance: 8 Ohms
Crossover Frequencies: 3000 Hz
Video Shielding: Yes
Dimensions: 5" x 14" x 6.5" (W,H,D)
Finish: Black
Weight: 9.15 lbs
Interchangeable Faceplates

E10s - Subwoofer

Subwoofer: 10" (254mm) Compressed Cellulose Composite
Amplified Power: 100 Watts
Frequency Response: 30Hz - 150kHz ±3dB
Crossover Frequency: 50 - 150Hz
Dimensions: 14.5" W X 13" H x 14.5" D (368mm W x 330mm H x 368mm)
Weight: 27 lbs. (12.2 kg)
Pros
Detailed sound
Incredible dynamic range
Flexible aesthetics
Easy placement
Impressive low end for such a small sub
Cons
Grills/Faceplates fit too loosely
Some information lost near crossover point
Limited bass extension requires high crossover point
A bit of roll off at the top end
Introduction
While the EMP EF50 speaker system does sacrifice a bit of performance at the altar of aesthetics, it is very little performance for a whole lot of aesthetic gain. The tiny sub belies its performance and impact and the surround speakers sound too good to be surrounds. The removable faceplates may be a bit gimmicky, but it's a good gimmick. If this is your first foray into home theater and you want to do it right this is the set for you. At only $899 for this month, this system is a steal!

Confused about what AV Gear to buy or how to set it up? Join our Exclusive Audioholics E-Book Membership Program!
Recent Forum Posts:
Tom Andry posts on August 20, 2008 11:28
allargon, post: 444462
Tom, would this setup be good for a large room?
Depends on your definition of "large." In most rooms they'd be fine. In "great" rooms that are open to kitchens etc. probably not. I'd definitely opt for a larger sub in that case. The EF30's would probably be a better choice in a large room.
DHC-3T posts on August 16, 2008 01:04
Just got all my stuff hooked up to a 2808 and am very pleased to say the least. These speakers sound great !! I am very happy to have them.
allargon posts on August 14, 2008 00:41
Interesting… the sub only goes to 33. The towers are bright in two channel mode. However, together this all works?

Tom, would this setup be good for a large room?
Post Reply