EMP Tek EF50T Speaker System Review
EMP Tek EF50T Speaker System Review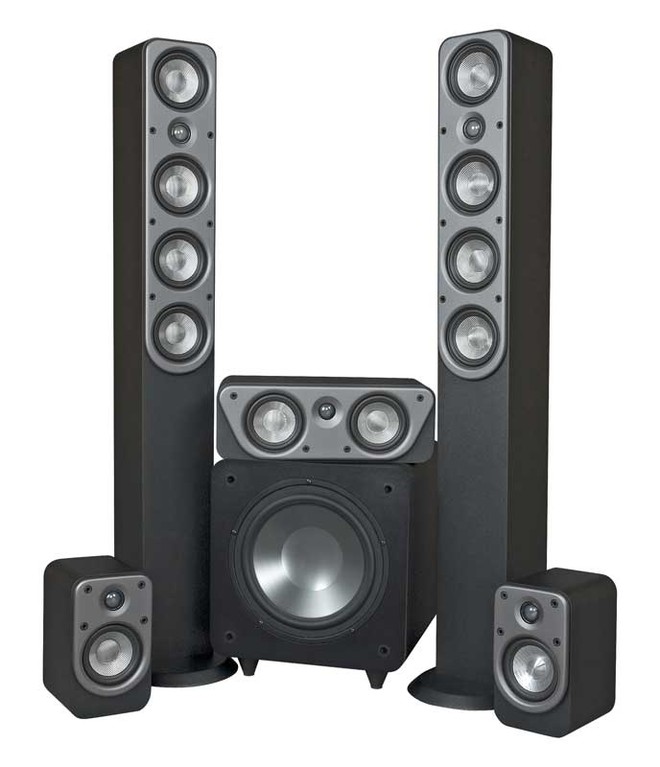 EMP Tek EF50T Speaker System
EF50T - Tower Speaker

Frequency Response: 80Hz - 20kHz ±3dB
Sensitivity : 87dV (2.83V@1m)
Recommended Power: 50-150 Watts
Woofer: Four 4" Aluminized Fiberglass Matrix
Tweeter: 1" Poly Silk Dome
Impedance: 8 Ohms
Crossover Frequencies: 3000 Hz
Video Shielding: Yes
Dimensions: 5" x 40" x 6.5" (W,H,D); Bass 9" x .75" x 11.5" (W,H,D)
Finish: Black
Weight: 28.15 lbs
Interchangeable Faceplates

EF50 - Bookshelf Speaker

Frequency Response: 100Hz - 20kHz ±3dB
Sensitivity : 84dV (2.83V@1m)
Recommended Power: 35-150 Watts
Woofer: 4" Aluminized Fiberglass Matrix
Tweeter: 1" Poly Silk Dome
Impedance: 6 Ohms
Crossover Frequencies: 3000 Hz
Video Shielding: Yes
Dimensions: 5" x 8.5" x 6.5" (W,H,D)
Finish: Black
Weight: 5.3 lbs
Interchangeable Faceplates

EF50C - Center Speaker

Frequency Response: 100Hz - 20kHz ±3dB
Sensitivity : 85dV (2.83V@1m)
Recommended Power: 35-120 Watts
Woofer: Dual 4" Aluminized Fiberglass Matrix
Tweeter: 1" Poly Silk Dome
Impedance: 8 Ohms
Crossover Frequencies: 3000 Hz
Video Shielding: Yes
Dimensions: 5" x 14" x 6.5" (W,H,D)
Finish: Black
Weight: 9.15 lbs
Interchangeable Faceplates

E10s - Subwoofer

Subwoofer: 10" (254mm) Compressed Cellulose Composite
Amplified Power: 100 Watts
Frequency Response: 30Hz - 150kHz ±3dB
Crossover Frequency: 50 - 150Hz
Dimensions: 14.5" W X 13" H x 14.5" D (368mm W x 330mm H x 368mm)
Weight: 27 lbs. (12.2 kg)
Pros
Detailed sound
Incredible dynamic range
Flexible aesthetics
Easy placement
Impressive low end for such a small sub
Cons
Grills/Faceplates fit too loosely
Some information lost near crossover point
Limited bass extension requires high crossover point
A bit of roll off at the top end
EMP Tek EF50 Build Quality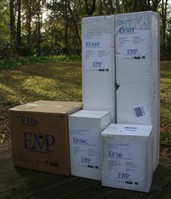 Very little gives me as much pleasure as reviewing gear that will be in reach of the majority of Audioholics readers. Sure, I like playing with the high dollar gear but you know that the majority of readers will be voyeurs at best. When reviewing more affordable stuff, you feel like people are studying your review to ascertain if the pros and cons are worth the money the products are selling for. Sure, I may think it is a good or bad deal, but that's not enough. It's what is important to the reader that makes the difference.
EMP Tek (designed and manufactured by the same folks who design and engineer the RBH Sound products) are one of the newest internet direct manufacturers out there. In fact, they are so new that when we get their products in for review, they are almost certainly either the first speakers off the production line or the preproduction model. This means that there may be some problems (usually fit and finish) that are already worked out on the models that will actually make it to your home. Unfortunately, since I have no way of knowing whether or not these issues will be corrected, all I can do is report them. Also, pricing is often not set in stone until near the end of the review process so in this case I spent the majority of this review not knowing what price bracket they were targeted toward.
First Impressions and Build Quality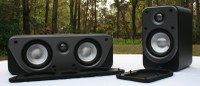 Through my past dealings with the designers and engineers of EMP products, I've come to expect two things  - Great price/performance ratio and ho-hum aesthetics. Since I'm not sure of the first yet, I've found a pleasant surprise in the second. The EF50 speakers were all fairly well packaged (even a large gash in one box didn't result in any noticeable damage to the speaker) in matching white boxes. With the EF50T tower speakers, the bases were packed separately in its own cardboard box. The screws for the base and the feet (both carpet spikes and rubber feet are provided) were placed in small zip-top bags and taped to the styrofoam packaging. In one of the boxes the little bags came loose but didn't seem to scratch anything or cause any damage. Each speaker was wrapped in a plastic bag to protect it from the elements. While the cotton sock seems to be synonymous with "high-end" speakers, I much prefer some real protection instead of a slippery sock that makes it nearly impossible to unload your speakers without dropping them.
While each of the EF50T tower speakers were packed in their own box (as were the E10s Sub and EF50C center), the EF50 bookshelf speakers were packed together. And boy are they small. At only 8.5" tall, the bookshelves are so tiny that they almost seem out of place with the rest of the speakers in the system. While the center and bookshelves both have threaded inserts on the back for wall mounting, there was a disturbing lack of feet options. Since the center in particular will probably sit on a shelf, the lack of rubber feet seems like a "preproduction" error that most likely will never be encountered by Joe Consumer. Or at least I hope.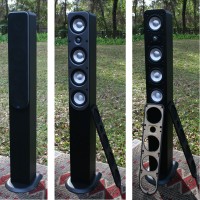 Each of the speakers (sans sub) has what amounts to dual grills. The top grill is an actual grill with acoustically transparent speaker cloth while the lower "grill" is a faceplate that outlines the drivers. The faceplate attaches to the cabinet itself while the grill attaches to the faceplate. There are multiple color options (none were provided with the review samples so I can't speak to their quality of fit and finish) available to help integrate the speakers into your décor. This is a pretty neat idea in that it adds a bit of customization without the need for hardware or simply changing the grill color. My issue here was that the grill/faceplate/cabinet connections were often inconsistent in their ability to stay together. On one of the tower speakers, the faceplate was nigh impossible to remove while the other could be knocked off with your elbow as you walked by. While this may be a preproduction issue, I urge EMP to ensure a tight fit between all these components. While nothing shook loose, the grills and faceplates were so easy to remove that my 2 year old could do it (and did… a lot). I personally want a little more protection for my drivers especially considering how vulnerable the tweeter is without the faceplate.
Aesthetically, the EF series speakers look great which surprised me a bit. The towers are small enough to blend into the background without being so small that they look fragile. The bases probably have a lot to do with their stability. The bookshelfs are practically invisible after being set up. The sub, at roughly a 14" cube, is as small as you could ever hope for while wishing for a sub and not a "bass module." The matte black vinyl wrap is virtually impervious to fingerprints and absorbs light very well also working to increase their ability to disappear into a room. The tops of all the speakers are rounded which reduces the harshness of their lines and gives them a more streamlined look. The aluminized fiberglass matrix drivers are very striking and the speakers looked great with the grills off. I did have to laugh when EMP included a set of white cotton gloves with the tower speakers. I know that people associate those gloves with "quality" but it was a bit ridiculous. There was no way I was going to leave fingerprints on those speakers. Unless I just ate a particularly messy BLT.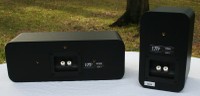 The fit and finish of the speakers was mostly good. That vinyl black matte veneer is very forgiving. I did notice a bubble or two near the bottom of the speakers but nothing that would make me think that it was a systematic issue. The silver five-way binding posts on the back may not have the audiophile approved finish, but they did look very nice with the silver drivers. None of the speakers (except for the sub) were ported so placing them near a wall or in a cabinet will be less of a problem (please read our article on in cabinet installation for more details). Even the sub with its downfiring port shouldn't offer much in the way of placement issues. Everywhere you were required to attach something to a speaker (feet/base) EMP provided a threaded insert. The rubber feet of the EF50T speaker were even on a threaded post so that they could be removed if you changed your flooring.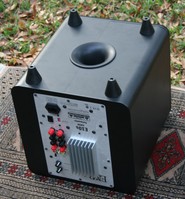 The sub is a front firing 10" with a downfiring flared port. While it generally disappears in whatever corner you set it up in, taking off the grill (no faceplate here) gives you an excellent view of the 10" aluminum cone woofer. The amp plate has all the usual with volume and crossover frequency knobs, phase switch, LFE line level input, L/R line level input, and high level inputs and outputs. For 90% or more of us, you'll use the LFE input which defeats the crossover setting in favor of your receiver's setting. I had two issues with the E10s - First there was no "on" mode. The "on" setting basically engaged an "auto" setting which shuts down the amp if there is no signal present for a period of time. It took just about a second for the sub to respond once a signal was present. My other issue is that there is no status indicator light on the sub. Basically you can't tell if it is on and working properly without making it play something. I'd prefer an indicator light that was off when the unit wasn't powered on, green when it was active, and some other color when in standby mode.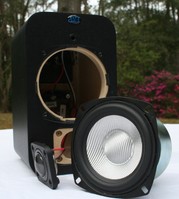 Taking the speakers apart I found that the cabinets were all constructed out of 1/2" MDF with heavily glued edges. Center bracing wasn't found on any of the speakers but the sub at all edges and the towers along the edge of the front baffle had some triangular bracing. The sub also had an addition brace along the bottom. The speakers themselves, especially the surrounds, were small enough that they actually self braced themselves and did not require any additional bracing. They all felt suitably inert. The sub, in particular, sounded much more inert than many of the subs I've tested.
All the speakers contained some polyfill to help dampen them with the sub having it glued to all the walls. The towers had three huge pieces jammed into the bottom. The drivers (sans sub) were all shielded so you don't have to worry about magnetic fields messing with your legacy CRT or DVR. All the baskets on the woofers looked to be stamped. The subwoofer utilized a fairly large magnet and the woofer itself is extremely heavy. The crossover utilized air core inductors with electrolytic caps and film bypass caps to improve the overall performance.  The subwoofer port was flared to reduce turbulence and the amp utilizes and analog power supply with a fairly hefty E-core transformer and a linear amp.
EMP EF50 Setup and Listening Tests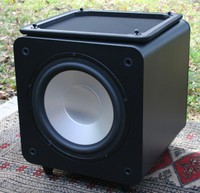 Setting up the EMP Tek EF50 speaker system is pretty much a breeze. With the lack of ports, it was much less of a concern where the back walls were. The EF50T towers seemed to need at least a modicum of toe in. With the speakers pointed directly out, the soundstage was quite wide but unfocused. With a few degrees of toe in, the soundstage solidified though was a bit less wide. Personally, it was an easy tradeoff as the soundstage was a plenty wide to begin with.
I'm not a huge fan of corner loading subs and I definitely felt that the E10s didn't need to be corner loaded. Even at over a foot off the side wall, and nearly three from the back, I felt it was plenty bassy enough. Honestly, I calibrated and re-calibrated this sub over and over because I felt it was a little boomy at times. Usually by "boomy" I mean one note. The E10s was anything but one note. It definitely had some range and tightness to it but it often came off as "too loud" (or, too quiet - I couldn't seem to find a real happy medium). This could very well be a room interaction or more likely the high crossover point but I felt is was worth a mention.
The EF50 bookshelves are so small that it is easy to place them nearly anywhere. I had them placed on either side of my couch pointed slightly in front of my listening position. The EF50's definitely can pump some volume and I suggest putting a good 5+ feet between you and them in order to have them blend effectively. I think that wall mounting these a few feet above your seated position would be an excellent idea. The entire system was wired with Blue Jean Cable's Canare 4S11 speaker cable with Impact Acoustic's Sonicwave Subwoofer interconnect and powered by a Denon 2307CI. All listening tests were done with the speaker grill and faceplates on.
As a package, I felt that the EF speaker would work well with any mid-level receiver or higher and probably most entry levels. They aren't too efficient (87dB / 84 dB at 1 watt/meter for the towers/bookshelfs, respectively) so you'll be taxing the internal amps but you won't break anything (in my opinion). I did think that the EF50T's could be made to sing a little sweeter with an external amp and should play nice with just about any amp on the market. Basically, you'll be fine with the equipment you have now (provided you aren't trying to drive them with a clock radio - think modern ~$300 receiver) but have something to add to your Christmas list!
The tower speakers are rated down to 80Hz but the center and surrounds only down to 100Hz. I wanted to test that out subjectively so I hooked them up to my Emotiva RSP-1/RPA-1 combo and played the Rives test tones through them while running them full range. While both sets of speaker definitely had output under their ratings, it was very reduced and I'd suggest that you set your crossover no lower than 80Hz. You are going to lose a little in the surrounds and a bit in the towers but not much. I personally had it set for 100Hz as I felt the lower midrange needed a bit of a boost from the sub. This made the sub a little localizable so you're going to want to test it out to see how much that affects you. Where your sub is located will also play a large roll here. I'd suggest making sure your sub is placed close to your mains and perhaps running two up front. This will help smooth out your bass response as well as help ensure that the subs aren't localizable. See our article on connecting up multiple subs for a more thorough discussion.
Listening Evaluation
I played so much through these speakers that is seems disingenuous to list my reactions under specific albums/movies so I won't. A ton of music, movies, and high definition Cable TV all hit the EF50 speakers over the course of a few weeks and they really never failed to impress. But read on for more.
Two Channel Music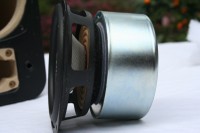 I was definitely interested in seeing how the EF50T's held up to the previously reviewed RBH TK-5CTs (TKs). They both cost about the same but there is where the similarities end. The design, footprint, driver size and configuration, ports… everything is different. I level matched the two and listened to a few albums. While it was clear that the EF50T's were a nice little speaker, the TK's  just had too much bass for a direct comparison. It was no contest. With the TK's side firing 8" woofer, larger cabinet, and ported design, that's not exactly a surprise.
Instead, I hooked up the sub and let them both have the benefit of the E10s sub. Fair is fair right? While the sub evened things out a bit, I still felt like the EF50T's lost some information around the crossover point (100Hz). There were notes that were just clearer on the TK's. On the high end, the TK's also seemed to have a bit more clarity and extension. There were times that I knew I was supposed to be hearing some notes off the very top end of a piano that were just not there.
This is not to say that the comparison was not favorable. The EF50's sounded very, very, similar to the TK's. So much so that I'm starting to think that RBH/EMP has a "sound". Now that "sound" might be unaltered audio reproduction but it seems to be something I'm starting to be able to pick out of a crowd. The EF50T's definitely sounded clean and big… much bigger than they should sound for their size. Again, the TK's sounded bigger but, of course, they are.
The real shocker was not that the EF50T's had less bass or a tad less extension on the high end but that the audio band that they were reproducing sounded eerily similar to the TK's. As I mentioned in the TK review, I feel the TKs are the sub $1000 tower speakers to beat so this is high praise. The EF50T's displayed a depth of soundstage that seemed impossible for their size or price. Dynamics were all there and music, at nearly any volume, sounded effortless. At no point in this review did I feel like the EF50T's were straining or had reached their limits. In my experience there are few if any speakers at this price point and with these aesthetics that can touch the musical reproduction of the EF50T's.
Multi-channel Music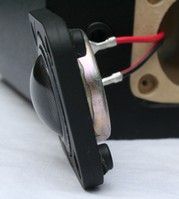 Of course, I'm reviewing a full 5.1 system so it seems a little silly to be focusing so much on the towers and sub. My first order of business when reviewing a speaker set is to pop in a few multi-channel DVDs and CDs. I listened to a number of albums including the Blue Man Group: The Complex, Porcupine Tree: In Absentia and Deadwing, and Don Henley: The End of the Innocence. What was clear to me through it all was how well the EF speakers worked together. Pans across the front and back all worked remarkably well without a hint of so much as a crack in the 360 degree soundstage. Dynamics were amazing as was the EF's ability to keep me engaged without becoming overwhelming or fatiguing. One thing I've noticed of other "revealing" speakers is that it doesn't take long for "revealing" to degenerate into "bright". This is often aggravated by the listening room. The EF50's never became fatiguing or bright but still maintained that clarity and extension that you'd want out of a quality speaker.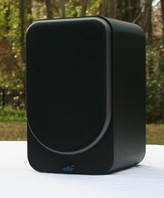 If there is one strike against the EF50 speaker system, it is the EF50 speakers (the bookshelves) that are used for surrounds. They seem to be almost too good for surrounds. In my testing room, the speakers were only a seat and a half away (about 3-4 feet or so) on stands and were very demanding of my attention. Essentially, as long as I sat dead center on the couch, they sounded right but sitting to one side made that one surround too prominent. I would highly recommend that you place them a bit higher on the wall and farther away (if possible. This should help widen that sweet spot.
You're going to read this again in a moment, but I was very impressed with the E10s sub. I decided to play, at near reference level volume, "Piano Smasher" off the Blue Man Group The Complex album. This is a torture test for subs that seems almost cruel. Fortunately, the E10s was up to the challenge and held together very well. There were moments that sounded a bit mushy but overall the sound was articulate and punchy. Even at low volumes you could feel the bass filling the room. At higher volumes you could feel it filling your stomach. Want to have a good time (for an AV geek that is)? Take the grill off, jack up the volume, and watch that 10 just piston out those low frequencies. Good, clean, geeky fun!
Many, many moons ago I reviewed the SVS SBS-01 system. The E10s sub from EMP is expected to cost about the same as the PB10 sub from SVS (no longer in production). While acoustic memory is about 3 seconds and it's been a bit longer than that, I won't make any hard claims. From memory, it seems like both the subs have something going for them. The SVS definitely hit lower but I couldn't say for certain that it was any louder. The E10s has no problem filling up my smallish size listening room (a feat considering that it is open to other rooms). The E10s might be tighter overall and probably a tad more musical. Regardless, it is about 1/2 the size and for that, I'd say that the performance differences are pretty negligible.
Cable TV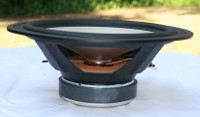 Even though there is a dearth of good programming on TV right now (thanks WGA), I did manage to sit through a few shows. While I don't generally consider HDTV to be very taxing, I was watching an episode of Stargate: Atlantis one night when I really noticed how impressive the E10s can be. Atlantis, like its superior predecessor (both of which are infinitely inferior to Farscape), likes to have a very low rumble throughout any scene that is set on a space ship (and some that aren't I've noticed). The E10s absolutely shook the house with that rumble. I couldn't believe it. A sub that small with a 10" driver shouldn't have that much impact. I could literally feel it in my chest.
Movies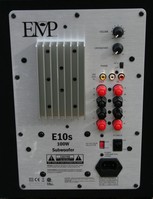 I was sort of on a movie watching kick during the evaluation of these speakers. A few HD DVDs made it in there (Pitch Black, Knocked Up, Lady in the Water, about a third of Disburbia) and plenty of DVDs (Descent, Star Wars Episode 2, Return of the Jedi, Finding Nemo, Murder Party, Severance). Star Wars Episode 2 was played just for the opening sequence to see how the E10s handled the low end. I had already determined that it didn't play much below its rating by using the Rives disc (rated at 29Hz and I got nearly no output at 25Hz), but I wanted to see how it did with really low information. I pumped up the volume and tried to make the sub bottom out. No go. It just rolled off gently. That's the sign of a well manufactured sub.
Many people believe that the center channel is the most important speaker in your system. I believe they are wrong but that is an issue for AV Rant or perhaps some future editorial. Still I would be remiss to leave out the diminutive EF50C. Essentially, an EF50 turned on its side with an extra woofer flanking the tweeter, the EF50C seems to have no problem keeping up with the EF50T's. Honestly, I was surprised. The small size of the unit in comparison to the towers had me worried. But even during the most demanding of passages (dialogue during explosions, multiple people talking at the same time) the EF50C never faltered or let me down. In the past, I've owned and tested centers that just couldn't hold up to the other speakers in the system. Not so this time. The small size practically guarantees that placement will not be an issue. At only 5" high, what could be the problem?
EF50 Measurements and Conclusion
Measurement method:  1 meter on Axis (1/12th Octave smoothed)
The EMP EF50C center channel was horizontally mounted and produced an in-room frequency response of roughly +-3dB from 150Hz to 20kHz.  The frequency response of the bookshelf EF50 speaker was nearly identical. The EF50T tower speaker also measured similarly but with a bit more bass extension below 100Hz allowing for an easier blend with a subwoofer without the need of turning the crossover up too high to make the subwoofer localizable.  Based on these measurements, it's easy to see that this system plays well together and should provide a seamless blend required for a convincing multi channel experience. This also explains why I thought the system sounded better with a 100Hz crossover rather than 80Hz.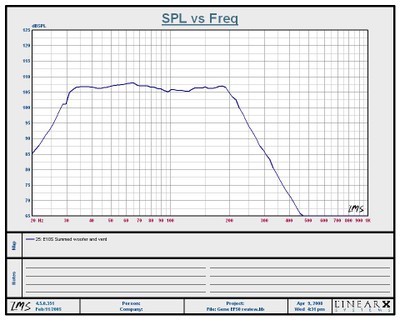 EMP E10s Sub Summed Woofer and Port
The EMP E10s subwoofer has a very flat response from about 200Hz down to 33Hz with the -3dB point around 30Hz (exactly as the specifications state). While the sub won't provide some of the subsonic slam that other, larger, ID subs will, the tradeoff is a small form factor and easy placement. For so small a sub, it has a lot of slam and great linearity.
Conclusion
These new EF50 speakers from EMP Tek are very impressive.  Performance is definitely there – as are the looks. The removable faceplates may be a bit gimmicky, but it's a good gimmick. The form factor is right, the size is right, the sound is right, and frankly, in my opinion, the price is right. If this is your first foray into home theater and you want to make sure you make a great purchase that will last you years or if you are looking to replace your first (substandard) purchase, this is the set for you.
 
EMP Tek EF50 Speaker System
$1929.96 | Buy It Now

EMP Tek
382 Marshall Way
Layton, Utah 84041
801-991-1308
About EMP Tek
Engineered Music Products (EMP) was founded in 2007 by Industry professionals with over thirty years experience in designing, engineering and manufacturing high performance loudspeakers for companies such as ParaSound, McIntosh, JBL, RBH Sound, Destination Audio and Fosgate... 
The High Performance Loudspeakers designed by EMP differ greatly from the products that sell in mass retail and big box stores. Manufacturers who market their products through mass retail and big box stores have to spend most of every dollar on marketing and advertising, leaving little of that dollar for product development and build quality.

For thirty years, the founding employees of EMP have focused on engineering and manufacturing loudspeakers that stand above the mass produced, profit focused brands that are offered by mass retail and big box stores. In short - these are not your garden variety speakers.

The Score Card
The scoring below is based on each piece of equipment doing the duty it is designed for. The numbers are weighed heavily with respect to the individual cost of each unit, thus giving a rating roughly equal to:
Performance × Price Factor/Value = Rating
Audioholics.com note: The ratings indicated below are based on subjective listening and objective testing of the product in question. The rating scale is based on performance/value ratio. If you notice better performing products in future reviews that have lower numbers in certain areas, be aware that the value factor is most likely the culprit. Other Audioholics reviewers may rate products solely based on performance, and each reviewer has his/her own system for ratings.
Audioholics Rating Scale
— Excellent
— Very Good
— Good
— Fair
— Poor
| Metric | Rating |
| --- | --- |
| Build Quality | |
| Appearance | |
| Treble Extension | |
| Treble Smoothness | |
| Midrange Accuracy | |
| Bass Extension | |
| Bass Accuracy | |
| Imaging | |
| Soundstage | |
| Dynamic Range | |
| Performance | |
| Value | |