Axiom Audio Epic 80-600 System Review
Axiom Audio Epic 80-600 System Review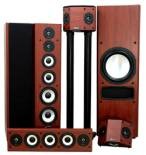 Product Name: Epic 80-600
Manufacturer: Axiom Audio
Performance Rating:
Value Rating:
Review Date: July 26, 2005 19:00
MSRP: $ 3681 (5.1) $4858 (7.1) Additional EP-600: 1662.50, Additional VP150: $366
M80ti tower speakers
Enclosure: Triple Vortex / Reflex
Max Amp Power: 400W
Min Amp Power: 10W
Freq Response +/-3db: 34 - 22kHz
Freq Response +3dB- 9dB: 25 - 22kHz
Impedance: 4-ohms
SPL (in-room 1w/1m): 95 dB
SPL (anechoic 1w/1m): 91 dB
Crossover: 160Hz & 2.3kHz
Tweeter: Dual 1"
Mid-bass: Dual 5.25"
Woofer: Dual 6.5"
Dimensions: 39.5" x 9.25" x 17" (1003mm x 235mm x 432mm)
Weight: 55 lbs (25 kg)

QS-8 Surround Speakers
Enclosure: Acoustic Suspension
Max Amp Power: 400W
Min Amp Power: 10W
Freq Response +/-3db: 95 - 22kHz
Freq Response +3dB- 9dB: 65 - 22kHz
Impedance: 6-ohms
SPL (in-room 1w/1m): 95 dB
SPL (anechoic 1w/1m): 91 dB
Crossover: 2.5kHz
Tweeter: Dual 1"
Mid-bass: Dual 5.25"
Dimensions: 8.25" x 11" x 6" (210mm x 279mm x 152mm)
Weight: 13 lbs (4 kg)
VP-150 Center Speaker
Enclosure: Acoustic Suspension
Max Amp Power: 400W
Min Amp Power: 10W
Freq Response +/-3db: 85 - 22kHz
Freq Response +3dB- 9dB: 50 - 22kHz
Impedance: 6-ohms
SPL (in-room 1w/1m): 95 dB
SPL (anechoic 1w/1m): 91 dB
Crossover: 2.7kHz
Tweeter: Dual 1"
Mid-bass: Triple 5.25"
Dimensions: 7.5" x 27.5" x 7.5" (191mm x 699mm x 191mm)
Weight: 20 lbs (9 kg)
EP-600 Subwoofer
Enclosure: Vortex/Reflex
Max Amp Power: 600W
Crossover Adjust: 40-100Hz
Phase: 0 & 180 degrees
Woofer: 12"
Features: DSP Controlled, Line in/out, High level inputs, Room trim, Dynamic power supply, Boost control
Anechoic Response +/-1.5db: 19 - 100Hz
Anechoic Response +/-3db: 17 - 100Hz
In-Room Response +3dB- 9dB: 15 - 100Hz
Max SPL Anechoic: 111 dB
Max SPL In-Room: 122 dB
Dimensions: 45.5" x 15" x 17" (1156mm x 381mm x 432mm)
Weight: 100 lbs (45 kg)
Pros
Excellent system synergy
Fantastic performance at original prices
Easy to integrate
Available in many finishes
Excellent customer service and support
Plenty of WOW effect!
Cons
Grill covers are a bit flimsy
Center channel has a tough time keeping up with main channel speakers
Subwoofer should have more internal bracing
Prices have gone up dramatically since the original publication of this review
Introduction
The Axiom Epic 80-600 system was absolutely unbelievable - like having the power of Mother Nature right at my fingertips. The excellent build quality, high performance, and top notch customer support and service offered by Axiom make these an easy recommendation. As good as this system was, Axiom's recent dramatic price increases have put their products into a price class of much higher caliber competitors.
Confused about what AV Gear to buy or how to set it up? Join our Exclusive Audioholics E-Book Membership Program!