SIM2's C3X LUMIS HOST - More Projector Than You Can Afford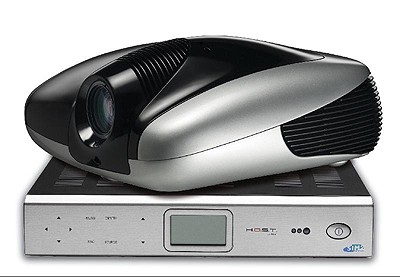 Summary
Product Name:

C3X LUMIS HOST

Manufacturer:

SIM2

Review Date:

January 08, 2009 09:35

MSRP: $36,495 (with T1 short-throw or T2 long-throw lens) $37,995 (with T3 extra-long throw lens)
First Impression:

Pretty Cool
Executive Overview
SIM2 showed off a new addition to the Grand Cinema C3X Series. SIM2's C3X LUMIS HOST pairs a reference standard 3-chip DLP-based projector with a discrete outboard projector control electronics module that connects via SIM2's proprietary, three-line optical-digital High-Definition Optical Signal Transfer (H.O.S.T.) system, which is able to connect the two over distances up to 750 feet (250m).

The C3X LUMIS HOST is based on a trio of the latest 0.95-inch, 1080p DLP chipsets from Texas Instruments, whose next-generation DarkChip4 DLP device yields an important increase in picture quality with improved blacks and superior brightness when partnered with SIM2's proprietary ALPHAPATH light engine. This powerful combination forms a system that delivers full-HD, 1920x1080 progressive video. The projector boasts a contrast ratio of >35,000:1 and 3000 ANSI lumens light output.

An important new feature for the C3X LUMIS HOST is SIM2's light intensity control system, which in essence, increases the projector's contrast ratio to >35,000:1 through the use of three separate specialized components: a user adjustable iris, DynamicBlack technology and a new dimmable lamp. However, unlike other variable iris systems which can inflict detrimental effects on the final picture, SIM2's custom-designed system provides micro-second precision-matched light intensity adjustment to the source material, on a frame-by-frame basis. The resulting black level and shadow detail add a new sense of realism to the image. This is yet another example of how SIM2's R&D expertise enables the company to push the performance envelope for projection beyond the capabilities of other manufacturers.

The SIM2 HOST module is a discrete, compact component (approx. 14 x 4 x 12-inches) designed for flexible placement, thanks to SIM2's HOST three-line digital fiber-optic connection, which empowers A/V installers to locate it up to an astonishing 750 feet from the projector and is impervious to electrical interference - even when placed in conduit containing high voltage electrical cables. This means that for most of us, we could put all of our equipment in our next door neighbor's house. This capability creates an entire range of previously unavailable installation options and more importantly, eliminates the usual signal losses and electrical interference pick up associated with long cable runs. The HOST module incorporates superbly flexible video switching with no less than six HDCP-compliant HDMI inputs, three HD-capable component-video inputs, and multiple legacy composite and S-video inputs as well as RGB and the SDI professional format. Add to this, the wide choice of control options on offer: IR, RS232 and IP addressable, and C3X LUMIS HOST becomes a very potent proposition for installers and customers alike.

The C3X LUMIS HOST delivers supreme performance, design and flexibility of installation. A dedicated 10/100 Mbit Ethernet connector is fitted as standard, allowing the product to be connected to a LAN network or to the internet. This network connection can be used to remotely control the projector using TCP/IP commands or to feedback projector operating status information such as: serial number, working hours and firmware version to a designated e-mail address for assessment.

Grand Cinema C3X LUMIS HOST can be easily configured to meet the requirements of a wide range of home theater and professional applications, optimizing light intensity and black level to each scenario. Once again we marveled at the beauty of the C3X LUMIS HOST case but for $36k+, we'd expect no less. The projector is shipping now with a MSRP of $36,495 (with T1 short-throw or T2 long-throw lens) or $37,995 (with T3 extra-long throw lens). Start saving those pennies boys.

For more information, please visit www.SIM2USA.com.
Confused about what AV Gear to buy or how to set it up? Join our Exclusive Audioholics E-Book Membership Program!
Recent Forum Posts:
BMXTRIX posts on January 08, 2009 16:30
Now this is something for the better half (1%?)…

The projector boasts a contrast ratio of >35,000:1 and 3000 ANSI lumens light output.

That spec is crazy to see. Most of the time when we see that brightness in a projector the brightness is dropped to the 2,000:1 range.

A true 3K lumens is for all of us with our 200" diagonal screens.

Really, let me know where I can find a few client's who want one of these installed, I'll make sure they are happy.
Post Reply