Crestron PROAMP-7X400 "PROCISE" Amplifier First Look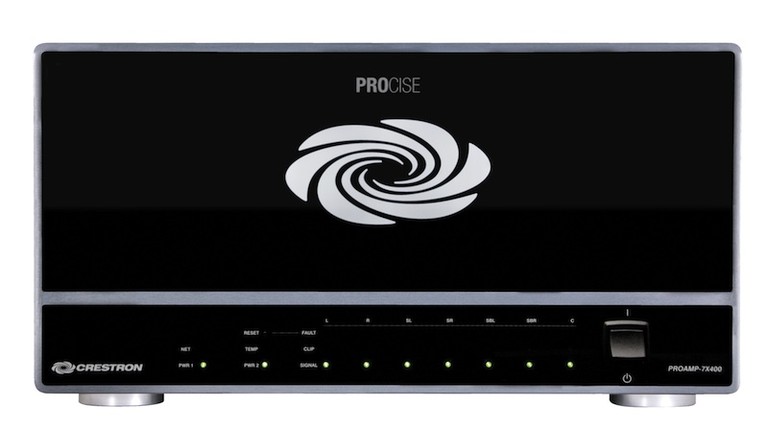 Crestron PROAMP-7X400 PROCISE Amplifier
Summary
Output Power: 400 Watts per channel at 8 Ohms; 700 watts per channel at 4 Ohms
Power Bandwidth: 5Hz to 45kHz -3dB
Frequency Response: 20Hz to 20kHz ±0.1dB
THD: 0.02%
IMD: 0.05%
S/N Ratio: 117dB A-weighted
Crosstalk: 105dB
Damping Factor: >250
Gain: 23dB
Input Sensitivity: 4 Vrms produces 400W into 8 Ohms
Height: 9.24 in, 8.70 in without feet
Width: 19.0 in, 17.28 in without rack ears
Depth: 21.14 in, 18.36 in without front and rear handles
Weight: 108 lbs (49 kg)

Executive Overview
If you read the Crestron press material on their new PROCISE amps the way they are written, they seem to be very excited about their new line. They're shouting it from the rooftops so to speak. The new PSPHD PROCISE processor, coming in at a budget (for Bill Gates) $11,000 needs to have an amp. Never one to leave a processor hanging, Crestron has releases the PROCISE branded PROAMP-7X400 amplifier. As an aside, while we are focusing on the 7X400 amp, they also have a 7X250 amp for those looking to cut corners somewhere. But if you dropped $11k on a processor, you're not going to skimp on the amp are you? No, you're not.
The Crestron PROAMP 7X400 amp sorts an aluminum front with a plastic overlay displaying proudly the Crestron logo. It is a bit prominent for our tastes and seems to look like it is in need of either a surf board or a grass skirt. Of course, geeks like us recognize it as the last thing we saw before the dreaded swirlie. But we digress.
There is a lot of technology in the Crestron PROAMP 7X400 to attract not only PROCISE processor owners, but consumers looking for a powering amp for their home theater system. As the name suggests, the amp sports 400 watts per channel into seven channels at 8 ohms and 700 watts into 4 ohms. It is stable into 4 ohms with all channels driven. On the front there are signal, clip and fault indicators for each channel. The amp weighs a hefty 108 lbs (the 7X250 only sheds three pounds. The chassis is metal with vented sides. We were surprised to learn that Crestron had gone with an ultra-quiet speed-controlled fan for cooling rather than a passive solution. The extra weight of huge heatsinks would surely impress those that measure the quality of their gear in pounds rather than performance. On the upside, though, the fan means you can mount it in your rack without leaving extra clearance above or below.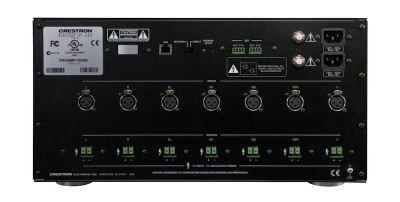 Glancing at the back you'll notice two power cord ports as the PROAMP 7X400 needs a lot of juice. This is not unheard of and a solution we've seen on other amps in the past. There are balanced inputs but no provision for unbalanced RCA inputs, a curious omission. While it is clear the the Crestron PROAMP 7X400 is designed to work with the PSPHD, leaving off the unbalanced inputs seems a bit shortsighted. It isn't like only PSPHD customers are going to end up with this amp. Eventually one will show up on one of the auction websites.
The other oddity is the omission of traditional five-way binding posts. Instead, Crestron included only the little green screw type connections which, while familiar to industry professionals and custom installers, are all but foreign to audiophiles. It seems like Crestron could have included both traditional binding posts and unbalanced inputs for consumers as well as the balanced and CI binding posts for installers.
Editor's Note: The intent of the design seems to be squarely for the custom install market, so we're not surprised at the lack of binding posts here
There is a LAN connection on the back for control via the PSPHD. Using a simple Ethernet connection, the PSPHD processor and PROAMP amplifier automatically pair, enabling seamless control and monitoring of the amplifier through the PSPHD front panel. If you remember from our coverage of the PSPHD, the front panel display can be modified to display real-time VU meters or spectrum analyzers. Plus you can actually confirm the specific fault condition, check the real internal temperature, and even monitor the output level of each amp channel on the face of the PSPHD. Pairing the two components also streamlines remote control and monitoring through a Crestron control system, providing programmers with a unified device interface for all functions.
But even without a PSPHD (and another reason Crestron could have included traditional binding post and RCA inputs), the PROAMP-7X400 can be integrated into a Crestron install. Using Cresnet and high-speed Ethernet you can directly control and monitor the PROAMP via a Crestron control system. You can control amplifier power, mute individual channels, monitor temperature and signal status, and receive fault alerts, all from a Crestron touchpanel, computer or mobile device. Signals from the amplifier may also be utilized to enable custom automation, such as reducing audio levels when clipping is sensed, or regulating climate control in the equipment room in response to amp temperature.
Conclusion
The one thing we couldn't find about the Crestron PROAMP-7X400 "PROCISE" amplifier was the price. With processor coming in a $11k and a lower powered amp also in the line-up, we're betting it'll be close to the processor price. While there are some curious omissions on the back panel by way of traditional inputs and outputs, there is a lot of smart technology under the hood for monitoring and controlling the amp. Much of it you can access even if you don't pony up for the Crestron PSPHD "PROCISE" processor. You'll either have to learn Crestron protocols or have an installer set it up for you but it is there. We respect that Crestron came out with not only an amp companion for their new processor but also reasons for you to pair them together. We just wish they'd made it a bit more user friendly for those that don't want to buy their processor.
For more information, please visit www.crestron.com.

Unless otherwise indicated, this is a preview article for the featured product. A formal review may or may not follow in the future.
Confused about what AV Gear to buy or how to set it up? Join our Exclusive Audioholics E-Book Membership Program!