TN Games 3rd Space Vest and Helmet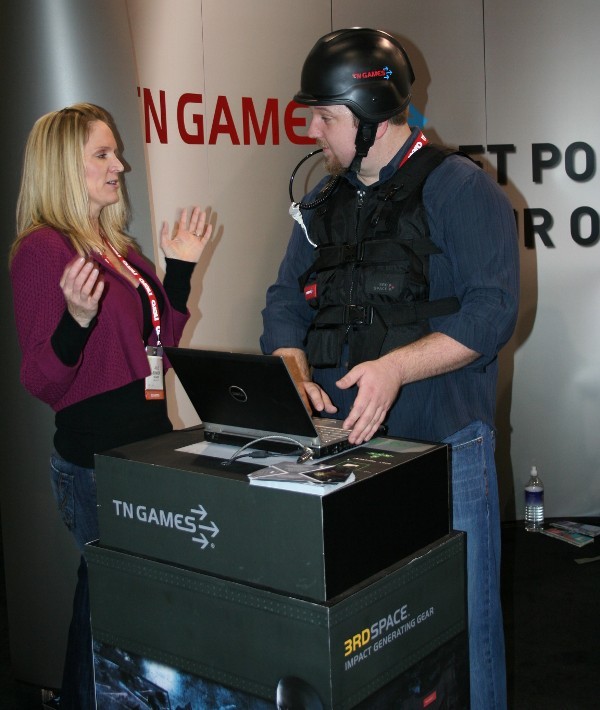 TN Games 3rd Space Vest and Helmet
Summary
Product Name:

3rd Space Vest and Helmet

Manufacturer:

TN Games

Review Date:

January 08, 2008 12:49

MSRP: $189.99
First Impression:

Gotta Have It!
Executive Overview
First person shooter games are arguably the most popular on the market today. Halo 3 alone is evidence and that. TN Games has taken a technology that was originally built to be used in the medical field and adapted it to games. The 3rd Space Vest and Helmet are designed to be used with specific PC games in order simulate the effect of getting shot. The vest and HXT helmet are outfitted with air bladders that inflate in reaction to the game. Only a few games are supported as of now including Crysis and Call of Duty 2. The HXT eXTremities will be available for your arms and legs but were not on display. The vest and helmet provided an almost eerie sense of immersion as you could feel the shots of your enemies hit your body. If the shooter was far away, you'd only feel it in the front but if they were close up it felt like the bullet went right through you. The vest has an MSRP of $189.99 with the helmet and eXTremities to be released soon. TN Games is working on support for other games and for consoles. At this price point, it may be the next hot accessory for your gamer. For more information, please visit www.tngames.com.
Unless otherwise indicated, this is a preview article for the featured product. A formal review may or may not follow in the future.
Confused about what AV Gear to buy or how to set it up? Join our Exclusive Audioholics E-Book Membership Program!