Emotiva PMC-1 7.1 Media Processor-Controller First Look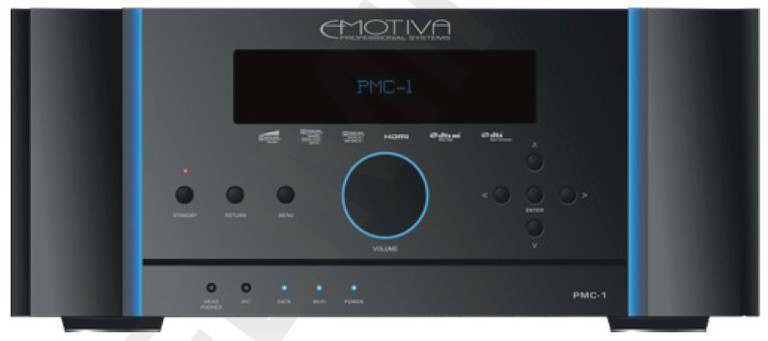 Emotiva PMC-1 7.1 Processor
Summary
State-of-the-art, audiophile grade pre/pro
Integrated Control4 HC200 Processor
Full HDMI 1.4 capability
Full color OSD with transparency over live video
Intuitive and useful feature set
Balanced outputs on 7.1 channels
Balanced inputs
Rack mountable
7 HDMI 1.4 inputs with ARC
Dual HDMI outputs
Fully balanced preamplifier outputs with dual subwoofer support
Balanced pure analog input
Twin dual core Cirrus 32 bit DSPs support all HD formats with advanced post-processing
Dolby Volume
Executive Overview
What happens when the manufacturer of budget products decides to pull out all the stops? After years of saving their nickles and dimes from their barely-over-cost products, they finally have the capital to put out a true flagship product? Emotiva has been making a living selling amps and pre-pros to the masses direct from the Internet for years now. They've been undercutting other manufacturers by hundreds, thousands, and in some cases tens of thousands of dollars. At the same time they haven't sacrificed performance. This has garnered them a large (and sometimes quite rabid) following.
This new direction for Emotiva is quite a departure from what they've done in the past. As can be witnessed at emotivapro.com, they are not only looking to sell new gear but also create a dealer network. The products carried by the dealers will be state of the art with a price tag to match. Dealer are sure to be enticed by the built-in Control4 HC200 on select models (including the PMC-1), 10 year warranty, 1 year advance replacement program, direct manufacturer support, online ordering and tracking, and international availability. The first product in the new Pro lineup is their new flagship processor, the PMC-1.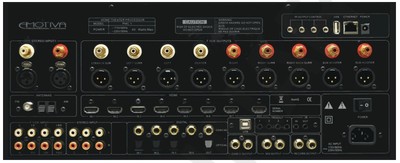 The Emotiva PMC-1 Media Processor/Controller has a lot of features that dealers and custom installers will find attractive. First of all, the PMC-1 looks amazing. The front looks to be a milled black aluminum face with a pair of vertical blue lights flanking the controls and display. There are seven HDMI 1.4 inputs (with Audio Return Channel) and two outputs (no, we're not seeing a second one on the back and no provision for one on the front panel but the literature says they'll have two so we're going with that). There are RCA and balanced outputs for 7.2 channels plus a pair of RCA analogue outputs for a second zone. There are four stereo audio inputs, the first of which has the option of using balanced. This balanced input will bypass all the digital components and remain purely in the analogue realm for audio purists. There are four optical and four coaxial digital audio inputs (with an single output for each) and a set of stereo outputs for mix and record. There is an IR in and out with a set of four outputs for IR control. Four 12 volt trigger outputs are included as well. There are 7.1 channel analogue inputs for integrating legacy gear. 
Speaking of legacy gear, one thing you won't find on the PMC-1 is any sort of analogue video inputs. No composite, S-video, or component are available. While seven HDMI inputs should be enough for most setups, the lack of analogue video (at least component) seems to be a potential misstep by Emotiva - or a huge incentive for installers to up the ante on their jobs. With the prevalence of the Wii and early pre-HDMI Xbox 360s, not to mention cable boxes without HDMI output, installers may be forced to upgrade their clients, or integrate some sort of component to HDMI convertion in order to use some of their gear.
There are a few things on the back of the PMC-1 that haven't been fully explained yet (other than Emotiva's nebulous "intuitive and useful feature set" statement). Obviously the Ethernet port is present for control, but it suggests at least the portential for additional networking functions. There are two USB inputs on the back with uses as yet unspecified. Next to the Ethernet port is a power port which seems to be out of place. We'll be curious to see what all of these things do as Emotiva releases more details. 
Getting a closer look at the front, you'll notice a fairly basic two line display. Emotiva has announced that there will be a "full color OSD with transparency over live video" overlay via HDMI (remember there are no analogue video outputs) so that shouldn't be much of a problem. There is a directional pad for navigating the menu system, a volume knob, and a few indicator lights. If you look closely, you'll see both a headphone and a Mic jack as well. This suggests some sort of as yet unannounced room correction system (or at least auto speaker calibration).
All the latest HD audio formats are supported and Dolby Volume is also on board. Twin dual core Cirrus 32 bit DSPs are included for advanced post-processing. There seems to be no provision for any of the more recent height/width channels that have been showing up in recent years. With all the video inputs being HDMI, we're unsure as to whether or not video processing will be available. With the focus on audio, we're surprised to see that the PMC-1 has no Phono input with the dedicated grounding screw.
Conclusion
For just shy of $3000, the Emotiva PMC-1 is a modern product that will present a breath of fresh air to some, and a potential for mandatory upgrades for others. We love the focus on audio purity and flexibility but recognize the difficulty of integrating products like the Wii. The PMC-1 looks amazing but Emotiva hasn't released enough details for us to really know if their "intuitive and useful feature set" is really something we want. While they showed off a prototype at CEDIA this year, final details are still a little sketchy. While we're sure dealers will be salivating to get their hands on some of these, until the final specs are released, we'll have to withhold judgment.
For more information, please visit www.emotivapro.com.

Confused about what AV Gear to buy or how to set it up? Join our Exclusive Audioholics E-Book Membership Program!
Recent Forum Posts:
raffin posts on October 03, 2010 18:12
GranteedEV, post: 755609
What exactly was wrong with the UMC hardware? I could have sworn all of people's problems wit it were firmware related.
It may be mostly firmware issues, but there have been more than a few firmware updates and not much improvement. Do a search on the LMC-1. It has a very similar track record to the UMC-1 and was also made by Tone Winner.
I currently own an Emotiva DMC-1 and have had zero problems with it. It was sourced from a company other than Tone Winner. I have nothing against Emotiva and in fact was looking to purchase a UMC-1 or XMC-1 at a 40% discount, but given all the documented problems with the UMC there is no way I would subject myself and my family to it. I ended up purchasing a Pioneer Elite receiver and will use it as my processor instead.
BobBart posts on October 03, 2010 18:08
Can't wait to see how many problems this has. I had the umc-1, what a joke. Tons of problems that they blamed on my equipment. Sent it back and have no problems with my pioneer elite hooked to the same components as the emotiva. Emotiva will never get anymore money from me.
Knucklehead90 posts on September 30, 2010 22:24
Pioneer and Harman Kardon don't utilize Audyssey either. I had an HK 254 before I bought the Integra - the EZset or whatever it's called did a decent job on eqing the speakers - not so well on the sub - but neither does Audyssey. I've had to install an eq for the A5-350 - the Cascade sub has it's own built in.

It certainly looks like Emotiva is gaining traction on their troubles with the UMC-1 but it sounds like they have a ways to go. I wish them well. After all where will we get such great amps at the prices they sell them for? Outlaw would be the only one left I know of. If Emotiva went belly up Outlaw could hike their prices - and I wouldn't blame them.
jeffsg4mac posts on September 30, 2010 21:03
If it does not have Audessy or the Trinov room correction then it is a big waste of time at the price they are charging and you would be better off with one of the Integra/Onkyo Pro models. Their amps are amazing for the money but why Emotiva and Yamaha do not have Audessy I don't understand.
jinjuku posts on September 30, 2010 19:36
Knucklehead90, post: 755621
What 'was' wrong with the UMC is still wrong with it. Seems among other things they have several versions of hardware out there and all using the same firmware. That may or may not make matters worse. They also have a new firmware version being shipped with the latest UMC-1s sold - but that firmware isn't available to current owners.

Seems Emotiva can't shoot straight.
I guess the most recent/current UMC-1 owners are in luck with what I have been reading at AVSForum. Even people with older units may not have the magic mix of components connected to the UMC-1 that would make it flake out on them.
I would say that Emotiva's plan was to get a platform going (fully debugged) that could be rolled into higher end stuff. Now that the heavy lifting is already done it is basically akin to a maintenance release to put a new, higher end, fully balanced product out there. That is have a platform that is good to go for the next 7-10 years. Because is there really something close on the other side of the horizon when it comes to the HD video and audio codecs?
Post Reply