Netflix Looks to Add Content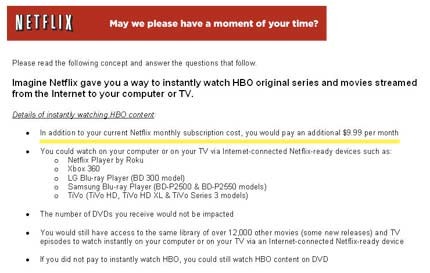 Step 3 in Netflix's plan for world domination
After Netflix started streaming movies online and later to the Roku box, the outcry was "more content." At first they concentrated on adding access. LG and Samsung were the first after Roku with Microsoft's Xbox 360 next up. CES 2009 revealed that more and more manufacturers are not only looking to Netflix but also exploring other options like Yahoo! Widgets. As the market gets more and more saturated with competition, Netflix's early lead may be eclipsed if they can't provide what consumers want - up-to-date content and not just legacy movies and TV shows.
The first step with Netflix was the introduction of a partnership with Starz. What Starz brings to the table is original TV series and the newer movies - at least for a time. After a while because of licensing requirements the movies drop off the cue. While some (including me) have noted that the quality of the Starz movies is generally lacking, they are at least current.
Now, according to a recent survey of users, Netflix is exploring new options of bringing contemporary content. The tip off was the statement, "Imagine Netflix gave you a way to instantly watch HBO original series and movies streamed from the Internet to your computer or TV."
That's right - HBO.
The downside is that this doesn't look to be a free addition to current subscribers like Starz was. Instead, Netflix is looking to up the price by $10 for the addition of the service. This makes sense since HBO is currently working on broadband downloads of content for a similar price. This would give access to that content for non-HBO subscribers via Netflix. Likely, the $10 would be passed directly to HBO with Netflix looking only to entice new customers and gain revenue from their subscription fees.

Also, according to the list of possible available shows, up to the minute content might not be on the menu. Instead, we might be looking only at movies and some of the more established (or recently canceled) shows. With services like Hulu already focusing on providing next day access to current TV shows, the question is whether Netflix will try to move into streaming TV shows or just focus on movies. While it seems that Netflix is already firmly entrenched, the battle for online streaming of content is far from over.

criteriadan posts on February 24, 2009 07:58
They're probably holding back to see if there's more acceptance from the market (with the economy and all).
jcilforever posts on February 24, 2009 04:41
1080

Netflix is still making video improvements from 720 to 1080P and now have a new home page for the mysterious "content partner". Maybe they will work on audio next?
frankf posts on February 21, 2009 08:27
Netflix Audio

I enjoyed the Netflix streaming on my friends Home Theater 106" diagonal screen. He has the Samsung Blu-Ray player that alows him to get connected to Netflix.
I have been considering the RoKu to bit stream Netflix since I have the Sony 550. My holding back from purchasing the RoKu is certainly not the price…$100.00… but the audio streaming from Netflix which is only in stereo.

Netflix has no idea when they will have 5.1 streaming for any of there content.
Content….definitely an issue but for me when I am in my Home Theater I want the whole experience.
Phil Taylor posts on February 04, 2009 16:37
I have to agree that $10 seems a bit steep - I can add HBO to my satellite sub for around that amount and get 8 HBO channels - of course not with the convenience of "on-demand" but the quality would be better - so I would be willing to wait. There's not much on HBO that's "must see TV" for me anyways.The only premium movie channel with a program I can't miss is Dexter on Showtime.
lsiberian posts on February 04, 2009 13:35
just-some-guy, post: 518801
i wish they had more blu-ray titles.
LOL they have more blu-ray titles than I own.
Post Reply