Netflix Grabs Starz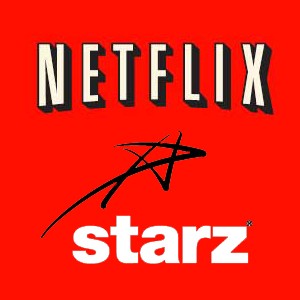 Netflix + Starz = Starflix? Netstar? Netfliz?
Netflix, once known only for its mail DVD rental service, has been expanding. First they introduced streaming of some 12,000 titles on their website. Next, they paired with Roku (and others) to bring that streaming service into your living room. The big complaint was always that the titles were older and no knew releases were included.

That's about to change.
According to Broadcasting and Cable, Netflix will announce today a partnership with Starz Entertainment where Netflix will stream the "Starz Play" movies and original programing - roughly 2,500 movies, TV shows and concerts. Starz Play was originally known as "Vongo" and will give Netflix access to instant-streaming of 1,000 Starz titles, including Spider-Man 3, Ratatouille, Pirates of the Caribbean: At World's End, Superbad, No Country for Old Men and Hannah Montana/Miley Cyrus: Best of Both Worlds Concert plus more.
The upshot for customers? No additional fees to access this content. In fact, if you don't want to have a Netflix account but would like the Starz Play, you can subscribe to that alone for $7.99 a month. Not that you'd want to since for an extra buck you can get one movie at a time plus all the additional streaming content that Netflix has available.

This looks to be a strong move for Netflix which has been looking for new ways of bringing fresher content via the streaming model. The major networks own rights to movies after theatrical release that can't be accessed without partnerships. What Starz gets out of this deal is a mainstream presence it hasn't had through its marketing with Verizon Communications through its FiOS fiber-optic service.

As Netflix grows its service without adding additional cost to consumers, it's presence is sure to be felt. By including its service for no additional charge (other than subscription) through the Xbox 360 and Blu-ray players like the LG BD300, one wonders how this will be perceived by the industry. Will they be drawn to this growing titan of streaming content or will they rally around a new and different model? Only time will tell.