NanoHiFi PNH-2200 Portable Desktop Audio System Review
NanoHiFi PNH-2200 Portable Desktop Audio System Review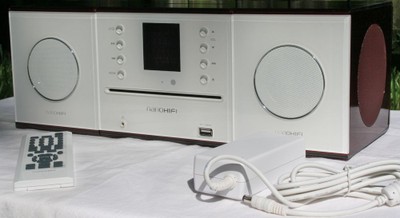 NanoHiFi PNH-2200
Loudspeaker Technology – The integration of a patented Multi Yoke Loudspeaker Technology and Extended Bass Radiator enable the NanoHiFi system to generate higher sound pressure levels at a lower frequency.

Mid-Tweeter Driver – The Copper-clad voice coil technology in every NanoHiFi generates a smooth response in the mid-to-high frequency range, and asymmetrical distortion is minimized by a copper cap over the mid-tweet pole.

Loudspeaker Enclosure – The innovative rib-construction enhances the sturdiness of the loudspeaker enclosure, resulting in solid and detailed sound-quality without producing unnecessary resonance inside the enclosure.

Detachable Speakers – The loudspeakers are designed to optimize sound dispersion, enabling seamless sound integration with enhanced positioning of each musical instrument.

Voice Coil – Coupled with a specially designed digital amplifier, the two-inch diameter voice coil enables the compact loudspeakers to produce minimum distortion and generate excellent low frequency range.
Pros
Great sound
Subwoofer output
Technically portable
Variety of inputs
Sleek design
Cons
Rattles when speakers connectred
Bluetooth performance problematic
Doesn't remember where you left off on a CD
Basic remote
30-pin dock two iPhones old
Doesn't charge until unit is on
NanoHiFi PNH-2200 Introduction
It's easy to find a desktop system for your home or office. You can't spit out your gum at one of the big box stores and not hit one. They were all the rage before we had smartphones and iPods, and that hasn't changed. If anything, they've just gotten more popular with the advent of AirPlay (Apple), PlayFi (Android), and Bluetooth (everyone). These wireless solutions make it easy not only easier to playback your content but allow your friends and visitors to use your system without having to own a specific phone or have access to cables.
It is one thing to shop Best Buy or Amazon and sort by price (low to high) and look for the model that has the features you care about. You may get your feature checklist filled, but you won't know what you are getting in the sound department. If you are just looking for something to put in the games room or to provide background music at your office, well, sound quality might not matter. But if you are planning on listening to this system yourself, you know you'll care how it sounds.
NanoHiFi has released not one but three different portable desktop systems. I call them "portable desktop" because they are technically portable (mine came in a duffel bag that fit it perfectly though there is a carrying strap) though I doubt they will make very many trips outside your home or wherever it is you set it up. The differences between the three systems are price and features. The PNH-1000 has a dock, a USB port, and a radio. The PNH-2100 has all that plus a CD slot. Lastly, the PNH-2200 has everything the others had and can connect to your device via Bluetooth. The model under review is the PNH-2200. 
NanoHiFi First Impressions
The PHN-2200 came with its own duffel bag, a slew of cables, a remote, and a few other odds and ends. One thing it didn't come with was an owner's manual. If you go to the NanoHiFi site, you'll find under the "Shop Online" tab, a "Coming Soon" message. When a product is so new that you can't buy it yet, you have to make allowances. Plus, I hate manuals. I avoid them for as long as I can - usually until I run into a problem. It also didn't seem to come with the famed carrying handle but, with the duffel bag, I pretty much gave that a pass as well. Glancing at the picture below, astute Audioholics will recognize an important omission: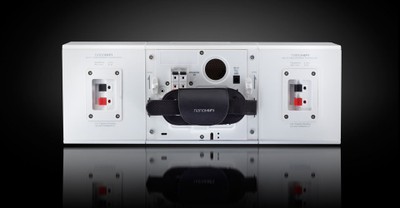 Their picture
Right - Cables. There are none. Not only that, there is no way to wrap them up for transport. Lastly, and possibly most importantly, the FM cable is missing. Just above the handle on the right side, there is a small hole. That is where the FM antenna connects and, from what I could tell, can't be removed. They must have cut it off for this picture. In the end, if I have the option between a "functional" handle (that's what they call it which begs the question - what is a non-functional handle?) and a duffel bag - I'll take the duffel bag every time.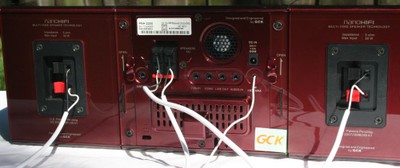 Mine
The build quality of the NanaHiFi PNH-2200 is very impressive. The unit has boxy and glossy look that is both industrial and pleasing. It comes in white, maroon, silver, and white and maroon. The review unit came in the dual color option which was white on the front face but maroon everywhere else. The speakers are attached to the sides of the main unit and the overall weight is hefty enough to convey quality but not so much that you wouldn't want to take it with you.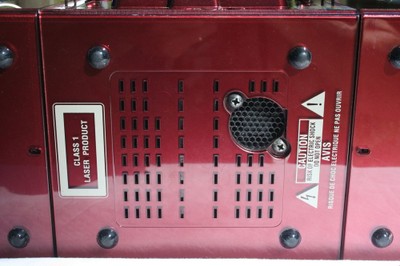 NanoHiFi bottom intake fan

There is a fan exhaust on the back and and intake on the bottom of the main unit. During quit listening sessions you may hear a slight whirr from the NanoHiFi but you'll have to be sitting very close. After longer/louder sessions, the fan does get more prominent. There are an impressive number of speakers (or at least speaker grilles) displayed on the NanoHiFi. On the front of the speaker boxes are midrange/tweeter combo drivers. Once you separate the speakers, you'll find grilles on both sides of the speaker boxes. NanoHiFi calls these multi-yoke drivers and mentions bass radiators. This indicates that the one of the side drivers is powered and the other is a bass radiator. On the sides of the main unit are additional grilles totaling eight speaker grilles on the NanoHiFi PHN-2200. The grilles on the sides of the main unit don't appear to cover speakers and are likely used to allow the side-firing speaker next to it room to breathe. If you think there won't be bass with the NanoHiFi, you're sorely mistaken. With this many drivers, especially side-firing ones aimed at the main unit, there is a bit of rattle when the unit is connected to the speakers. While the metal posts are very industrial and work well, there isn't any sort of dampening to keep the NanoHiFi speakers from vibrating against the main unit at louder volumes. Since most people will want to separate the speakers as soon as they find a place for a NanoHiFi, this shouldn't be an issue.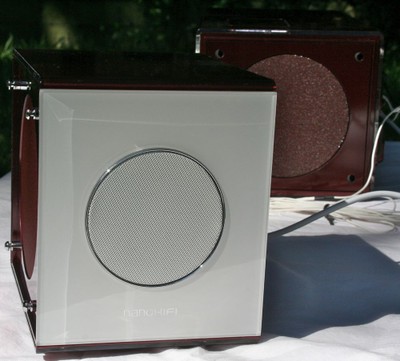 Check out the cool connection points. Too bad they rattle if connected
Confused about what AV Gear to buy or how to set it up? Join our Exclusive Audioholics E-Book Membership Program!
See also:
Recent Forum Posts: