Yamaha TSX-B232 Desktop Audio System Review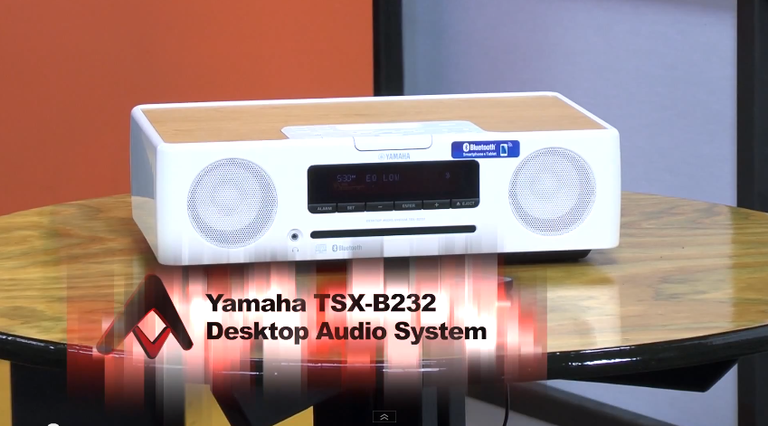 Yamaha TSX-B232 Desktop Audio System
Summary
Bluetooth Ver. 2.1 + EDR / A2DP, AVRCP
Audio Codec: SBC, AAC
Maximum Communication Range: 10m converts to 32.8 feet. (Without interference)
Supported iPod/iPhone/iPad: iPhone 5, iPhone 4S, iPhone 4, iPhone 3GS, iPhone 3G, iPhone, iPad (3rd and 4th generation), iPad 2, iPad, iPad mini, iPod (1st through 5th generation) and iPod nano (2nd through 7th generation). *Supports via USB cable for Lightning connector models.
CD: Audio CD, MP3, WMA
USB: MP3, WMA
Tuner: FM, AM
Preset Memory: FM x 30, AM x 30
Alarm: Alarm, Snooze, Sleep
Headphone Jack: Stereo L/R: 3.5 mm mini
Speaker System: Dual 8 cm full-range cone
Maximum Power Output: 15 W + 15 W (6 ohms, 1 kHz, 10% THD)
Dimensions (W x H x D): 14-5/8" x 4-3/8" x 9"
Weight: 8.6 lbs.
Colors: White, Black
Yamaha's TSX-B232 Desktop Audio System may not be the latest A/V receiver or a $1000 pair of speakers, but lately, desktop radios are seeing a facelift. The newest products are featuring Bluetooth streaming capabilities and some (not this one, but some) come with AirPlay connectivity. But the audio quality in many of these desktop systems is improving as well. Yamaha seems to have ramped this one up in particular, with dual 3-1/8" full-range drivers and ports that allow it to reach down impressively low and produce a pretty rich bottom end.
If the TSX-B232 is a clock radio, it's a darn impressive one. For starters, there are three dimmer settings, including an auto mode that reacts to the ambient light. If you aren't using a smart phone, the alarm functions are adequate but basic, with a single alarm that's easy to set. If you've got an iPhone or iPad, however, well then you get the ability to set a different alarm for every day of the week-should you so choose. You can configure the daily alarms right on your iOS device and then sync them to the desktop audio system via Bluetooth. And we thought those dual alarm clock radio systems were flexible!
Bluetooth connectivity, which is required for these fancy alarm functions, is simple. One step pairing had us sending music to the Yamaha TSX-B232 and we were rocking out to our iPhone in no time. And if you're still using CDs, well it has that too.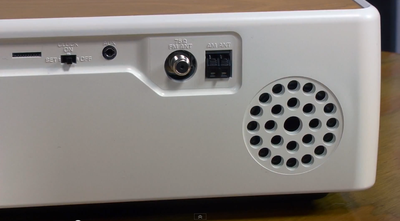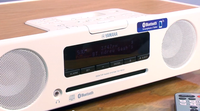 So let's talk some more about the audio quality. I'd rate this as one of the best desktop radios I've heard, though on some tracks the bass can be a tad on the boomy side. This is no doubt due to the psychoacoustic gymnastics required to get low frequencies put of a pair of 3" drivers. Still, I'm impressed. We took an iHome iA91 and connected it to our iPhone. Then, we switched between Bluetooth and the docking connection, which allowed us to level match and A-B the two systems. On the Yamaha, Steely Dan's "Babylon Sisters" presented their rich, thick chorused vocals, and the midrange actually held up fairly well, though the speakers are, as you might expect, rather directional. Guitars sounded right, and even though there was no real punch to the bass, the tone was true. Flipping back to the iA91, we quickly realized how compressed and tinny the typical clock radio is and how much better the TSX-B232 sounded-which is probably why Yamaha calls this a Desktop Audio System and not a clock radio. Obviously the comparison wasn't a fair one, but we wanted to experience the difference and see what an extra $400 or so nets you.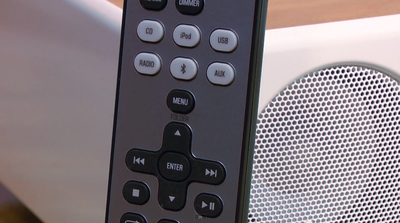 As a radio, the TSX-B232 has a great tuner, and the included external FM antenna picked up more stations than several other clock radios in the same room. And any music system that can make radio sound decent is OK in my book.
The Yamaha desktop audio system has a sense of humor as well, spouting such on screen messages as "Hello, Goodbye, See you, and Let's have fun". I don't take myself too seriously, and so I like it when manufacturers loosen up just a little. Life is short, you know?
At $549, the Yamaha TSX-B232 is about $100 more than the stock Bose Wave Radio III, but that radio doesn't have an app and the docking accessory brings the price right back in line with Yamaha. Let's sum up this review by saying that if you need a high end radio in your home, you really need to hear this. And if you thought your clock radio was up to snuff, then this might just change your mind.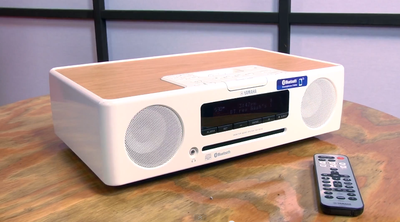 Our the question of the week is this: Do you have a clock radio or a desktop audio system and, if so, which one? Leave us your answer as a comment below the video 'cause we want to know. For the latest videos and reviews, subscribe to our YouTube channel at youtube.com/audioholicslive. Our Facebook page is Facebook.com/audioholics and you can catch several posts a day there including photos of amazing home theaters and vintage audio gear as well as the latest products and reviews.

Unless otherwise indicated, this is a preview article for the featured product. A formal review may or may not follow in the future.