iHome iA91 App-enhanced Dual Alarm Stereo Clock Radio Review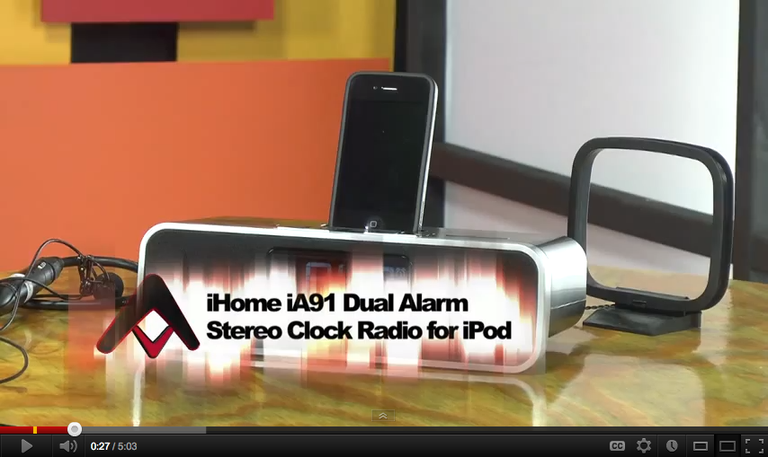 iHome iA91 App-enhanced Dual Alarm Stereo Clock Radio
Summary
Dimensions: 10.44" W x 3.07" H x 5.40" D
Wake or sleep to iPod, iPhone, custom playlist, AM/FM radio
iOS App-enhanced device - Works with iHome+Sleep, iHome+Radio, iHome Set
Adjustable EQ - Bass, treble, 3D and balance
Aux-in jack
Daylight savings time switch
Remote Control Included
Executive Overview
I woke up at 5am this morning thanks to the iHome iA91 App-enhanced Dual Alarm Stereo Clock Radio for iPod. Let's just break down that sentence... First off, the name is incredibly long, so let's refer to this thing as the iA91 iPod Clock Radio... or iA91. I woke up at 5am because the iA91 has dual alarms, so you can set one for during the week and another for weekends. I decided to test it out and, for some reason, 5am seemed like a great time to wake up and start my day.
The iA91 is very flexible. In addition to having two configurable alarms, you can wake up to your iPhone or iPod, the AM/FM radio, or the classic buzzer. You don't want to wake up to the buzzer - just trust me on that one. The LED display is dimmable in 7 steps, making it the perfect bedside clock, because it won't blind you as you try and fall asleep. It also provides you with all of the necessary information you need - like the wake-up time of the next alarm. And as you go to sleep, you can charge your iPod or iPhone on the dock (or if your case is too big to fit your iPhone into the dock, pick up a CableJive DockXtender).
One of the only negative features about this bedside clock - namely that it's particular about how you turn off an alarm - may, in reality, be an advantage. To mute an alarm you need to hit the power button or one of the actual Alarm buttons. You can't just blindly slap the top of the unit, unless you're going for the snooze bar, which is prominently positioned up front. In forcing you to hit a specific button, iHome is actually ensuring that its alarm does what it's supposed to do - wake you up. As grumpy as that made me this morning, I suppose that's not a bad thing. The iA91 also will use the 9V backup battery in the event the power goes out - so you'll still get up on time. We thought that was a pretty good feature.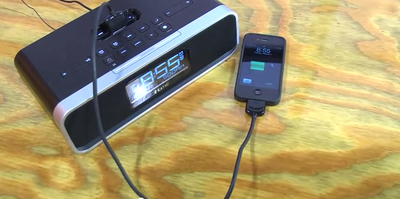 Remember that snooze bar? It's set to 9 minutes, but you can program it anywhere from 1 to 29 minutes and there's also a Nap mode whereby you can set a third, temporary alarm to wake you after a certain amount of time - and to whatever source you'd like. As a clock radio, these iHome products are impossible to beat.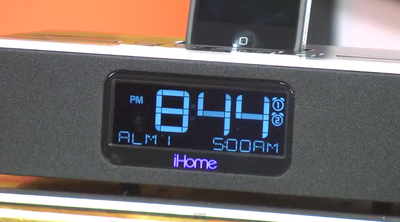 Listening to the iHome, we discovered that if you top out the volume at 40 you're going to get some distortion. But at volumes around 30 or below, the quality was quite good, with a nice amount of bass and excellent vocal detail - again, for a $99 clock radio. Keep everything in perspective. One thing to note is that we actually preferred the sound of the iHome iA91 to a dedicated Internet radio we recently reviewed that cost over twice as much. That's great for iHome - not so hot for the other company.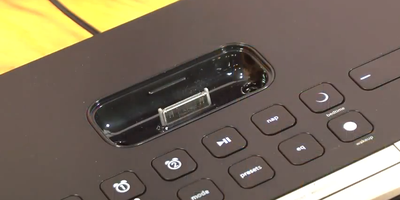 We didn't go much into the free iHome + Sleep app that's available for the iA91. It lets you easily use your iOS device to set alarms, configure snooze times, and even set your sleep and wake volumes. The app requires that your iPhone be docked to the iA91 in order to have full functionality, but it's certainly a great solution. There are also other apps for iHome, including the $2 iHome + Radio, which gives you access to thousands of Internet radio stations and allows you to sync them to work with the Sleep app.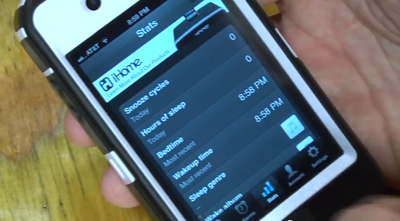 If you need a bedside clock radio with iPhone and iPod docking support there really is no way to recommend the iHome line of products more. This is their thing - they're good at it. And the products are priced right. We've used them for years now, and the iA91 is just the latest iteration of a series of excellent solutions.
If you liked this video, please consider subscribing to our channel and, of course, comment or hit that 'Like' button so we can continue to bring you more great video reviews. If you want to know what else we're up to, be sure to visit us at Facebook.com/audioholics and follow us on Twitter @AudioholicsLive.

Confused about what AV Gear to buy or how to set it up? Join our Exclusive Audioholics E-Book Membership Program!
Recent Forum Posts: