Grace Digital Mondo Wi-Fi Music Player and Internet Radio Review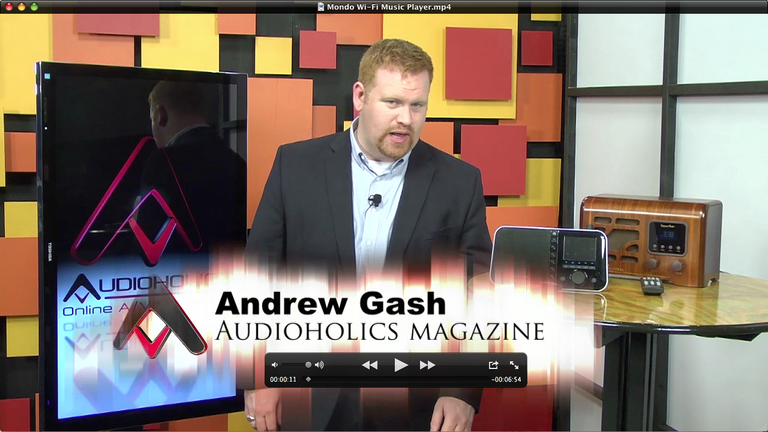 Grace Digital Mondo Wi-Fi Music Player and Internet Radio
Summary
Features

Pandora integration: thumbs up / down a song and add/delete stations & Pause Live Streams
Station list is searchable by station name / call sign, location, genre or add you own station
Store up to 110 stations for easy access. Save 10 one-button presets and 100 stations in your 'my stations folder'
Add multiple 'my station' sub-folders for specific genres, locations, or family members
Integrated Grace Digital website allows you to search, manage (delete and add) radio stations via your computer directly to your radio(s)
Plays music directly from the Internet, your PC, Mac or even iPhone /iPod
Stream your saved music from your PC or MAC

General


Listen to over 18,000 Radio Stations, Podcast, and on-demand content-FREE
Supports Free online music services: Pandora, Live365, iHeartRadio, NPR, BBC, WeatherBug, Dar.fm
Supports premium pay versions of online music services: SiriusXM Internet Radio, Pandora One, and Live365 VIP
Stream your music collection from your PC, MAC or NAS
Thumbs up / Down, Skip or Pause Pandora with easy 1 touch buttons
Compatible with the Grace iPhone®/ Touch / iPad and Android remote control applications
3,5" color TFT backlit display ( 30 backlight micro adjustments)
Displays Station, Song Title & Artist info ( when provided)
Displays Station Logos (when provided) and Pandora album art
Remote control w/ Pandora direct access thumbs up / down
10 presets on the radio/remote + 99 station favorite folder

Audio


High powered Class D Digital 12watt amplifier
3" woofer and 1" tweeter for full sound and crisp highs
3.5mm Stereo headphone jack
L/R RCA outputs to connect to optional home stereo
Aux in jack to connect to iPhone, mp3 player, cd player etc
USB Connection to play music off your USB device (not included)
Built in dual band equalizer 5 preset equalizer modes
Supported audio formats: AIFF, AIFC, WAVE, CAF, NeXT, ADTS, MP3, AAC, WMA ( plays AAC+ audio in AAC format)
Supported playlist formats: ASX, M3U, PLS
Supported streaming protocols: HTTP, HTTPS, RTSP, WSMP, Shoutcast
Built in media player wirelessly streams your audio files from your PC, MAC or NAS

Networking


True 802.11n built in wireless connectivity for optimal range and quality
Compatible with all 802.11b/g/n routers
Supports WPA Personal, WPA2-AES, and 64/128-bit WEP encryption Wi-Fi passwords
Connects to Ethernet via the optional Grace USB to Ethernet connector (sold separately)

Clock & Alarm


12 or 24 hour clock with date (settable day light savings time feature: on / off or US / European)
Clock is auto synched via the internet after setting your time zone
Each of the 5 settable alarms uses any of your 10 presets or buzzer. Each alarm can be set for - week days (5-day alarm), daily (7-day alarm), one time, the same day every week, or weekends only. If the network connection is down the buzzer will alarm as back up.
Large dual use Sleep / Snooze alarm.
Set each alarm for daily, weekly, weekend, week days or one time
Sleep Timer: 30 seconds to 23 hours
30 backlight brightness settings in 3 different modes ( active, inactive, standby)

Add the Optional Lithium- Ion battery pack (sold separately) and enjoy the ultimate in portability. Up to 13 hours of play at average volume levels with the Grace 7.4v 4400mAh Lithium Ion battery. When plugged into a power outlet the Mondo will play and charge the battery simultaneously.

What's Included


Grace Mondo Wi-Fi Music Player (GDI-IRC6000 - black or GDI-IRC600W - white)
Remote Control with batteries
Power Adapter
RCA to mini cable for optional iPhone / mp3 player, CD player connection
Manual

Product Specs


Model: GDI-IRC6000/IRC6000W
Unit Dimensions: 3.5" x 9.75" x 5.75"
Unit Weight: 6 lbs
Today we're looking at the new Mondo from Grace Digital. The Mondo is a Wi-Fi music player and Internet radio that's designed to go just about anywhere and bring you music from just about any source. Grace Digital has been making these Internet radios for quite some time now, but the Mondo is at least a little bit new because it uses a faster processor and a new color LCD screen to navigate and select your music.
Now the color LCD is really just a facelift of the same software that's been in Grace Digital products for years, but it does offer some nice upgrades like album art and a much improved icon-based screen for selecting what you're listening to. And what exactly can you listen to? Well, the Mondo lets you access thousands of Internet radio stations, Pandora, iHeartRadio, and Rhapsody. It also lets you stream music from your home computer and there is a "Local" button that, independent of iHeartRadio, pulled up a bunch of our city's radio stations so we could listen to both AM and FM radio without the hassle of worrying about antenna reception.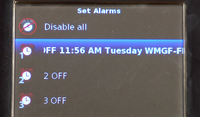 One thing that surprised us about the Mondo is that it actually had a decent alarm clock. We say it surprised us, because most Internet or tabletop radios don't make good bedside clocks - and most bedside clocks don't make great table (or Internet) radios. The Mondo's pretty good at both. It lets you store up to 5 alarms, and each alarm can be set to go off every day of the week, on a particular day, just weekends, just weekdays... you name it. You can also set the alarm volume independent of the Mondo's current volume. It's one of the most flexible wake-up systems we've ever seen. And to disable it, you can slap the top volume button to mute the alarm, or hit the power button on the front or the remote. There's even a separate snooze bar on top of the radio. Disabling an alarm is as simple as selecting it in the menu and toggling it off. The Mondo remembers your settings for each, so you don't have to reset the specific details when you want to turn it back on.
You control the radio with the rotary knob on the front, which takes you through the linear menu. This is the best way to control it because the remote... the remote is absolutely a pox upon nature itself. It's the same remote Grace Digital has been using for ages and it's kind of like driving a car that only goes forward and backwards and can't turn left or right. That's the Grace Digital interface and remote in a nutshell. If you go right, you'll mute the radio. Go left and you'll back out of the menu you're on. It also means that it takes 8 clicks to get from the top left "Internet Radio" icon to the "Alarm" icon just two icons below it. Now, the rotary knob is fast, but the downside is that the selector keeps moving when you stop, so it's not exactly a precision control when you're scrolling through long lists. Still, you'll pull out less hair using it over the remote.

The Mondo can interact with the new GraceRemote App that allows you to do some things like navigate Pandora and iHeartRadio stations, but most everything else was an exercise in futility because it simply brought up the menu on the LCD screen or froze the app. It certainly never allowed us to navigate the Mondo menu or really control anything directly from the iOS app with precision. Most people aren't going to buy this player for its remote, however, and so at around $180 you have to ask whether the Mondo is going to make the cut as a tabletop Wi-Fi Internet radio. It's certainly attractive and fairly easy to use. As a tabletop radio it has a lot to offer, I mean there are 10 preset buttons located right down the middle of the radio itself. They can store Pandora and radio stations, but not network media locations, so you can't, for example, set it to pull up your iTunes Artists list.
The sound quality of the Mondo was actually kind of compressed-sounding, with shrill highs and no real bass. It's almost like it's tuned for outside, but it doesn't play loud enough for that to work either. The 3" woofer didn't seem to be able to give enough balance in the lower frequencies and the 1" tweeter was just a tad brittle, even when we brought down the treble using the EQ. Overall, I'd have to say that the Mondo will work best in smaller rooms. Ultimately you may want to feed its stereo RCA outputs into a stereo system and turn it into a fancy head unit - which kind of defeats the whole purpose of a portable Internet radio.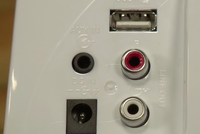 You can hook up your smart phone to the Mondo, but Bluetooth streaming or Airplay aren't included, which is a bummer, especially given the price. The real question is whether you're going to want this product over a Logitech Squeezebox Radio - which Grace Digital admits is its real competition. The Mondo has 45% more LCD screen, sports 802.11n networking and has an RCA line output in addition to USB thumb drive connectivity. Those are all advantages over the Squeezebox. But that's about it. The primary strength of the Squeezebox is its user interface and open source platform. If your focus is to get a good bedside radio that doubles as a unique portable solution, or you want an Internet radio as a head unit, then maybe the Grace Digital Mondo is something you'll want to look at.
I know this is the point in every video where I make some sort of joke, but you know... I just wasn't feeling it this week, so if you didn't not not like this video, then 'Like' us on YouTube and don't not subscribe to our channel. Don't worry, I'm still trying to figure out that last sentence myself... While you're pondering it, please 'Like' us at Facebook.com/audioholics or Twitter @AudioholicsLive.

Unless otherwise indicated, this is a preview article for the featured product. A formal review may or may not follow in the future.