Sherbourn PA 7-350 Seven-Channel Amplifier Preview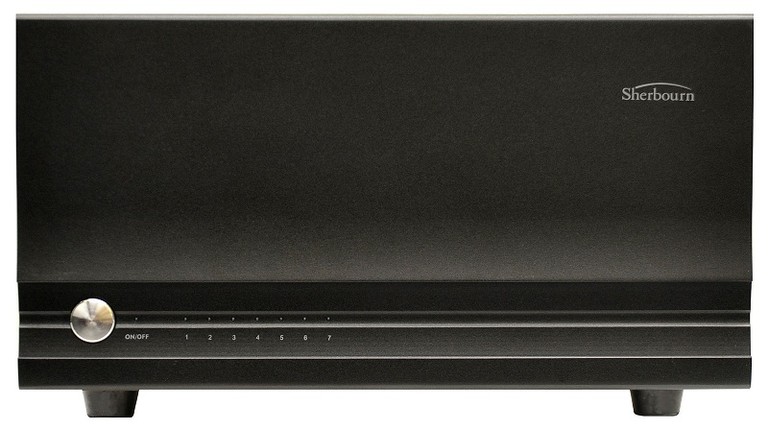 Sherbourn PA 7-350
Summary
True audiophile grade power amplifier
High efficiency, "Soft Switch" class H™ design
3.3 kVA toroidal power supply
7 x 350 watts @ 8 ohms
Convection cooled; no fans
Completely stable into 4 ohm loads
Balanced (XLR) and unbalanced (RCA) inputs
Audiophile grade input and output terminals
Trigger input/output
Rack mountable
5-year warranty
Dimensions: 17"W x 18.5"D x 9.625"H
Executive Overview
The Sherbourn name has been in the home theater game for a long time. With CES just around the corner, we're seeing lots of announcements of upcoming gear. Sherbourn did one better by not only announcing they have a new amp on the way, but by posting it on their website.
The Sherbourn PA 7-350 is truly a beast of an amp. It is the size of a receiver (17" wide by 18.5" deep by 9.625" tall) and tops 100 pounds. Yeah, that's one heavy box full of speaker-melting power. The PA 7-350 has a massive 3.3 kVA toroidal power supply pushing 350 watts into 8 ohms. It is a seven channel amplifier and is stable into 4 ohms. Sherbourn calls their use of a single massive power supply "Power Sharing." You may know it better as "headroom." For a while, manufacturers were moving to individual power supplies on each channel which was fine for modular designs (remember blade amps?) but limited the output on each channel. With one huge power supply, when your main speakers need a lot of power and your surrounds aren't doing much, you've got tons of reserve power. If you want to know more about how the Sherbourn PA 7-350 measures, they included a .PDF for you to look at. They use the same $40k Audio Precision APx585 8 Channel HDMI Audio Analyzer that we use for bench testing amplifiers.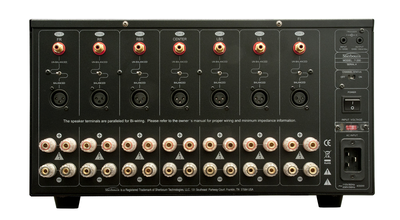 There are balanced and unbalanced inputs (with a switch between) and dual pairs of binding posts for each channel. The five way binding posts will allow banana plugs for easy connection as well as bi-wiring for those that are interesting. The detachable power cord, a standard at this price point and level of performance, means you can customize its length for you application (or over-pay for a "audiophile" power cord if you wish). Each channel of the PA 7-350 employs Sherbourn's unique short signal path balanced input, dual differential Class A/B audio signal path, and their advanced linear output stage, which incorporates Soft Switching Class H drive. "Soft Switching Class H design" means that each channel has its own independent Class H drive stage that continuously monitors the level and dynamic characteristics of the audio input for that channel and modulates the rail voltages for the output stage to achieve optimum performance. This reduces the amount of power that needs to be dissipated by the output devices - resulting in much greater efficiency, less heat generation, and more available output power.
Again, looking at the back panel, on the top right, there is a small panel or inputs/outputs/controls. From the top is a 12 volt trigger in and out, then two switches below that - one for turning the status LEDs on the front panel one or off, the second for doing the same for the meter LEDs. Below that is a power button and an input voltage selector. The Sherbourn PA 7-350 can accept any power from 115V/60Hz to 230V/50Hz meaning it can be used all over the world (for those wanting to take full advantage of the 350watt x 7 power rating, we suggest plugging this beast into 220V power).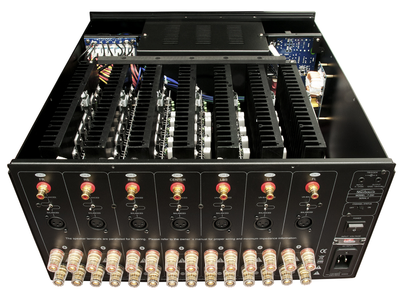 We're not entirely sure what the difference is between a "status" LED and a "meter" LED but we think (looking at the front), that the status LED is the power light and the meter ones are  for each of the channels. This is a nice feature that will serve both customers that like to see lights on their electronics and those that are more worried about a truly dark room happy.
For you that are paying attention, you'll remember that Emotiva bought Sherbourn a while back. While Emotiva was planning on putting out a "Pro" brand with a large amp much like this Sherbourn, those plans have been scrapped, it seems, to support Sherbourn. This is great news for Sherbourn and Emotiva alike. Sherbourn gets to marry their own knowledge and history with the undeniable know how of Emotiva and Emotiva gets access to custom installers without having to establish a new brand name. 
Conclusion
The Sherbourn PA 7-350 is a beast of an amp - with a massive 3.3 kVA toroidal power supply pushing 350 watts into 8 ohms, 4 ohm stability, and seven channels of amplification, "a beast" may be putting it lightly. At over 100 pounds and with convection cooling and a high efficiency, "Soft Switch" class H design, this truly is an audiophile-grade amplifier. If you define "audiophile-grade" as "tons of power, every feature you'll need and none you don't." If you define it as "full of silver/platinum/chocolatey bits, marketing speak, and pseudo-science," well, you're looking at the wrong company. The only thing that is holding us back from our highest Preview Article rating of "Gotta have it!" is not knowing the price. Regardless, we think there are more than a few that have already looked into preordering this monster.
For more information, please visit www.sherbourn.com.

Unless otherwise indicated, this is a preview article for the featured product. A formal review may or may not follow in the future.
zildjian posts on December 12, 2011 14:10
AcuDefTechGuy, post: 847541
And the Outlaw amp is the same as the ATI AT3007 amp and the Lexicon 300WPC amp as well. All made by ATI in California.

ATI AT3007 For Sale | AudiogoN

Emotiva & Sherbourn are made in China.
The only difference if I'm not mistaken in the Outlaw 7900 vs the ATI AT3007 and Lexicon ZX-7 is that the Outlaw is wired to run off two 15A circuits and the Lexicon and the ATI are wired to run off a single 20A circuit. Feels weird to call any of the above anything but an ATI since they all are ATI made… The ATI ATI… vs the Outlaw ATI… & Lexicon ATI…
zildjian posts on December 12, 2011 14:03
Thanks for the clarification.
GranteedEV posts on December 12, 2011 12:04
zildjian, post: 847532
The Sherbourn amp is different than the Outlaw 7900. They do look similar, but that's it. The Sherbourn amp is a digital switching Class H amp.
erm..
First of all, switching amps aren't digital. They're analog pulse width modulating.
Second, Class H isn't pulse width modulation anyways. It uses switching voltage rails to get big numbers during dynamic bursts but it's normally similar to class AB for most of its operation.
gene posts on December 12, 2011 11:57
haraldo, post: 847344
Looking at the attached measurements, at the bottom of page 9, THD is approaching 1% at very very low levels, is this not a bit too high
The levels are too low on that type of test to accurately show THD. An FFT analysis would be more revealing in that case and should be shown at 1 watt and full power bandwidth to get a more accurate picture of amplifier distortion. This is something I will do if I conduct a formal review of the amp.
AcuDefTechGuy posts on December 12, 2011 11:30
Post Reply
Confused about what AV Gear to buy or how to set it up? Join our Exclusive Audioholics E-Book Membership Program!