Emotiva PMA-7350 7-Channel Amplifier First Look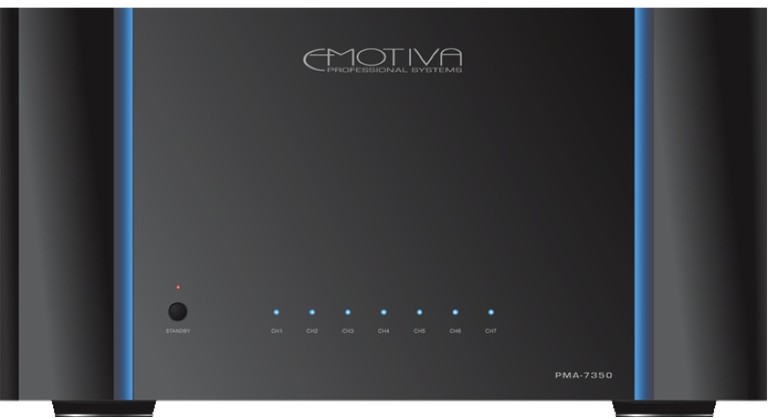 Emotiva PMA-7350
Summary
True audiophile grade power amplifier
High efficiency, class H design
7 x 350 watts @ 8 ohms
Convection cooled, no fans
Completely stable into 4 ohm loads
Balanced XLR inputs
Audiophile grade input and output terminals
Trigger in/out
Rack mountable
10 year manufacturers warranty
Weight: 101lbs

Executive Overview
When a receiver company comes out with a flagship processor, you can bet dollars to donuts that they'll have an amplifier in the very next press release. Unfortunately, many times those amps are outsourced from other manufacturers and rebadged with little more than a cosmetic (and price) upgrade. When a company known for their amps puts out a new flagship processor... well, you know they've got a powerhouse of an amp to back it up.
Emotiva has been recommended highly for years for their quality amplifier offerings. Traditionally they've offered these amps directly to the consumer from the Internet at substantial discount. Now, they've decided to branch out to dealers. When working with dealers you need a product that can both perform and look good doing it. There is also a price point that consumers who go to installers are expecting. This gives you a lot more room to experiment and integrate higher-end parts. Emotiva has taken all of this and is releasing the PMA-7350 - a seven channel, 350 watts per channel monster of an amp.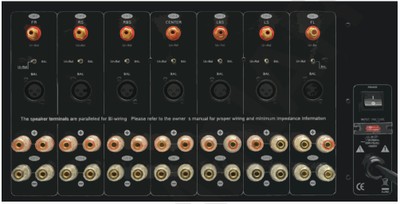 The Emotiva PMA-7350 has everything you'd want to see from a high-end amp. First, it has matching aesthetics to the PMC-1 processor with a milled black aluminum front with vertical blue LED illumination. There is a blue light for each channel - presumably indicating when it is in use or connected. We're guessing from past offering that each light will flash red if the channel starts to clip or, alternatively, the standby LED will do so if any channel clips. There are seven unbalanced RCA inputs and seven balanced XLR inputs for each channel which you can select with a switch. Each channel has two sets of gold-plated, "audiophile", five-way binding posts which may also be used for bi-wiring (or perhaps bridging?)
Of course, with amplifiers it's what is on the inside that counts and the Emotiva PMA-7350 has a massive 3.3kVA toroidal transformer pushing out 350 watts into 8-ohms. The amp is stable into 4-ohms and is fully 120V/240V compliant for worldwide sale (meaning it is power agnostic).   For those wanting to take full advantage of the 350watt x 7 power rating, we suggest plugging this beast into 220V power. 
Like most any amplifier, it is controllable with a 12 volt trigger (the specs say it has a remote trigger input with loop through, though we see no evidence of this on the pictures we were provided). The amp, like the PMC-1 processor, has a 10 year warranty and dealers will receive support directly from the manufacturer. 
With such a large amp pushing such power, you'd expect a lot of heat or fan noise. The PMA-7350 is completely convection cooled (no fans) thanks to its class H design. If you are familiar with more professional settings where tons of power are often required, Class H might have crossed your path. Digital or "switching" amps have greater efficiency because they switch their output stage either on or off thus minimizing loss through heat. Class H is similar except that it varies the output voltage so that it is only a few volts larger than the output signal at any given time. This allows the output stage to operate at its maximum efficiency all the time. The reason we don't see more of this type of amplifier is because of the complexity of the design. Well, if anyone can handle a complicated amp design, it's Emotiva.
Of course, the PMA-7350 isn't the only new amp in the Pro line. Emotiva will also be releasing the PMA-7200 which will have similar specs but only (we say "only" like it isn't that much) 200 watts per channel for $2000. There are also a couple of multichannel professional amps designed for whole home audio (12x45 watts, 6x45 watts). With these in tow, Emotiva has just about any situation a dealer might run into covered. The only thing that is missing is a dedicated two channel amp and a monoblock. With the move toward height/width channels, these would be needed. Even though Emotiva's PMC-1 doesn't (as of yet) support these DSPs, they have to provide for the eventuality that someone might pair their amps with someone else's processor. Knowing Emotiva, these offerings aren't far off.
Conclusion
While details are still forthcoming about Emotiva's new Pro offerings, we're sure that dealers are seriously considering adopting the new line. Historically, performance hasn't been Emotiva's weak point - it's been looks. From what we saw at CEDIA, they've got that covered as well. The class H design has allowed the PMA-7350 to pump out ungodly amounts of power with little loss to heat. This means silent operation without having to worry about your amp cooking the rest of your gear (let your Xbox 360 do that). While $3k may be a bit stiff for the Internet Direct crowd, it's practically a bargain for the custom install client. We're really looking forward to getting our hands (and test equipment) on the PMA-7350 to see just what it can do.
For more information, please visit www.emotivapro.com.

Confused about what AV Gear to buy or how to set it up? Join our Exclusive Audioholics E-Book Membership Program!
Recent Forum Posts:
MidnightSensi2 posts on October 13, 2010 21:44
Emotiva's cases look very Oriental-computer-case to me…. like search google for "Lian Li" computer cases. I went on a buying trip once for enclosures over there (not at Lian Li, but, similar places) and they made enclosures just like the Emotivas with the blue lights and the framing and stuff… They love lights, plastic overlays and large screenprinting.
AcuDefTechGuy posts on October 13, 2010 19:32
And you can thank me for yet another derailed thread.

How did we go from Emotiva amp to homosexuality?

BTW, the ASIN for my amp is BADASSHETEROMUSCLEMAN1000.
GlocksRock posts on October 13, 2010 16:30
it just prefers the pink noise, since it's a gay amp and all…
Seth=L posts on October 13, 2010 16:19
GlocksRock, post: 758787
I bet it plays pink noise really well though.
Well since we're going for real world performance instead of a single tone, I don't feel a pink noise test will accurately demonstrate the Adcom's output capabilities.
GlocksRock posts on October 13, 2010 15:59
Seth=L, post: 758775
Yeah, and apparently the Adcom is gay too, so I guess I'll keep looking at the emotiva.



I don't need no sissy amp.
I bet it plays pink noise really well though.
Post Reply