Jade Design Acquires Sherbourn Technologies for CE Channel Debut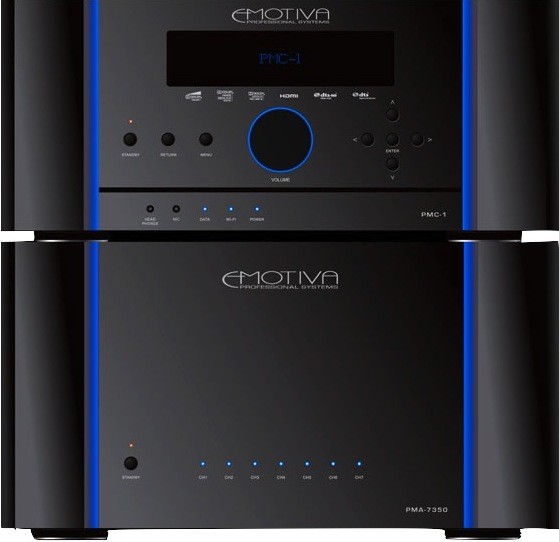 Emotiva Professional is now Sherbourn
Jade Design, Inc. today announced it has completed the acquisition of Sherbourn Technologies of North Billerica, MA. By January 1, 2011 all of Sherbourn's operations will be moved to Jade Design's headquarters in Franklin, TN. Jade Design, which is the parent company of Emotiva Audio Corporation, will continue to offer a complete selection of Sherbourn-brand high-performance audio products, including stereo and multichannel pre-amp/processors/tuners and amplifiers for the retail and custom installation channels. In addition to the current product offerings, Sherbourn will introduce several new models over the coming year, including a line of high performance home theater loudspeakers and subwoofers in both free standing and architectural versions.
"I've been a fan of Sherbourn for as long as I can remember. Every audio enthusiast knows that the Sherbourn logo is associated with some of the finest gear in the business, so we're thrilled that Jade Designs' engineering support and expertise will now allow Sherbourn to develop products and technologies that service a wider audience than ever before, without changing its well earned reputation for quality, performance and value."
- Fred Hartman, Director of OEM/ODM Sales, Jade Design, Inc.
Along with the current product line, two new models will be introduced under the Sherbourn brand. A new HDMI processor and HDMI receiver (both featuring an integrated Control4 controller), originally debuted at the 2010 CEDIA Expo as the inaugural products under the previous Emotiva Professional Systems label. Hartman said that although Jade Design still has plans for a product line under that name, its focus will be on an as-yet-to-be-announced channel.
"We went out to the custom integration market with news of Emotiva Pro before the opportunity to acquire Sherbourn was brought to our attention," said Hartman. "It only makes sense to continue to grow Sherbourn's presence in the custom market while re-directing the Pro name for a different sales channel."
Ron Fone, the previous president and owner of Sherbourn Technologies, will continue with the brand as Director of Sales.
Sherbourn Technologies will be a featured partner at Control4's booth #21407 at the Consumer Electronics Show, January 6 – 9, 2011, and again in Control4's stand #11F82 at the Integrated Systems Europe conference in Amsterdam, February 1 – 3.
Jade Design's Emotiva brand is famous among A/V enthusiasts for the company's true high end A/V products and first-rate customer support with a manufacturer-direct business model that provides exceptional value along with advanced technology. The new Sherbourn Technologies line will carry this high-value, high-support philosophy directly to the retail and custom installation channels, with additional new products scheduled to be announced in Q1 2011.
About Jade Design, Inc.
Jade Design, Inc. has more than 30 years experience in OEM/ODM electronic system design and development. Decades of cumulative knowledge and skill reside in the staff of engineers, designers, factory, and project management teams. Jade specializes in turn key product manufacturing, sourcing and brand support.
The company invests extensive resources into engineering, development, and quality, the sum of which is reflected in every amplifier, pre-amplifier, processor/controller, audio source, and loudspeaker system bearing their client's name.
About Sherbourn Technologies
Sherbourn Technologies is a dynamic consumer electronics company that designs and distributes some of the finest home theater and custom installation products in the world. Sherbourn enjoys a rich and deep-seated pedigree. From the beginning, the company's core philosophy has been to design and manufacture outstanding products with high levels of innovation, performance, quality and reliability. For more information, visit http://www.sherbourn.com.
sharkman posts on December 28, 2010 22:10
Stereodude, post: 776951
That is not the proper way to do bass management. Even if it's not audible (which seems like a highly questionable claim), there's no reason why anyone who had the slightest clue what they were doing would do bass management that way. Further, if they cooked up some crazy, off the wall, & incorrect scheme to do bass management, what else did they do wrong that hasn't come to light yet?
With the amazing amount of scrutiny that the UMC-1 faced, no doubt some done by competitors who don't want this upstart to gain anymore market share, I doubt that any further issues will come to light. That being said, if their next pre-pro suffers more bugs they might as well give up on them.
If you are unhappy with Emotiva, fine, but many have had very good experiences with their amps, cd player, 2 channel pre-amps, speakers, subs, and now DAC(which does have a volume issue for some but not all. Some using it as a pre amp are fine with the volume level in their system, some are not). They really are offering more than anyone else at given price points.
This acquisition of Sherbourn will only add to their prestige.
Warpdrv posts on December 28, 2010 16:16
I think the Emotiva amps are decent enough, The new XPA lines anyways, but as stated -anything as far as processors go, I'd be waiting for things to pan out and be stable before investing in them…
Jacksmyname posts on December 28, 2010 15:09
The only Emo product I own is the XPA-2 amp.
While there are "prettier" amps out there, it's still a nice looking piece to my eyes. And given that it's in a dark cherry credenza cabinet, it's not all that visible anyway. But I'd still like it if it were on an open rack.
I've seen pics of systems with all Emo gear on an open rack that look really nice.
And, more importantly, it's performed flawlessly for the two and a half years I've owned it.
Stereodude posts on December 27, 2010 19:16
M Code, post: 776805
The UMC-1 has Dolby certification, Dolby checks the bass management configurations as a compliance condition..
What is the specific issue for bass management that is incorrect..

Just my $0.02…
Is that like the THX certification on the Lexicon BD-30 (a rebadged OPPO)? You know, where it turned out it didn't actually meet the THX standard?
The bass management in the UMC-1 is fine as long as you have all your speakers (and sub) set to the same distance. If you don't, it's hosed. This is because they add the delay to each channel (distance correction) prior to applying bass management. This means you're summing out of phase signals to the subwoofer. This means you get combing and other problems.
That is not the proper way to do bass management. Even if it's not audible (which seems like a highly questionable claim), there's no reason why anyone who had the slightest clue what they were doing would do bass management that way. Further, if they cooked up some crazy, off the wall, & incorrect scheme to do bass management, what else did they do wrong that hasn't come to light yet?
hooch posts on December 27, 2010 09:18
The UMC has bass managment issues..there were numerous threads showing this. What is is debatable however is whether the the issues can actually be heard.

I own a lot of Emo gear..XPA-2, XPA-3, ERT 8.3's, and more. But the whole UMC release left a very sour taste in my mouth. IMO..EMO clearly knew the UMC had serious issues when they first released it…even as they publicly stated how awesome it was. I don't see how you can argue otherwise. I had one for about 3 weeks but returned it. I was going to reconsider another one but the UMC has so many bandaids on it know I bought something else. The XDA-1 volume issue has me wondering exactly what kind of operation they're running. Emotiva provided a textbook example of how not to release a new piece of gear.

As someone else has mentioned..EMO OEM's most of Sherbourne's gear so EMO buying them is a moot issue IMO.
Post Reply