Pioneer VSX-520-K Receiver Preview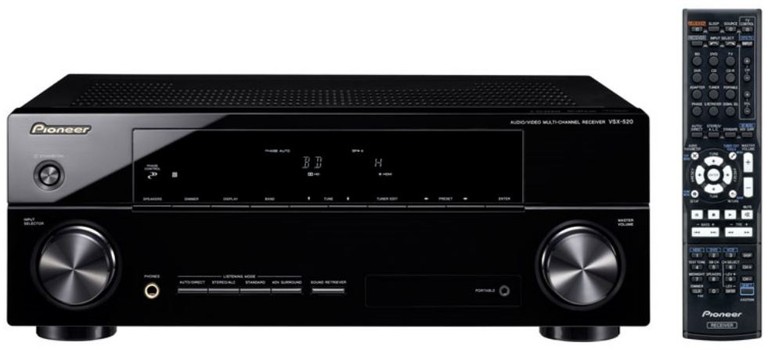 Pioneer VSX-520-K Receiver
Summary
110 watts x5
3 HDMI 1.4/3D Ready
Bluetooth Ready
Dolby ProLogic IIz Pre-out
Auto Level Control
HD Audio Decoding

Executive Overview
One of our favorite things is to see the trickle down of technology. Sure it sometimes happens way to slow for our liking, but occasionally a manufacturer makes a leap that literally floors us. Pioneer has done that before, and it looks like they are trying to do it again.
Check out AV Rant for an interview with Dave Bales of Pioneer Electronics about their new line of receivers.
Pioneer has a new line of receivers ready to hit this week and they've whet our appetites with two new entry level receivers. The first of the two is the Pioneer VSX-520-K. At only $229, this receiver is practically an open-box special with the advantage of not being used. For this price we expect Pioneer to cut corners. The question is whether they cut the right corners.
Let's start off with what the Pioneer VSX-520-K has. It comes with five channels of amplification that Pioneer rated at 110 watts/ea. The two main channels sport five-way binding post while the rest have the less desirable spring type connection. On top of that it has Pre-amp outputs for Dolby ProLogic IIz. This adds height channels or, alternatively, surround back channels for a true 7.1 setup. You'll need to add amps for this configuration, but at this price point that is to be expected. 
The inputs of the Pioneer VSX-520-K are very impressive. On the front there is a mini-jack (3.5mm) for connecting up your iPod or MP3 player. While you won't get the full integrated control something like a dock or a compliant USB port would provide, you at least don't have to run around the back of the receiver when you want to connect your portable device. On the back you'll find a fairly impressive number of connections. There are four composite video and two component video inputs. There are an equal number of analogue stereo inputs. There are three assignable digital audio inputs - one coaxial and two optical. Most impressively, however, are the three HDMI 1.4 inputs and one output. HDMI 1.4 just hit the market recently and some receivers from other manufacturers have been and probably will be released without the new specification and bandwidth support. HDMI 1.4, among other things, adds 3D capability. This makes the Pioneer VSX-520-K 3D-ready out of the box. Of course, you'll need a compatible display and source (not to mention software) but with all the money you saved on the price of the receiver, you might be able to pick one up.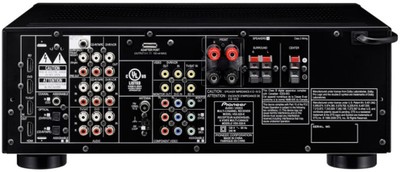 Pioneer brags about a few other features with their Pioneer VSX-520-K including Bluetooth ready (with an additional purchase of the $129 AS-BT100 Bluetooth adapter). There is an Auto-Level Control and Advanced Sound Retriever (trying to make MP3s sound better) but these didn't interest us as much as the fact that the Pioneer VSX-520-K decodes ALL the major audio formats including Dolby TrueHD and DTS HD. This is practically unheard of at this price point. Most entry-level receivers won't even accept audio over HDMI, opting instead to function as HDMI switchers.
So, what are you giving up? On screen display, analogue to digital video conversion, and don't even hope for 1080p video upscaling. This means that you'll need to use the small screen on the receiver for control, you'll need to match the cable types for each input (HDMI to HDMI, Component to Component, etc.), and your display/source will have to do the upconversion. While the OSD will be missed, at this price point, you weren't getting the others anyhow. The Pioneer MCACC is also missing. This is the proprietary auto setup/room correction system Pioneer uses. Out of all of the corners cut, this is probably the one that will be missed the most. At entry level is where users are most likely to need a auto-setup function. Still, we'll take HDMI audio support over MCACC any day.
Conclusion
Pioneer seems to be pushing the envelope of what we can expect in an entry-level receiver. We really think they have cut the right corners with the Pioneer VSX-520-K. While we think a lot of users will miss the MCACC auto setup, we think the inclusion of audio (much less HD audio native decoding) over HDMI is well worth it. As an entry level receiver goes, this one has a lot of expandability. You can add surround back/height channels, Bluetooth control, and it is ready for 3D. For $229, this may be the new defacto standard for budget receivers. 
For more information, please visit www.pioneerelectronics.com.
Check out AV Rant for an interview with Dave Bales of Pioneer Electronics about their new line of receivers.

See also:
Confused about what AV Gear to buy or how to set it up? Join our Exclusive Audioholics E-Book Membership Program!
Recent Forum Posts:
servtec2200 posts on May 11, 2011 13:18
Recommendation

Hi guys,

I just bought a service manual for my Surround System PIONEER HTP-SB510 from: manualsparadise.com They delivered in less than 20 minutes, the price was fair, and their service was really good compared to other sites where I have bought manuals in the past. And, they seem to have a huge collection of manuals!
Recommended.
bandphan posts on March 06, 2010 14:39
bellevegasj, post: 695341
The app is there. Not sure if I misspelled it or something before or something, but it's up. I hope other receiver lines follow their lead.
Many control companies have apps available for vast array of products.
bellevegasj posts on March 06, 2010 13:00
frint, post: 0
omgoosh!! no app for them!!
i wish to upgrade wif 1.4a HDMI too. Cant wait for that,AWESOME!

The app is there. Not sure if I misspelled it or something before or something, but it's up. I hope other receiver lines follow their lead.
Kai posts on March 06, 2010 06:09
Listened to Tom Andry's AVRant podcast interview with the person from Pioneer yesterday. Great job and some exciting new receivers and features.
Pioneer seems to have leapt ahead of their competition with this line of new receivers.
anamorphic96 posts on March 05, 2010 19:42
Patrick_Wolf, post: 695157
I'm sure they lie about the wattage, but budgest receivers are meant for budget people and budget setups. People who probably don't have a big enough room for a big screen and thus won't sit very far away from the speakers. Meaning you don't need gobs of power to achieve a desirable volume. It would also be assumed these same people won't be buying expensive power hungry floorstanders, but reasonably efficient bookshelves or even satellites instead. Prime example: me.

People with bigger homes, bigger displays, bigger everything generally aren't budget people who shouldn't even be looking at budget AVR's, let alone criticizing them. At least Pioneer is taking the initiative to satisfy the budget audio enthusiast by cutting the right corners and providing quality products with the most critical features for audio enjoyment.
I agree with you to some extent. But the model I'm talking about retails for 750. So I would expect more from these models.
Post Reply