Pioneer VSX-820-K Receiver Preview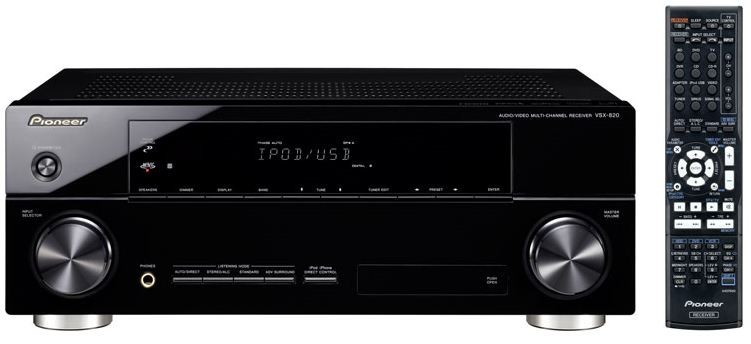 Pioneer VSX-820-K Receiver
Summary
110 watts x5
4 HDMI 1.4/3D Ready
Bluetooth Ready
Bolby ProLogic IIz Pre-out
Auto Level Control
HD Audio Decoding
iPhone Certified USB
On-Screen Display
Auto MCACC
USB/Composite AV Front Inputs

Executive Overview
Pioneer Electronics' new line of Pioneer branded receivers have been receiving a lot of fanfare - and it is well deserved. The new line has features at price points that we wouldn't have thought imaginable just a few years ago. The VSX-520-K already impressed us with it's feature list including HDMI 1.4, 3D ready, Dolby ProLogic IIz, and high definition audio decoding. The VSX-820-K is the next in line from the electronics giant and comes in at just under $300. The question we had was what more you could expect for the $70 premium over the 520-K. The answer might surprise you.
Check out AV Rant for an interview with Dave Bales of Pioneer Electronics about their new line of receivers.
The VSX-820-K builds on the solid foundation of the 520-K. It is a 5.1 receiver sporting 110 watts per channel. It has four HDMI 1.4 inputs and one out which makes the receiver 3D ready. This should be especially interesting to PS3 users who are looking forward to a firmware update that will make their game system 3D capable. Of course, they'll need a 3D display as well.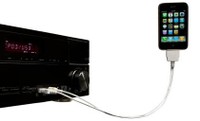 One of the major upgrades over the 520-k for the VSX-820-K is iPhone certification. This is a very unique feature for Pioneer receivers. While other manufacturers are requiring you to use a 3.5mm port (or a specialized cable from your iPod for compatibility with a standard input), Pioneer provides not only their own specialized cable, but integrated control. The cable connects to your iPod/iPhone and then to the receiver via a front USB port and Composite video input. You can then control the device either through the normal interface/controls on the device or with the remote. Not only that, but with the iPhone, it doesn't send your device into "airplane" mode where it can't receive calls. Instead, it will work normally. This is a huge plus for those that love having all their music portable.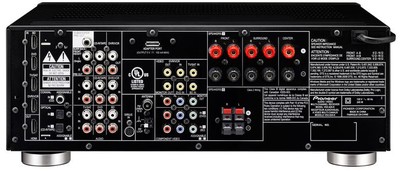 If iPhone certification and an extra HDMI input were all that the 820-K offered over the 520, we would probably think that it was a bit on the cheap side but probably explainable. But it did Pioneer stop here? No. Instead we find an On-Screen display where there was none on the 520. Sirius Satellite radio compatibility is available through a specialize port, and auto setup is accomplished with Pioneer's proprietary MCACC. Taking a look at the back of the receiver, we notice a lot of similarities. There are still 2 component (one output) and four composite video inputs, three digital audio inputs (two optical and one coaxial) and a slew of stereo audio inputs. The adapter port is available for use with the AS-BT100 Bluetooth adapter (a $99 add-on).
In addition to the extra HDMI input, Pioneer has upgraded the speaker outputs of the VSX-820-K. While the 520-K only has two pairs of five-way binding posts for the mains, the VSX-820-K has them for all five channels. We sort of wish they would have spread them out a bit more as there is a lot of empty space back there. Also, you'll find a couple of pairs of spring-type binding posts for "B" speakers.
Conclusion
The VSX-520-K was already a great little receiver but to meet its price point some corners had to be cut. The VSX-820-K rounds out many of those corners. While video upconversion is still not possible at this price point, for $299 you get all the great features of the 520 which includes HDMI 1.4, 3D and Bluetooth ready, and Dolby ProLogic IIz capability. Add to that iPhone certification (and integration), MCACC auto setup, and on-screen display, and Sirius Radio ready and you've got a really good reason to spend the extra $70. In fact, users are not going to have too hard a time justifying the extra expenditure on the grounds of the on-screen display and the extra HDMI input alone. The rest of it may be just too tempting to resist.
For more information, please visit www.pioneerelectronics.com.

See also:
Confused about what AV Gear to buy or how to set it up? Join our Exclusive Audioholics E-Book Membership Program!
Recent Forum Posts:
Patrick_Wolf posts on March 12, 2010 04:45
AVR-590 is $350, but IIRC Denon doesn't lie about wattage so you get more mileage for your dollar, or something like that. lol

Denon's latest models are listed as 2009/2010 so it doesn't look they're going to release new receivers this year…
rnatalli posts on March 11, 2010 10:51
Nice features, but 245W power consumption. The Denon 1610/590 is more than twice that coming in at 516W at the same price point. I'm betting Denon's 2010 will be tough to beat if they keep the same price points as 2009.
Post Reply