Energy Power Bar Soundbar Preview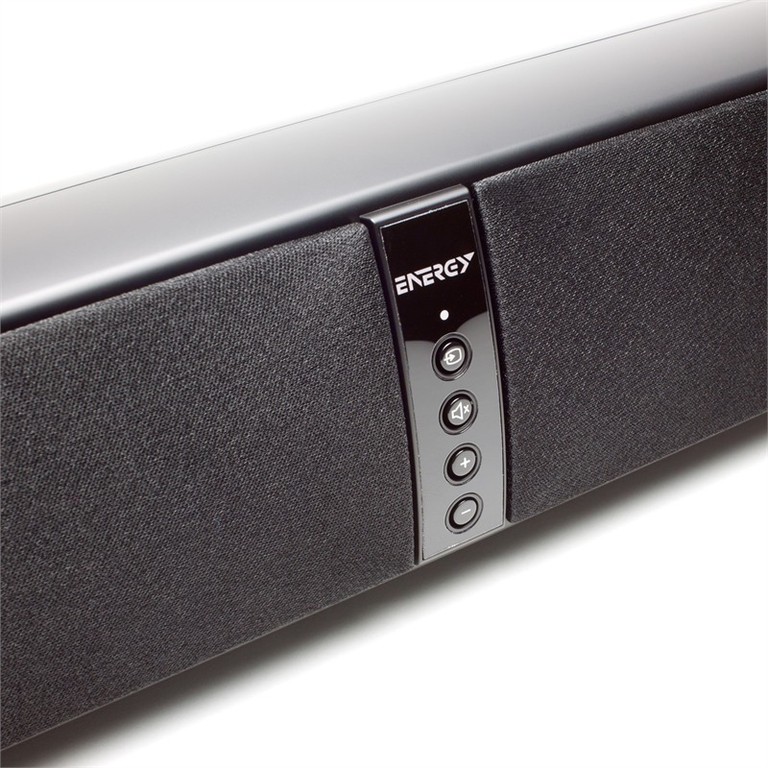 Energy Power Bar Soundbar
Summary
System Type
2-way soundbar with 8" wireless subwoofer
Frequency Response
50Hz to 20kHz +/- 3dB
Power Handling
200 watts peak
Tweeter
Two .78" (20 mm) soft dome tweeters
Midrange
Two 3" (7.6 cm) IMG drivers
Subwoofer
One 8" (20.3 cm) down firing fiber composite cone / ported enclosure
Inputs
1 Optical input, 1 RCA input
Overall Dimensions
Soundbar: 4.4" (11.2 cm) H x 30" (76.2 cm) W x 4.1" (10.4 cm) D
Subwoofer: 11.5" (29.2 cm) H x 9.5" (24.1 cm) W x 14" (35.6 cm) D
(Dimensions include grille and feet)
Weight
Soundbar: 5 lbs / 2.3 kg
Subwoofer: 15 lbs / 6.8 kg
Mounting Options
Two built-in keyhole mounts for wall mounting
Finishes
Soundbar: Satin Black
Subwoofer: Matte Black Vinyl
Included Accessories
One 1.5 m optical cable, one pair of rubber feet, wall mounting template
Executive Overview
In what appears to be an effort to be completely un-searchable on Google, Energy has released their Power Bar Soundbar. Yeah, search for Energy Power Bar and see how many speakers pop up. As you may be aware, there are two types of bar speakers - soundbars and surroundbars. The surroundbars try to simulate a full 5.1 speaker setup with a single speaker. A Soundbar, like the new Energy Power Bar, is only attempting to provide an improved two-channel experience. While both have their place, we tend to prefer the more attainable goal of the Soundbar solutions. When they come with a wireless subwoofer, we are all the more intrigued.
Starting with the actual Power Bar, the Energy solution features two 3" IMG midrange drivers paired with two .78" soft dome tweeters in a two-way configuration. The drivers (see picture below) are located on the ends of the bar to provide the widest possible stereo image. The Energy press material says that the drivers are located close together in an exclusive "Convergent Source Module" configuration. The CSM places the tweeter and midrange close together so they act as a single source. Well, the name CSM may be exclusive but placing drivers close together certainly isn't.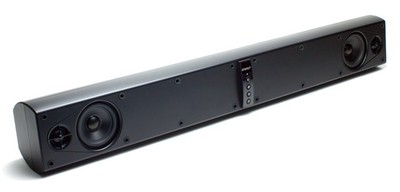 The Power Bar is self powered and can be fed either a digital optical or stereo analogue input (optical cable included). The back of the bar has two keyhole mounts for wall mounting or can be shelf-mounted with included rubber feet. There is an included learning remote feature which seems to indicate that the Energy Power Bar will learn your current remote's controls rather than including an additional remote (a nice feature). The Power Bar is 4.4" tall, 4.1" deep, and 30" wide. It weighs a featherweight 5 pounds and has a Satin Black finish to mesh well with your flat panel display.
The included wireless subwoofer of the Power Bar system from Energy sports an fiber composite 8" driver and slotted port both in a downfiring configuration. The sub is a fairly models 11.5" tall by 9.5" wide by 14" deep making placement options fairly easy (but, let's face it, soundbar customers are shoving it behind the couch or under a desk). At 15 pounds, the sub is easy to move around for optimal performance. The matte black vinyl wrap should help keep the sub from drawing too much attention to itself.
Energy rates the system as a whole rather then the two individual components. Together, Energy says that the Power Power system will reach down to 50Hz cleanly. While nothing to write home about from a home theater perspective, it is a great deal better than you'd get with your display speakers alone. Really, that's what Soundbars are - improvements on the built in speakers on your flat-panel display. From the Energy site:
Measuring 30-inches in length and exuding a contemporary look, the Energy Power Bar is the perfect companion for high-definition picture and a necessary substitute for underwhelming flat-screen speakers.
We couldn't have said it better ourselves (except for the "perfect" part). The one question we have, really, is about their wireless solution. There is no indication on their website about how close you need to place the sub. The next question, of course, is price. At $400 MSRP, the Power Bar Soundbar solution isn't cheap but you are getting a wireless sub in the mix. While you can find cheaper options, you can't find one much cheaper with the same pedigree of Energy. We're also betting that not many will have the same quality of subwoofer. As any Audioholic worth their salt will tell you, bass is where it is at. If we were looking for a Soundbar solution, we're fairly certain the Energy Power Bar Soundbar would make the shortlist.
Conclusion
The Energy Power Bar Soundbar isn't trying to be something it's not. It's an upgrade to your display's speakers, and a substantial one at that. With a frequency response rated down to 50Hz, a wireless sub you can place just about anywhere in your room, and aesthetics to match your new flat panel, this may be just the Soundbar you were looking for.
For more information, please visit www.energy-speakers.com.

Unless otherwise indicated, this is a preview article for the featured product. A formal review may or may not follow in the future.
Confused about what AV Gear to buy or how to set it up? Join our Exclusive Audioholics E-Book Membership Program!