SnapAV Episode 900 Series In-Wall Loudspeakers First Look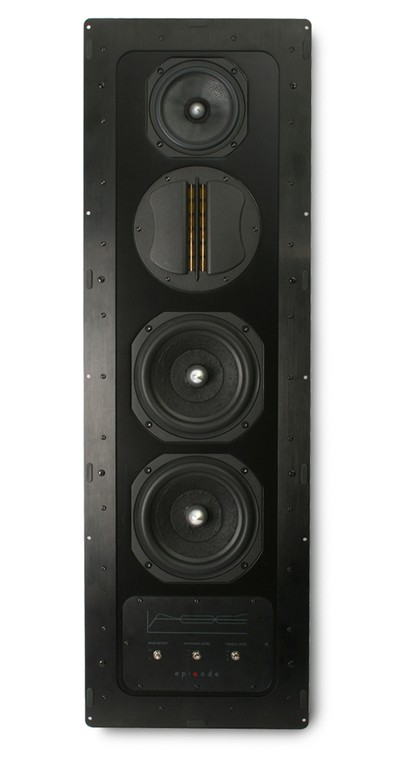 SnapAV ES-HT950-IW-7
Summary
ES-HT950-IW-7

WOOFER: Dual 7" NCS Cone, Aluminum phase bullet, High Temp 1-1/4" diameter Voice Coil
MIDRANGE: 5.25" Tri-layer Honey Comb Cone, Aluminum phase bullet, High Temp Voice Coil
TWEETER: 4.65" Ribbon Kapton film with aluminum conductor traces / Neodynium magnet structure
POWER HANDLING: 250W RMS, 625W Peak
NOMINAL IMPEDANCE: 4
FREQUENCY RESPONSE(-6DB): 48 Hz - 40 kHz
SENSITIVITY -2.83 V / 1 METER: 87
ADJUSTMENTS: Woofers: Bass boost (0/+3dB), Midrange: Level (+2dB/-2dB), Tweeter: Level (+2dB/-2dB) plus screen EQ
COLOR: White
CROSSOVER FREQUENCY: 525 Hz, 2.0 kHz
CONNECTOR TYPE: Woofers: Bass boost (0/+3dB), Midrange: Level (+2dB/-2dB), Tweeter: Level (+2dB/-2dB) plus screen EQ
WEIGHT: 41 lbs.
GRILL TYPE: Magnetically held Aluminum Micro-Perf Mesh
CUTOUT DIMENSIONS: 38.2" x 11.2"
MOUNTING DEPTH: 4.0"
FINISHED DIMENSIONS: 39.63" H, 12.62" W, 4.64" D

ES-HT900-IWLCR-6

WOOFER: Dual 6.5" NCS Cone, Aluminum phase bullet, High Temp Voice Coil
TWEETER: 4.65" Ribbon Kapton film with aluminum conductor traces / Neodynium magnet structure
POWER HANDLING: 200W RMS, 500W Peak
NOMINAL IMPEDANCE: 8 ohms
FREQUENCY RESPONSE(-6DB): 65 Hz – 40 kHz
SENSITIVITY -2.83 V / 1 METER: 89 dB
ADJUSTMENTS: Woofers: Bass boost (0/+3dB), Tweeter: Level (+2dB/-2dB) plus screen EQ, Orientation: Horizontal/Vertical mounting.
COLOR: White
CROSSOVER FREQUENCY: 2.2 kHz
CONNECTOR TYPE: Bi-Amp / Wire via 5 Way all metal / gold plated Binding Posts
WEIGHT: 26 lbs.
GRILL TYPE: Magnetically held Aluminum Micro-Perf Mesh
CUTOUT DIMENSIONS: 28.2" x 11.2"
MOUNTING DEPTH: 4.0"
FINISHED DIMENSIONS: 29.63" H, 12.62" W, 4.56" D

Executive Overview
There are a lot of challenges in building and designing an in-wall speaker. The most major of hurdles is how to make it sound good in nearly any room. Placement will often be non-optimal because of where studs are located. If you leave the back open, you have to compensate for the space in the wall which may or may not be insulated. Plus, it isn't like you can toe the speakers in to tailor the frequency response to individual tastes. When we get freestanding speakers, we often find that you can fine tune how "hot" they are on the top end by pointing them either at or away from you. This is perfect for getting just the sound you want out of a speaker. But that's impossible with an in-wall speaker.
Then there are the aesthetics. Let's face it, looks are a big part of speaker sales. Sure sound quality and price play a role but it is often as a gatekeeper. Speakers that don't meet the price (or more importantly exceed the budget) or that don't measure up to what a customer wants are excluded. But after that, it's all about looks. How can an in-wall speaker compare? By definition, they are designed to be invisible.
SnapAV has had great success of late rolling out in-wall speakers. According to SnapAV Marketing VP Adam Levy, since the company began rolling out its new Episode models in 2009, its speaker business has more than quadrupled. In this economy anything where anything other than negative growth is considered a plus, this sort of reception has encouraged SnapAV to expand their offerings. To wit, enter the ES-HT950-IW-7 and ES-HT900-IWLCR-6 (which I'll mostly be referring to as the 950 and 900 respectively).
The ES-HT950-IW-7 (pictured above) is a more traditional in-wall speaker in that it has a single orientation - vertical. There is a 5.25" tri-layer honey cob cone midrange with an aluminum phase plug and a high temp voice coil at the top. At the bottom you'll notice dual 7" Natural Cell Structure woofers, again with aluminum phase plugs and high temperature voice coils. In between is the main feature of the new Episode 900 series speakers - the 4.65" Kapton film ribbon tweeter with aluminum conductor traces and neodynium magnet structure. The 950 is rated down to 48 Hz  and up to 40 kHz at -6dB (that -6 is most important on the low end since you stopped hearing it somewhere around 20kHz). This means you'll have little problem crossing it over with a subwoofer which you'll definitely need with that frequency response. The 87dB sensitivity and 4 ohm nominal impedance means you won't definitely need an amp if you spent a lot on your receiver, but you probably will get one anyhow.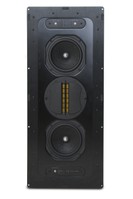 ES-HT900-IWLCR-6 is a little different in design. It is a more traditional D'Appolito MTM design with the 4.65" Kapton film ribbon tweeter flanked on either side by a 6.5" NCS cone woofer with an aluminum phase plug and a high temp voice coil. The 900 (as the LCR in the name suggests) can be used either vertically or horizontally (you can rotate the tweeter for horizontal placement) so that it can be used either flanking a display or under/over it. This speaker has a rated frequency response (again at -6dB) from 65 Hz to 40 kHz. The 8 ohm impedance and 89 dB sensitivity means that you'll be able to pair this with a midline receiver in a smaller room if you have to.
What is interesting with this new SnapAV 900 series speakers is all they to to make sure they will sound good in your room. First, they include a backbox. This eliminates any problems you may have from an open-back solution. But it isn't just any back box, it is constructed out of 3/4" MDF making it extremely sturdy and inert. This makes for a fairly heavy speaker (the 950 is 41 lbs and the 900 is 26 lbs). Integrated in the boxes are screw operated tabs for grabbing on to drywall or studs. The 950 stands an impressive 41" while the LCR 900 is only 30" making it less than stud friendly (since they are typically 16 to 24 inches apart on center). But, honestly, you're probably not going to be installing these speakers yourself.
At $1999 each for the ES-HT950-IW-7 and $1199 each for the ES-HT900-IWLCR-6, these are definitely designed for the custom install market. And they've got the technology to back them up. Aside from the ribbon tweeters and overbuilt back boxes, the speakers have integrated cable management to their dual pairs of gold-plated binding posts, magnetic grills (which we are sure can be painted, and a number of EQ adjustments. You can adjust the bass (0/+3dB), the midrange (+2dB/0/-2dB) and the tweeter (+2dB/0/-2dB). On top of that they have a screen EQ if you plan on using them behind a perforated drop screen. This boosts the tweeter response 3dB over 8 kHz to compensate for the screen.
Conclusion
Are the new SnapAV Episode 900 speakers designed for the custom installation market? You bet. But we love seeing features such as overbuilt back boxes, separate EQ adjustments for bass, mids, and the tweeter with a compensation for perforated drop screens, and ribbon tweeters. The ES-HT900-IWLCR-6 is a little too wide for horizontal placement without cutting into a couple of studs but other than that, we love how both this and the ES-HT950-IW-7 look on paper. But, as is often the case with in-wall speakers, only you'll know how cool they are. Everyone else will wonder where that sound is coming from.
For more information, please visit www.episodespeakers.com.

Unless otherwise indicated, this is a preview article for the featured product. A formal review may or may not follow in the future.
highfigh posts on May 21, 2011 22:01
Have you guys used or listened to their 700 series monitors? I just got a pair and I'm pretty impressed by them. I haven't been a big fan of metal dome tweeters but I think some of the peakiness should soften over time. Overall, I think they're a really good value. Not using any EQ, just my subwoofer, which I occasionally turn off to get a feel for how well the low end handles the various sounds I throw at them. Human voice is very natural, drums have good impact and they do a nice job of filling the room, although they're not as sensitive as the ones I have been building. They blend very well with my Jamo subwoofer, which isn't surprising since the designer worked at Jamo for many years.

Oh, yeah- the fit and finish are spectacular for expensive speakers, but they're very reasonably priced. Piano black, flawless.
woofersus posts on February 23, 2011 12:34
I carry the brand also, but have yet to hear any of the in-wall Episode speakers so I can't really comment other than that I have been fairly impressed with the other SnapAV in-house brands. (the vast majority of my business is online - I mostly carry SnapAV for accessories and installation products when I do local installation work) Nice to see them getting some love though.
scott911 posts on February 22, 2011 13:21
axiom audio's M60 - in-cabinet model.

surrounds will be in-ceiling units - mounted into an upward sloping ceiling. All driven by an intergrated reciever with Trinniv room correction.

I'm lookig forward to your iput!
InTheIndustry posts on February 22, 2011 12:32
scott911, post: 794622
hi in-the-industry - you seem pretty familiar with this company.

Any opinion / recommendation on their in-ceiling designs? My main choice right now is the KEF ci160.2 QR (a smallish 6.5" woofer 2 way design) as ceiling rafters limit my cut out to 7 and 3/4 inches. purpose : surround duty.

Thanks for your opinion on offerings from episode, or others.
I am a dealer of both brands so, yep, pretty familiar! What are your main speakers in the rest of your system?
scott911 posts on February 22, 2011 11:25
hi in-the-industry - you seem pretty familiar with this company.

Any opinion / recommendation on their in-ceiling designs? My main choice right now is the KEF ci160.2 QR (a smallish 6.5" woofer 2 way design) as ceiling rafters limit my cut out to 7 and 3/4 inches. purpose : surround duty.

Thanks for your opinion on offerings from episode, or others.
Post Reply
Confused about what AV Gear to buy or how to set it up? Join our Exclusive Audioholics E-Book Membership Program!