Polk Audio Blackstone TL350 5.0 Satellite/Center System First Look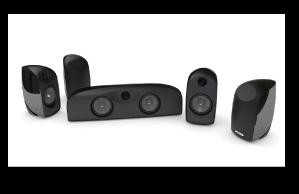 Polk Audio Blackstone TL350 5.0 Satellite/Center System
Summary
.75" ring radiator tweeter
3.25" Extended Linear Motion midrange driver with a Aerated Polypropylene cone
Time Lens Technology - aligns the acoustic centers of the tweeter and mid-bass drivers for superior imaging
High gloss black or white steel-reinforced enclosure
5-way binding posts accept 14-gauge wire
Executive Overview
While we all wish we could always purchased dedicated speakers based solely on their sonic characteristics, the fact is that sometimes space is a factor. While we may have trained the spouse that we'd rather have have our blood taken by a blind nurse with shaky hands than compromise our sonic standards, not everyone will understand our stance. Particularly family.
Oh, you know the type.
This is the father/mother/uncle/brother that has it in their mind what they want and are looking for a recommendation from the family expert. Never mind that they really don't want your opinion, what they want is to justify the speakers they want to purchase because they were on sale and the pimpled-faced boy at the big box store said they "rocked." Sure, you could spend the next three days trying to impress upon them the facts of physics. That big sound just can't come from small boxes. But you're just beating your head against a wall. Instead, we find it best to have a few recommendations in our back pocket for just such occasions. Polk Audio is looking to get into your pocket with their new Blackstone TL350 Satellite system.
Okay, maybe that came out wrong but you get the idea.
Polk already has a number of satellite offerings but the TL350 system represents the pinnacle of what they've brought to market so far. Rather than source some cheap drivers, Polk Audio has used many of the same driver elements found in their (formally) reference LSi series. This means that you've got quality drivers in a small box. This price isn't tiny at a suggested $750 for the 5.0 system (and an additional $450 for the recommended Polk wireless sub), it isn't so much that it will price most people out. Especially if Polk delivers on their promise of delivering "big speaker sound without the big speaker."
To do that, the TL3 satellite speaker and TL3c center channel rely on what Polk calls "Time Lens Technology" (oh those wacky marketing execs, what will they think of next?). This is designed to align the acoustic centers of the tweeter and mid-bass drivers for superior imaging. Within the grill there is an acoustic lens that is designed to smooth the tweeter's frequency response (no listening without grills obviously). The .75" ring radiator tweeter is the same one used in Polk's LSi and LCi series speakers (the LSi's were the reference line until the recently announced LSiM). It's said that this tweeter than deliver accuracy and detail beyond 30kHz, not that anyone but your dog could enjoy it. Since human hearing pretty much stops at 20kHz.
Polk loves their Extended Linear Motion midrange drivers and they've used one in the TL350 line as well. The tweeter is paired with a 3.25" mid with a Aerated Polypropylene cone. This sound remarkably similar to the "Super Cell Aerated polypropylene cones" used in the new LSiM line. We're not sure what makes one "super" and the other not (maybe a cape?) but obviously the same technologies are in play. If you are going to buy speakers that are the size of your hand (like the new Blackstone TL350 line), you should at least look for quality drivers. It is clear Polk has delivered on the driver front.
The Blackstone enclosures come is high gloss black or white which should blend with most decors. Their laid back, curved enclosures are not just for looks, however. They are ported (somewhere, we're guessing in the back), and steel reinforced. While small cabinets like these are fairly easy to keep inert as long as you don't construct them out of cheep plastic, any reinforcement couldn't hurt. We were particularly impressed with the use of five way binding posts that accept up to 14-gauge wire. Twelve gauge would have been better but we've seen satellite systems that struggle with 16. We'll take 14 any day on this type of system. 
Conclusion
When you are looking for a recommendation for a satellite system, we suggest you keep a few things in mind. First, price. If the person is on a budget, you'll need to hit a price point no matter what. Next, aesthetics. Satellite systems, like show dogs and supermodels are most often judged on looks long before anything else. Last (unfortunately in our opinion) is performance. As an Audioholic, you should never recommend anything but the best sounding gear you can. With the new Polk Audio Blackstone TL350 5.0 Satellite/Center System, they've hit at least two of these points. Aesthetically, they are small, glossy, and contemporary. Sonically, despite all the marketing speak, they seem to have the driver and enclosure technology behind them. While we'd prefer a larger, more full featured speaker, if you have to go small, making sure they aren't using 25 cent drivers is a huge plus. The only question mark in the equation is price. At a suggested retail of $750, they may be a bit too rich for some. But with the Polk pedigree and driver history behind them not to mention the size and looks, you may be able to convince that uncle that they are worth it. The only thing to do now is to go out and listen to them to make sure they live up to the hype. Look for them to hit the stores in March.
For more information, please visit www.polkaudio.com.

Unless otherwise indicated, this is a preview article for the featured product. A formal review may or may not follow in the future.
Ron Temple posts on January 11, 2011 16:45
Well it is a First Look. Actually, during the initial presser inviting various mags and some Polkies I know, these TL3s were quite impressive. Yeah, size matters, but it's an LSi sat set with a wireless DSWPro sub for ~ $1200. If sats were for me, I'd certainly take a long look.
smurphy522 posts on January 10, 2011 16:36
Kevon27 - for an "audioholic intern" those words are pretty observant. LOL
kevon27 posts on January 06, 2011 10:17
"Mildly interesting"? I bet if the Black Stone speakers were from RBH we would hear "MUST HAVE"
Post Reply
Confused about what AV Gear to buy or how to set it up? Join our Exclusive Audioholics E-Book Membership Program!